Which Celebrity Chef Has the Higher Net Worth: Bobby Flay or Gordon Ramsay?
Gordon Ramsay and Bobby Flay are two of the world's most well-known celebrity chefs. Both have gone on to have massive careers in television, and when the cameras turn off, both are family men. But which Michelin-starred chef is worth more?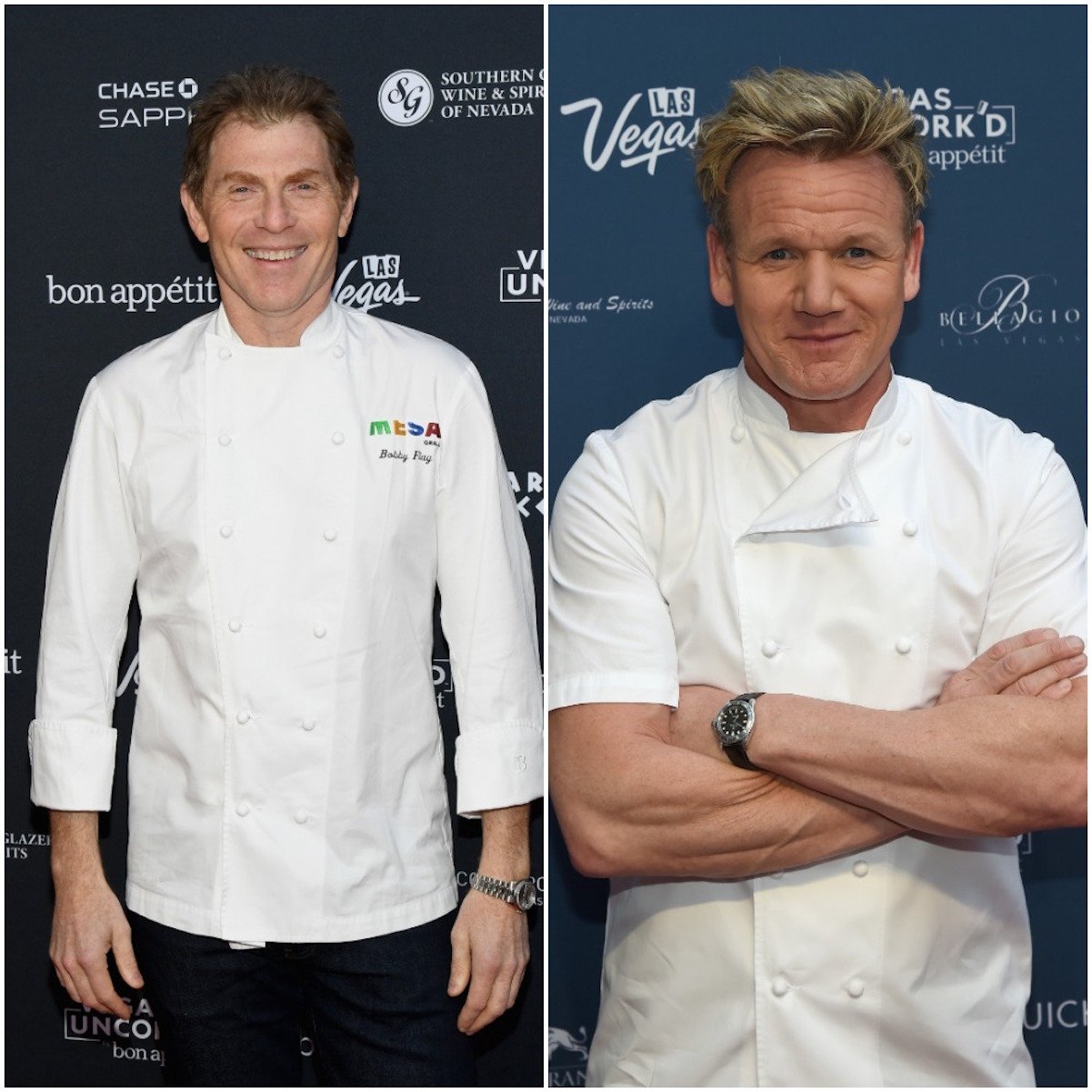 Gordon Ramsay has earned far more Michelin stars than Bobby Flay
When it comes to cooking skill, both Ramsay and Flay seem to shine above other well-known celebrity chefs. But when it comes to Michelin-star-rated restaurants, Ramsay has Flay beat by a longshot. The Michelin Guide started back in 1900 and has since become the be-all-end-all of fine dining: While most restaurants will never receive a Michelin Star rating, the best restaurants in the world can be awarded between one and three Michelin stars based on the food.
Ramsay has acquired a total of 16 Michelin stars in his career and currently holds seven, while Flay has only ever been awarded one Star (still a major honor, though). Ramsay is the sixth most decorated Michelin Starred chef in the world, and Restaurant Gordon Ramsay, his restaurant in London, has held a full three stars since 2001. Flay earned his only Michelin Star back in 2008 for the Las Vegas Mesa Grill, but it was taken away in 2009.
Bobby Flay has a net worth of $30 million
Flay has made a name for himself in the celebrity food world, and his status has helped him earn a $30 million net worth. He was raised in New York City and dropped out of high school when he was 17. He later went on to graduate from the French Culinary Institute and broke into the Manhattan food scene. Though he began working as a sous chef after graduation, he was quickly promoted to executive chef after only a week. Less than a decade after graduating culinary school, he opened his first restaurant, Bolo Bar & Kitchen; the restaurant closed in 2007.
In addition to restaurants in New York and Las Vegas, Flay has also made plenty of television appearances. He stars on Food Network's Beat Bobby Flay and is worth an estimated $30 million.
Ramsay is worth an estimated $220 million  
Though Flay has built an impressive career, it doesn't match up to British chef Gordon Ramsay's Michelin-Starred accomplishments. Aside from owning restaurants around the world, Ramsay has also starred on various TV shows, including Kitchen Nightmares, Hell's Kitchen, and MasterChef. His no-nonsense attitude has helped build his reputation (after all, not just anyone can use "idiot sandwich" as an insult).
Ramsay's expertise in the kitchen combined with his intriguing personality in front of the camera has led him to amass a hefty $220 million net worth. Still, Ramsay considers himself a family man, always returning home to Britain after filming his U.S. shows, and making sure to film around his kids' school and holiday schedules.