'Celebrity Family Feud': Steve Harvey Couldn't Keep It Together With the Real Housewives of Beverly Hills
The questions on Celebrity Family Feud are set up to get some hilarious responses. But the host, Steve Harvey was especially taken aback by the answers provided during the stand-off between Andy Cohen's radio family and The Real Housewives of Beverly Hills. In fact, this is one episode where everyone won. 
What is 'Celebrity Family Feud'?
RELATED: Did Lisa Vanderpump Play 'Family Feud' With the 'Vanderpump Rules' Cast?
Related post url: 
Celebrity Family Feud is the current spinoff of the classic game show, Family Feud, in which celebrities face-off against each other to win money for charity. Hosted by Harvey, contestants are asked to guess the most popular responses from survey questions.
If the contestant's answer was also given by the previous 100 survey responders, it appears on the board. Teams compete to guess the most popular survey answers.  
Harvey, a comedian who earned his fame from staring in The Real Kings of Comedy Tour and The Steve Harvey Show, has been hosting the game show since 2010.
In the most recent episode, the host of Watch What Happens with Andy Cohen brought along his co-workers from the Bravo network, including Bevy Smith, Jeff Lewis, Amy Phillips, and John Arthur Hill. They faced off against the cast of The Real Housewives of Beverly Hills, which included Teddi Mellencamp Arroyave, Dorit Kemsley, Lisa Rinna, Kyle Richards, and Garcelle Beauvais.
Steve Harvey couldn't keep it together over one response
During the game, there was one question that Harvey really got a kick out of. In response to the query, Name something you'd like to do to Steve Harvey's mustache, Kemsley answered: "Blow on it."
Harvey's mouth immediately dropped open and his fist pumped into the air. "Yes!" He shouted. "This is a grown folk answer now!"
He then did a little dance and repeated the answer. "Blow on my mustache, yes!" he yelled.
Unfortunately for the RHOBH team, Kemsley's answer was not among the responses from survey participants, so they didn't receive any points. But Kemsley certainly deserves props for getting such a strong reaction from the game show's host. 
When it was Cohen's turn to answer the same question, he also had an interesting response. His answer was actually bleeped out by the network, but he later revealed on Twitter that he'd said "mustache ride." Unfortunately, Cohen's answer was also not included among survey respondents.
Viewers were confused over one answer on 'Celebrity Family Feud'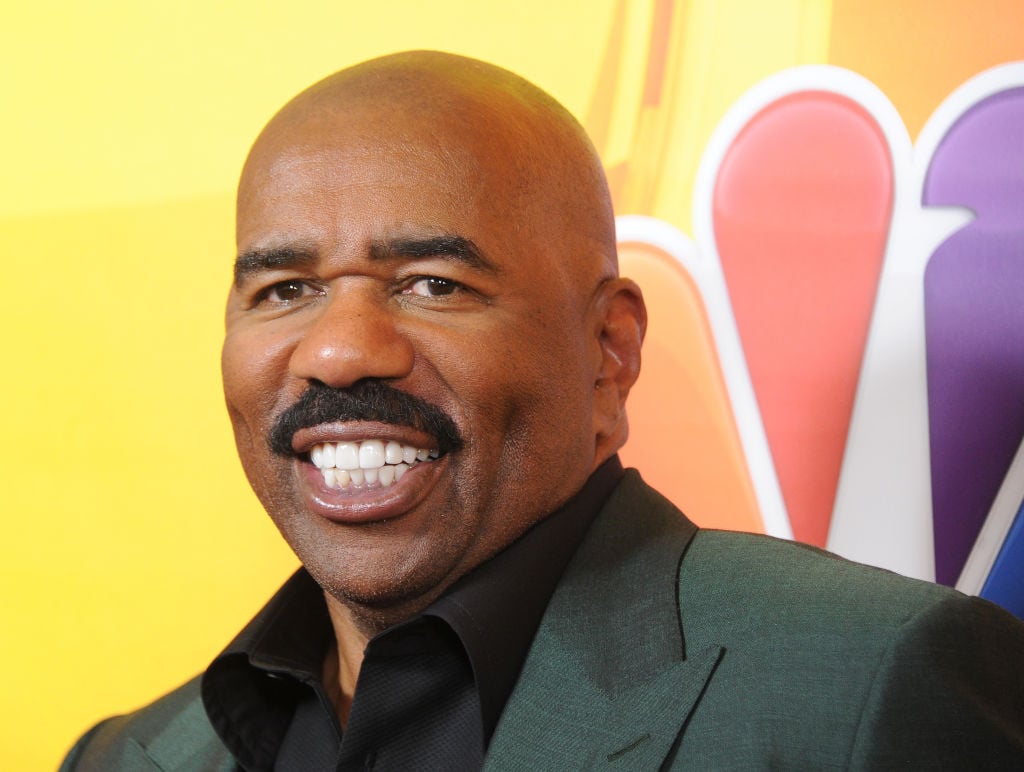 One portion of the show had viewers scratching their heads because of a strange response from Rinna when asked the question: A wife's wish might be that just as her husband says he's leaving her, he's hit by what…
Her response was, "A loaf of bread."
Immediately, her entire team covered their face in embarrassment.
Harvey laughed. "Your reaction is supposed to be supported," he said, and then pointed out the team's response. "This reaction from all of them: What?!"
Unsurprisingly, Rinna's answer wasn't on the board. Her strange reply had viewers dumbfounded, and they quickly expressed their confusion on Twitter.
"Can we discuss 'a loaf of bread,'" one person wrote.
Another fan included a laughing emoji to express how they felt about the answer. "Lisa Rinna! Hit by a loaf of bread? really?"
Obviously, both Harvey and viewers got a huge kick out of the show, even if the responses didn't really make sense. In fact, the episode provided a boost for Celebrity Family Feud, attracting 5.7 million viewers- a 13 percent growth from the last episode.
Cohen's team won the game and donated their $25,000 winnings to Big Brothers Big Sisters of America. But in the end, between the big laughs and charity donations, we all won from this episode.