'Celebrity IOU': Brad Pitt Gets His Hands Dirty Helping a Dear Friend on Drew and Jonathan Scott's New HGTV Series
When Brad Pitt called up Drew and Jonathan Scott to inquire about being on their new HGTV reality show, Celebrity IOU, they thought it was a prank. "Jonathan just got a call one day, and the person was like, 'Hey, this is Brad,'" Drew told USA Today. "Jonathan's like, 'Brad from college or…?' And he said, 'No, Brad Pitt."
Luckily, they believed the A-list celeb and refrained from just hanging up the phone. It's a good thing, too, because the premiere episode of the feel-good show is exactly what the world needs right now.
Celebrity IOU allows famous people to express gratitude to special people in their lives by enlisting the talented Scott brothers to help with a surprise renovation. You'd think someone like Pitt would just hire people to do the work for him. But as the first episode shows, he may have missed his calling as a contractor.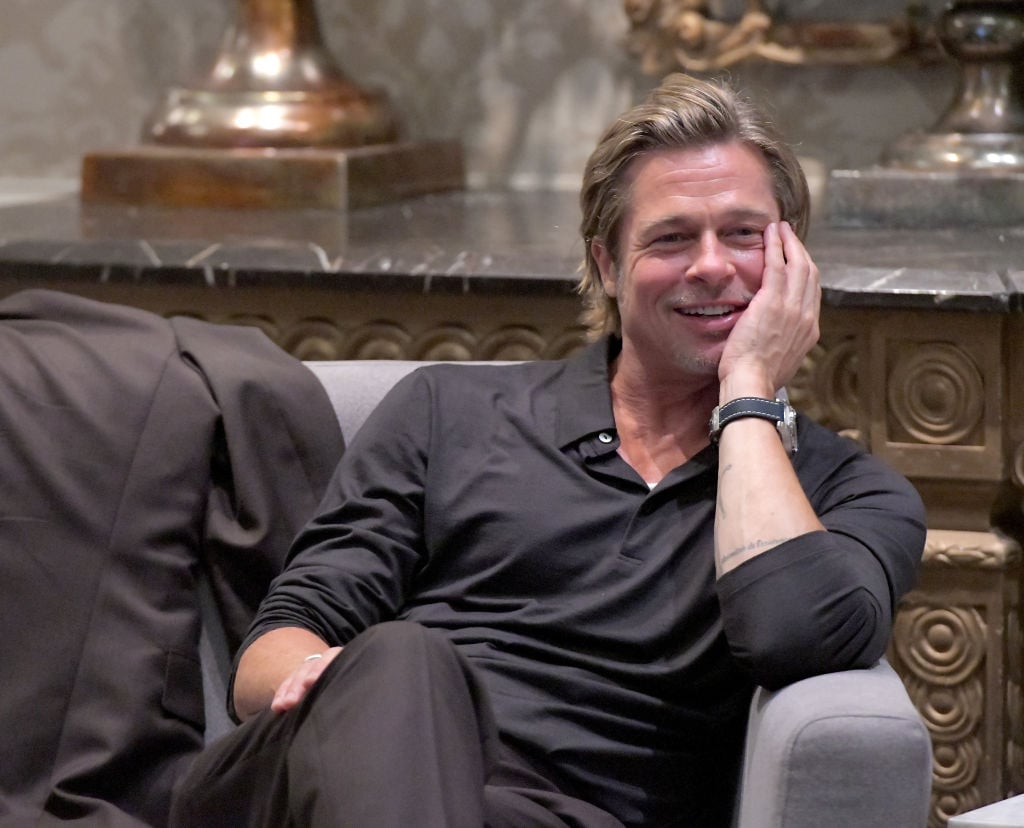 Brad Pitt appeared on 'Celebrity IOU' to thank his long-time friend and makeup artist
In the premiere, Pitt shows up and instantly proves that he's just as charming in real life as he is on-screen. The Academy Award winner insists on helping the Scott brothers demolish the interior of Jean Ann Black's guest house on their way to transforming it into her dream guest suite and makeup studio while she's away on a movie shoot.
Pitt explained that Black is a dear friend of his for 30 years — they're "like brother and sister" — and this renovation is a small attempt to show his appreciation for her support over the years.
Both Drew and Jonathan are surprised that Pitt is knowledgeable about construction, like how he knew the minimum clearance from a fenceline off the top of his head. But apparently he's not the only celeb willing to get his hands dirty. "[The celebrities] all wanted to use the power tools, they all wanted to smash through walls," Drew told USA Today. "Nobody was just saying, 'Oh, go renovate it for this person.'"
He had been dreaming of renovating Jean Ann Black's blank space for years
The team only had three short weeks to transform Black's storage garage into a stunning oasis, but Pitt was intent on making it happen for his friend.
"I love the sounds of a construction site. If I'm not building, I'm dying," Pitt says on the show. "I walk into a place and just see the possibilities. And this garage has been driving me crazy for the fifteen years she's been here. There's so much potential. Challenging, but potential."
When asked how Black will react to the transformation, Pitt promises, "She's gonna lose her mind."
Brad Pitt's makeup artist friend calls her new guest space a 'dream'
As expected, the Scott brothers plus their team, and Pitt, successfully pull off the extremely ambitious renovation which includes hidden storage behind a bookshelf and a custom pop up vanity mirror that sleekly glides out of the quartz countertop. A hidden Murphy bed is another highlight of the space.
"One of those multi-purpose solutions that is the perfect solution. It's storage, it's a bed, it's shelving, it's a sofa, it's everything all wrapped into one beautiful bundle," Jonathan explains. "This is checking off absolutely everything that was on Brad's wish list for her."
Black knew Pitt was up to something but never expected what she discovered in the big reveal. "I know Brad's generosity, and it's huge, but for him to do this it's really more than I could have ever thought would happen. Honestly, I am so touched by this," she said.
'Celebrity IOU' proves the power of saying thank you
Drew and Jonathan were blown away by the generosity of Pitt and all the other celebrities who appeared on the show.
"Brad was such a gentleman, and he was so easy to work with and to talk to," Jonathan said in the interview. "It was remarkable, too, because – I've never had this before with any celebrity I've ever met, but when he came in, the very first time, he took the time to meet everybody and he remembered every single crew member's name, both the production crew and construction crew."
He continued: "And then, even in subsequent days when he would come back and film, or for the reveal, he remembered everybody's name and took that time to show his appreciation," Jonathan continues. "He was through and through a true gentleman."
The rest of the season is bound to be just as heartwarming
"People are gonna watch this show, they're gonna see how much heart there is in this show," Jonathan told USA Today. "We're gonna make you laugh, we're gonna make you cry, and I think people are definitely going to want to see another season of this show, and … we've had no shortage of people who want to be a part of it."
Catch new episodes of Celebrity IOU on HGTV Monday nights at 9 p.m. ET.