Celebs Who Made Guest Appearances as a Member of The Pussycat Dolls
Nicole Scherzinger may be who the world knows as the leader of The Pussycat Dolls, but there were many before her who gave the lead role a shot. Before the burlesque dance troupe turned pop music group made their mark in music, they had a successful nightly revue at an LA club.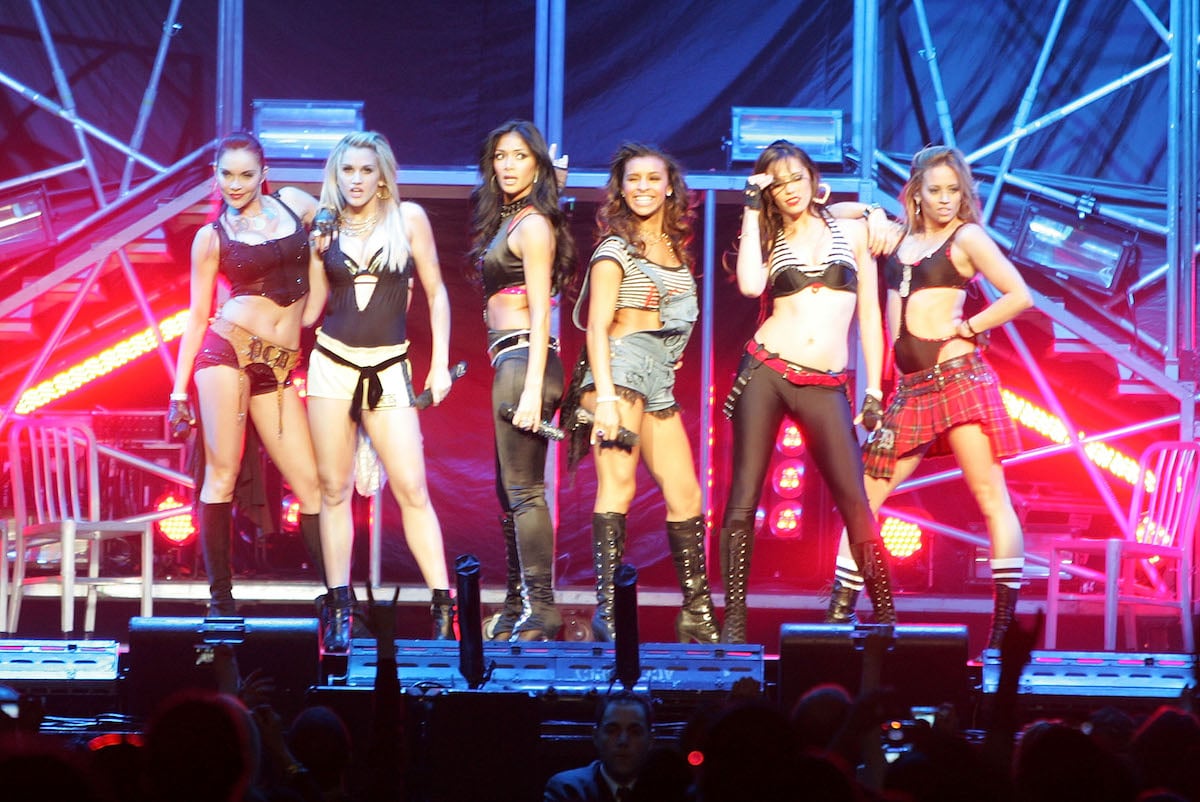 For years, celebs including Cameron Diaz and Eva Longoria all had a stint with the group. But there are some whose time as a doll sparked national fanfare. 
Christina Applegate is an original member
Applegate may be most known for her role as Kelly Bundy in Married with Children but she is an original member of The Pussycat Dolls. The group's founder, Robin Antin, and Applegate were roommates living in LA in the early 90s. 
Related: 'Dead to Me' Star Christina Applegate Was an Original Pussycat Doll
It was Antin's dream to put together a burlesque dance troupe. Per a 2009 interview with The Las Vegas Sun, Antin, a professional dancer herself who modeled greats like Gene Kelly and Bob Fosse,  spent many nights in Applegate's home studio carving out ideas. 
By 1995, Antin's dream came to fruition with the debut of The Pussycat Dolls. Applegate would become one of the first members. The group performed to 50's and 60's classics, dressed in corsets, and were staples at The Viper Room, owned by actor Johnny Depp Nightclub in LA, until 2002.
Gwen Stefani, Christina Aguilera, and Britney Murphy all performed with the group together
By 2002, The Pussycat Dolls and The Viper Room were synonymous and fans from all around the world flocked for their chance to dance and sing on stage with the group. Celebrities were no different. At the time, Stefanie, Aguilera, and Murphy were already bonafide superstars. Still, they wanted to capitalize off of The Pussycat Dolls' popularity.
Aguilera was in transition from girl-next-door to her "Xtina" phase. The Pussycat Dolls' showcase was the perfect fit. Per Daze Digital, Aguilera, Stefanie, and Murphy rocked the house with burlesque moves infused with a stripper pole, feather boas, and chair dance sequences.
Related: Christina Aguilera Said The High Note in This Song Was 'The Note That Changed My Life'
During the show, Aguilera sang Peggy Lee's 'Fever,' Stefani belted out 'Big Spender,' and Murphy stomped onto the stage to perform 'Björk.' Antin credits that show as a pivotal shift in the group's brand.
"I've always called it rock and roll burlesque because I started it purely as a burlesque-inspired show, but it started to change right in front of my eyes, it became more organically this rock and roll flavor with Gwen and Christina. And that's exactly what I've always wanted to do," Antin told MTV News in 2003.
Kim Kardashian West made an appearance in 2009
In 2009, Antin thought it would be a great idea for Kardashian West to bring her sexy to The Pussycat Dolls. The process was documented for E!'s Keeping Up With the Kardashians. Despite the reality star's mega fame, she was super shy and also challenged in the choreography department.
Kardashian West had a difficult time picking up dance routines, so Antin created a special segment for her, equipped with a bathtub. The future KKW beauty owner would make her debut in Las Vegas for a packed crowd.
"What's up Las Vegas? I'm Kim Kardashian here at the Pussycat Dolls Lounge," she told the crowd. "I don't know about you guys but I'm feeling really dirty tonight so I think it's time I take a bath."
Dressed in a black and white one-piece lingerie set, she drenches herself in the tub water while simultaneously dancing. Obviously, Antin had the star show off her famous curves. Regardless of her nerves, Kardashian West revealed in a confessional how fun the performance was, saying, "I'm so excited to finally be doing it. It's all so surreal. I'm just loving everything that's going on right now."