Chadwick Boseman Went Through Months of Intense Rehearsals to Play James Brown in 'Get on Up'
The sudden and untimely passing of Black Panther icon Chadwick Boseman has broken hearts around the world. At just 43 years old, Boseman played some of the most iconic roles that many actors could only ever dream of playing. That includes his role as the Godfather of Soul, James Brown, in the 2014 biopic Get on Up.
Boseman is not a trained singer or dancer — two things Brown was known for — so he had to go through months of grueling rehearsals to be able to step into the role.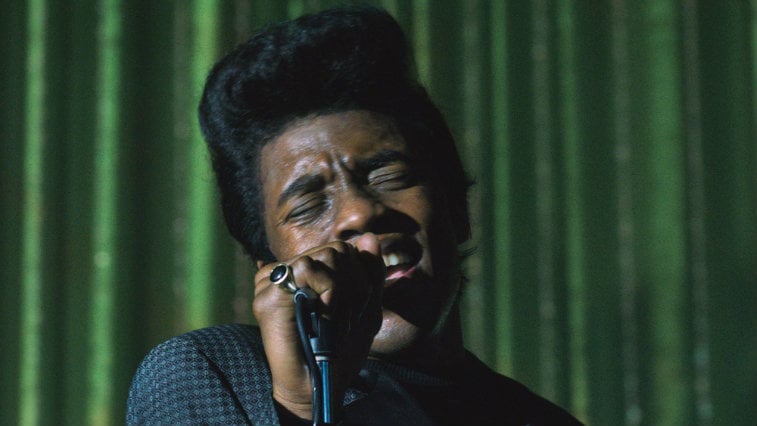 What did Chadwick Boseman and James Brown have in common?
When asked in an interview if James Brown was his favorite artist, Boseman answered honestly and said that he wasn't. "Was James Brown my favorite singer? No. I like so much music. I couldn't pin it down to one person anyway," he said with a smile. "I appreciate him way more than I did before."
Though they came from two completely different generations, Boseman and Brown had more things in common than they didn't. They both hailed from rural South Carolina, for example: Brown was born in the town of Barnwell and Boseman was born and raised in Anderson.
Despite his relative unfamiliarity with James Brown before playing him, Chadwick Boseman took the responsibility of playing the American icon very seriously.
Did Chadwick Boseman ever play real-life characters before?
Chadwick Boseman had a thing for biopics — or rather, biopics had a thing for Chadwick Boseman. Prior to him playing James Brown in Get on Up, Boseman had played a few other well-known figures. He played decorated pro football player Floyd Little in the 2008 biopic The Express: The Ernie Davis Story, which explores the life of the first Black Heisman Trophy winner.
The year before Get on Up came out, Boseman was put on the map for his portrayal of baseball great Jackie Robinson in the biopic 42. In 2017's Marshall, before his triumph as King T'Challa in Black Panther the following year, Boseman played another trailblazer: Thurgood Marshall, the first Black Supreme Court justice.
Chadwick Boseman's intense rehearsal schedule to get into the role of James Brown
James Brown is not an easy character to nail down, especially coming into the process with no real dance or vocal training. Boseman welcomed the challenge, and dedicated everything at the time to bringing James Brown to life on-screen.
"The dance training was extremely intense," he recalled in an interview at the time. "It was five hours a day of official rehearsal, officially five days a week, but I would rehearse on the weekends and I would rehearse in addition to those five days. I would go home at night and sweat some more. We had two months of that and we started shooting."
He also worked with a vocal coach to help him nail down every part of his voice needed to give the role of James Brown the authenticity it deserved. Doing this helped him "not only with the singing aspect but also changing the shape of the vocal cords to speak as well," he says of Brown's unique voice. "It was a lot of work and a lot of research as well."