Charlamagne Tha God Hints He Might Quit 'The Breakfast Club'
After joining Power 105.1's The Breakfast Club in 2010, Charlamagne Tha God evolved into one of the nation's most recognized radio hosts. The self-proclaimed "Prince of Pissing People Off" became adored by fans for his unruly ways, upfront questioning style, and tell-it-like-it-is attitude. But unfortunately for listeners, Charlamagne seemed to suggest in a recent episode of the show that he might quit soon.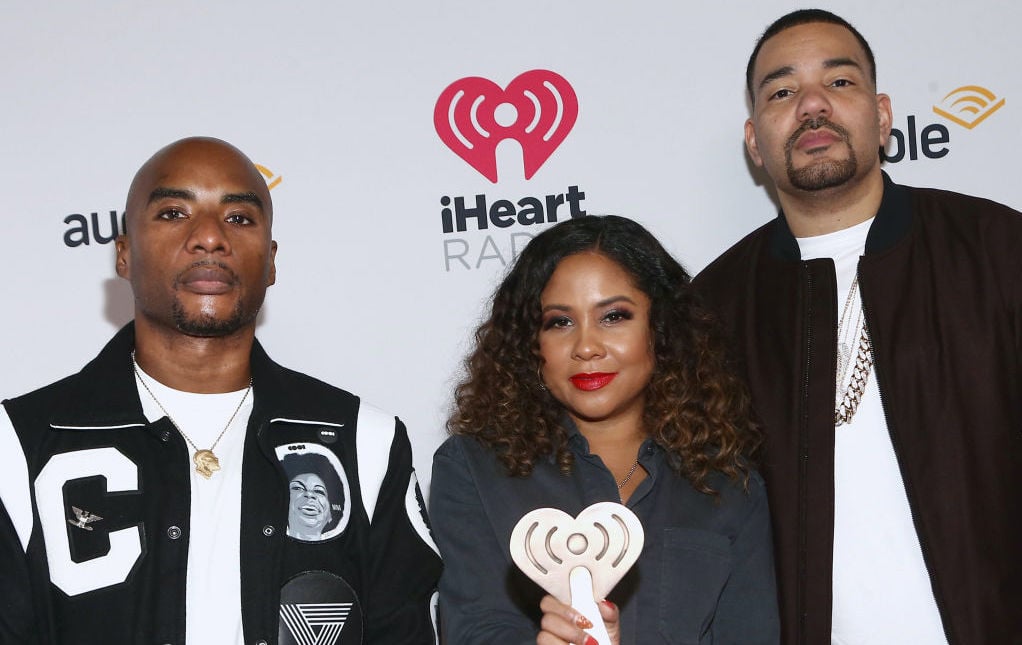 What exactly did Charlamagne Tha God say?
He made the comments in a March 4 interview with NeNe Leakes while discussing her future on The Real Housewives of Atlanta. As they discussed rumors that she's considering leaving the Bravo series, Leakes opened up about some of her problems on the show, namely being treated "unfairly" by some of the cast and crew.
When asked if he's treated unfairly at work, Charlamagne hesitated before answering, "Um… yeah." He admitted that he asks himself why he stays on the show and then asked Leakes what keeps her on RHOA.
"The show is my baby. I started it," Leakes explained. "I feel like it's my baby and the platform is good to me."
Charlamagne confessed that he's stuck around The Breakfast Club for the exact same reason.
Chiming in, co-host DJ Envy asked Charlamagne another question about quitting The Breakfast Club to which he replied: "My contract is up in December so I won't have to." Charlamagne went on to admit that he's "mentally quit" the show "a lot recently."
Charlamagne Tha God has been in many controversies throughout his time on the show
Charlamagne did not share the exact reason he's considered leaving the show but around the 28:00 mark, he seemed to suggest that it could have something to do with being censored.
Over the years, Charlamagne has found himself embroiled in many controversies related to his remarks on the show — which have often been deemed sexist, misogynistic, colorist, and downright mean.
One of his biggest controversies came in 2017 when comedian Lil Duval appeared on The Breakfast Club and said he would kill a woman if he learned she was transgender after having sex with her. Charlamagne warned Duval against such actions but mostly laughed at the comedian's remarks.
He faced swift and immediate backlash for the moment, with many people calling for an apology and his removal from the show. As the criticism mounted, Charlamagne offered a statement pushing back on Duval's comments.
"We don't condone those kind of hate crimes at all. Not even a little bit," he said (via BuzzFeed News).
"And one thing…another thing I learned this week is that 15 transgender women have been murdered in 2017 and 13 of them have been women of color, that that number could be higher, but I do know the majority of them have been women of color. Like I think one, a transgender woman got killed this week in Atlanta, if I'm not mistaken. So, you know, her name was TeeTee Dangerfield actually, so rest in peace to her. So The Breakfast Club will continue to do what it always does and that provides a platform for the voiceless," he added.
What would Charlamagne Tha God do if he left the show?
He did not comment on this in the chat. But he could very well go on to have a solo career. Charlamagne has developed a loyal following and tends to attract massive amounts of views for his one-on-one interviews. His 2018 interview with Kanye West, for example, has more than 10 million YouTube views — more than some chats on the radio show.
Charlamagne is also an author and has two books out, at the time of his writing. So he could always fall back on his writing career. But who knows. Maybe he'll renew his contract in December and stick around for a little longer. We'll see.
Read more: Angela Yee Details Her Frustrations with Charlamagne Tha God on 'The Breakfast Club'