Charlie Hunnam Snaps Photos With 'Sons Of Anarchy' Fans Outside Of His Hollywood Home
Charlie Hunnam has enjoyed a lot of success in Hollywood over the years, but he still knows how to have a good time with fans. The former Sons of Anarchy star recently took time out of his busy schedule to snap a selfie with some lucky admirers outside of his estate in Hollywood Hills, proving once again that he is a man of the people.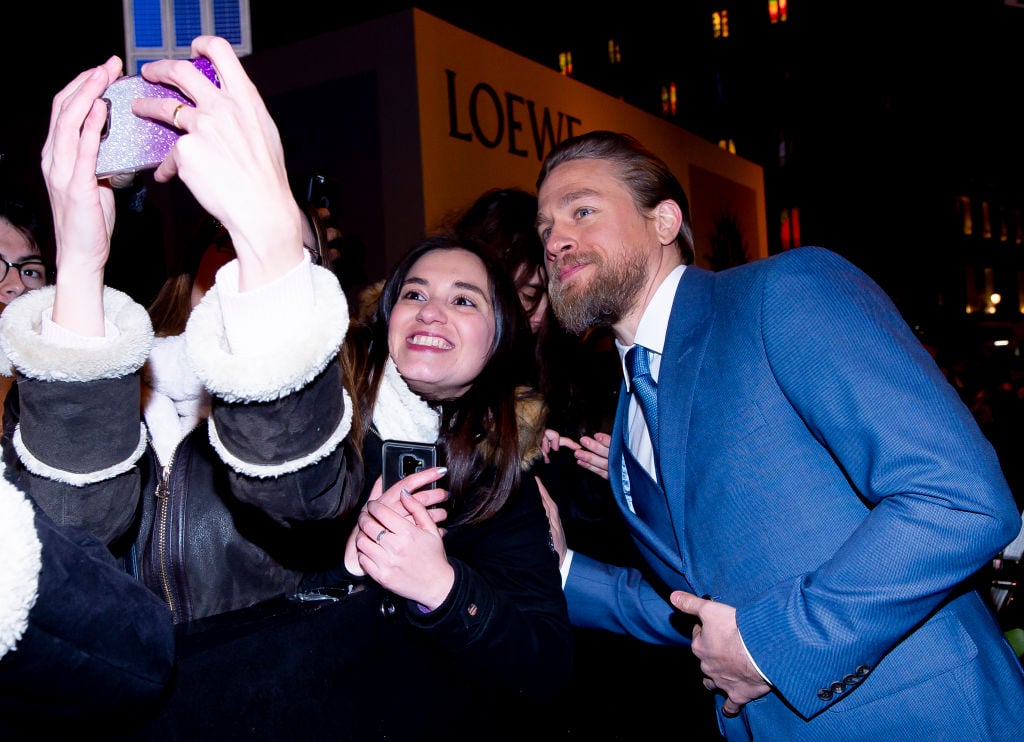 Hunnam hangs out with fans
A few weeks ago, a few fans showed up at Hunnam's home while he was doing some work outside. One of the lucky fans politely approached the actor and asked if he would take a photo with him. Ever the good sport, Hunnam agreed to snap a quick shot and looked genuinely happy about the encounter.
According to Pop Culture, Charlie Hunnam was rocking a casual look at the time of the selfie. The Triple Frontier star donned some light sweatpants, a blue sweater, and a beanie when the fans first approached him. Despite the obvious intrusion into Hunnam's personal life, he did not seem phased about the situation one bit. One of the photos also includes a shot of the inside of Hunnam's garage.
As Sons of Anarchy fans are likely to enjoy, the picture features what looks like a Harley Davidson motorcycle parked inside the space.
Inside Hunnam's stunt life
Hunnam's time riding a motorcycle in front of the cameras might be over, but that does not mean his work on-screen has gotten any easier. The actor recently opened up about performing his own stunts and revealed which movie was the hardest on his body – and it is not what you might expect.
Although Hunnam trudged through the jungle for weeks on end in The Lost City of City and had to endure a drastic body transformation for Papillon, his worst experience on set was actually Pacific Rim.
In an interview with Games Radar, Hunnam revealed that wearing all of the robot gear for the film was one of the worst experiences of his life. After 16-hour days and three weeks of filming, Hunnam ruptured some discs in his back and quickly realized that being an actor was not as easy as it looks.
"I was in this robot wearing this suit that's very, very heavy and uncomfortable," Hunnam shared. "And I spent five weeks in that contraption, sometimes for 16 hours a day."
What is Charlie Hunnam's next project?
With his latest movie, Triple Frontier, making waves on Netflix, Hunnam is looking forward to his next project, The Gentlemen. Little is known about the movie, aside from the fact that it involves a lot of drugs and crime. We also know that Guy Ritchie is directing the project, which also stars the likes of Colin Farrell, Hugh Grant, Jeremy Strong, Michelle Dockery, and Matthew McConaughey. An official premiere date has yet to be set, though the movie is expected to open in theaters in 2020.
This is not the first time Hunnam has teamed up with Ritchie. The acclaimed director cast Hunnam for the lead in his movie, King Arthur: Legend of the Sword. Unfortunately, the film did not fare well in the box office. The Gentlemen sounds like a better fit for Hunnam, but only time will tell if their second outing is more successful than their first. Fingers crossed.
Hunnam opens up about 'King Arthur'
Speaking of King Arthur, Hunnam recently opened up about how he landed the iconic role in the first place. The actor revealed that he was cast for the role during a short hiatus on Sons of Anarchy, and that Ritchie was not even considering him for the part.
Unwilling to give up, Hunnam decided to fly to London and meet with Ritchie on his own dime. Ritchie reluctantly agreed to the meeting and the rest, as they say, is history. Hunnam impressed the director with his energy and passion for the role and could not turn him down, despite interest from other parties.
We still do not know what part Charlie Hunnam is playing in his new project with Ritchie, but we cannot wait to see him in action. In the meantime, fans can watch Hunnam in his latest movie, Triple Frontier, which is currently streaming on Netflix.