Charlie Hunnam Was 'The Most Embarrassed' Filming an Intimate Scene in Front of His Co-Star Essie Davis' Husband
Charlie Hunnam has experienced his share of sex scenes over the years, but there is one that stands out above the rest. The Sons of Anarchy alum, who was once slated to star in Fifty Shades of Grey, was "the most embarrassed" filming a scene in front of his co-star, Essie Davis', husband. Here's a look at Hunnam's most embarrassing sex scene plus what he thinks about getting intimate for the cameras.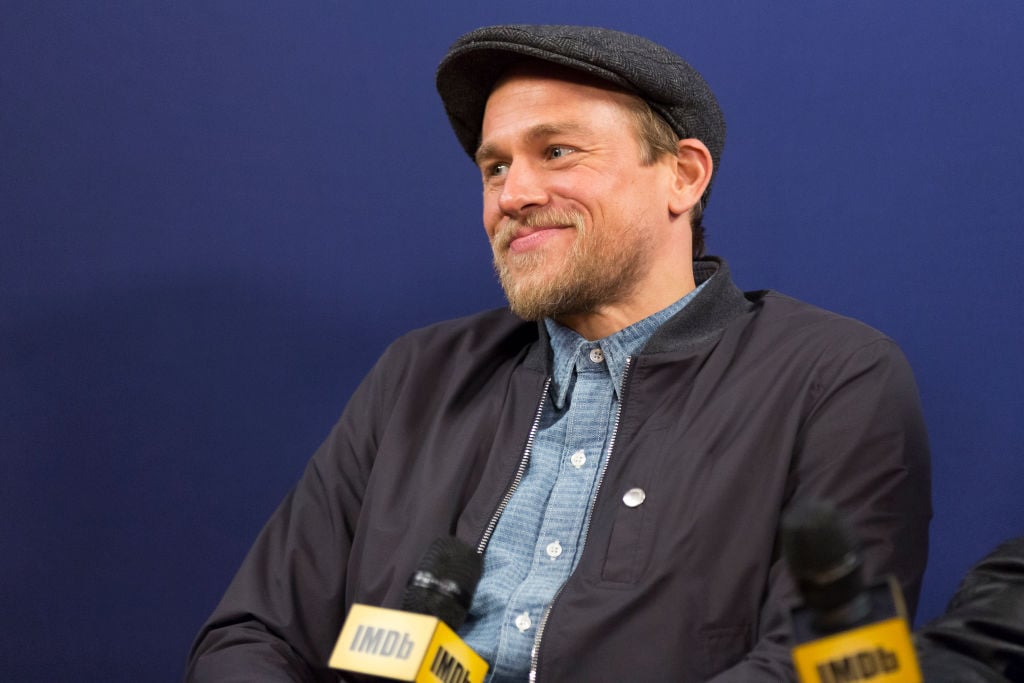 Charlie Hunnam admits he doesn't like sex scenes
Hunnam rose to stardom playing the part of Jax Teller on Sons of Anarchy. Over the course of seven seasons, Hunnam took part in quite a few sex scenes and grew accustomed to taking off his shirt in front of the cameras.
But that doesn't mean Hunnam enjoys performing intimate scenes. In an interview with Elle, Hunnam revealed that he does not like sex scenes because he is in a committed relationship with his long-time girlfriend, Morgana McNelis.
"I try to be sensitive to the fact that we're doing something intimate, but also keep a clear boundary," he shared. "Because I'm in a very committed relationship, and I'm also cognizant that it's not my girlfriend's favorite part of my job… It's not my favorite thing to do."
Charlie Hunnam added that he is a huge "germophobe" and does not like kissing anyone aside from his girlfriend. His fear of germs surfaced when he was a young boy after his town alerted everyone about a dog-related parasite that was making people blind.
The actor explained how his school made everyone take classes on proper hygiene after several of his classmates lost their sight. The entire experience "horrified" him and made him a germophobe to this day.
"The point is, everyone thinks it's great to be an actor and get to kiss a bunch of beautiful actresses in films, but I actually hate it," he stated.
Hunnam was most embarrassed filming this intimate scene
Although Hunnam has performed a slew of sex scenes over the years, his most embarrassing one came when he was working on the 2019 film, True History of the Kelly Gang. As part of the project, Hunnam had to do an intimate scene with actress Essie Davis.
To make things even more awkward, Davis's husband, Justin Kurzel, was the director. After meeting Charlie Hunnam for the first time the night before filming, Davis had to do a scene that included acting out fellatio.
"Charlie is such a divine human being," she said. "We met the night before this brutal scene and on the day we got down and dirty pretty much right away."
According to Ace Showbiz, Davis added that Hunnam "was the most embarrassed" in the scene because her husband was directing his every move. Although she found the entire situation to be "very amusing," the weather almost made it intolerable.
"It was brutal and it was freezing and flooding and snowing," she noted.
Hunnam was not the only one who had to do a sex scene with Davis. Nicholas Hoult had to perform a rape scene with the actress, which left her with a cracked rib (ouch!).
Charlie Hunnam admits Fifty Shades of Grey was a 'traumatic experience'
Hunnam's scene with Davis may have been his most embarrassing to date, but his involvement in Fifty Shades of Grey was easily his most "traumatic."
When the movie was first in development, director Sam Taylor-Johnson cast Hunnam to play the lead character in the erotic drama. Unfortunately, Hunnam had to back out of the project at the last minute and Jamie Dornan replaced him.
In his interview with Elle, Charlie Hunnam revealed that he has not watched the movie and that he does not like talking about what happened. Hunnam was forced to back out of the project due to prior commitments.
"I developed a friendship with [director Sam Taylor-Johnson], but that was a somewhat traumatic experience for me. I didn't want to open that wound," she shared.
Hunnam went on to say that he does not feel objectified in the movie industry, though he does understand that "being handsome" has opened doors. He just hopes that his acting skills outshine everything else.
Does Hunnam avoid projects with sex scenes?
Considering Hunnam's feelings towards sex scenes, fans might wonder why he does them at all. Although he does not enjoy getting intimate in front of the cameras, Hunnam admitted that his early days in Hollywood prepared him for what was ahead.
"You know what, I had such a baptism of fire with regards to sexuality on camera at the beginning of my career," Charlie Hunnam stated.
The Sons of Anarchy star noted that his first big show was an appearance on Queer as Folk. The actor played the part of a young gay man in the series and performed some very intimate scenes.
Fast forward to later in his career and Hunnam does not "anticipate them being too much of a problem."
"It's like anything else, just an exciting challenge," he added.
Charlie Hunnam is currently getting ready for the release of his upcoming movie, Waldo. He is also working on a new television show, Shantaram.