Charlize Theron Says She and Her 'Mad Max: Fury Road' Co-Star Tom Hardy Didn't Get Along: We 'F***ing Went at It'
Some co-stars don't get along while filming movies or TV shows. There are long hours on set and tensions can run high. Charlize Theron, the star of 2015's Mad Max: Fury Road admitted to arguing with her co-star, Tom Hardy, constantly on set. According to the Oscar-winning actor, the bickering happened largely because of where they filmed the movie.
Charlize Theron says she and Tom Hardy fought because of 'isolation' on set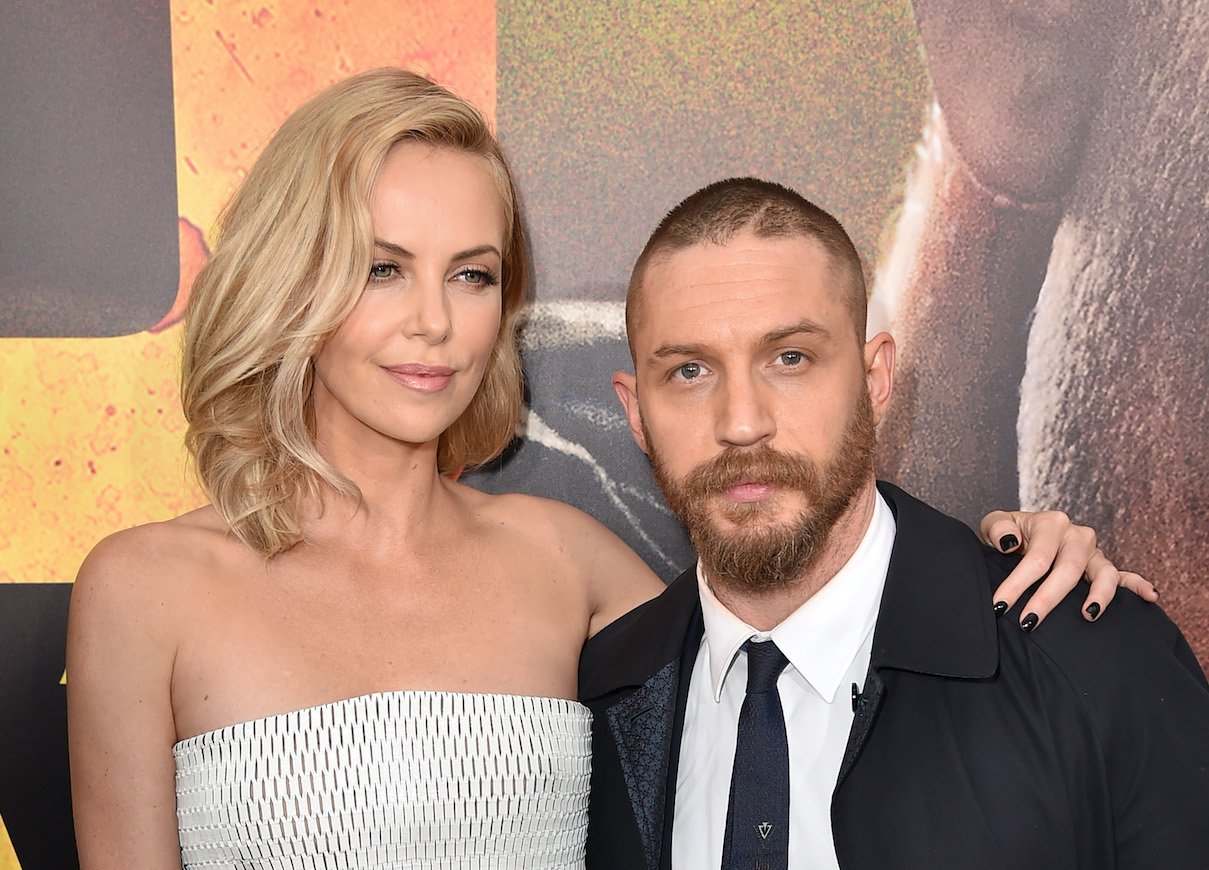 RELATED: Charlize Theron Reacts to Fan Raving About Her New Netflix Movie 'The Old Guard': 'I'll Keep It Up'
In a 2015 interview with Esquire Theron admitted she and Hardy "f***ing went at it" on the set of Mad Max: Fury Road. Why? Because they had to film the movie in tight quarters. 
"It was the isolation, and the fact that we were stuck in a rig for the entire shoot," she said. "We shot a war movie on a moving truck—there's very little green screen. It was like a family road trip that just never went anywhere. We never got anywhere. We just drove. We drove into nothingness, and that was maddening sometimes."
The environment was made even more stressful because, as Theron said, there wasn't a script.
"And it's material that's really frightening—we didn't have a script," she said.
RELATED: Tom Hardy Was Criticized by Batman Fans for Gaining 30 Pounds To Play Bane in 'The Dark Knight Rises'
After fans questioned the existence of a script, director George Miller set the record straight. According to Screen Rant, he said Mad Max: Fury Road did indeed have one. The script aside, Theron and Hardy both wanted to do a good job which also contributed to frequent arguments. 
"Tom and I are actors who take our jobs seriously. Both of us want to please the directors we work with, and when you don't know if you can deliver on that, it's a frightening place to be—and for Tom more than me, because he was stepping into big shoes," Theron said.
Tom Hardy gave her a self-portrait and a sweet note as a wrap gift
When filming on Mad Max: Fury Road wrapped, Theron and Hardy parted ways on good terms. The actor who played Max Rockatansky gifted Theron a self-portrait he left in her trailer.
With a red handprint on the back, he wrote a note to his co-star: "You are an absolute nightmare, BUT you are also f***ing awesome. I'll kind of miss you. Love, Tommy."
"We drove each other crazy, but I think we have respect for each other, and that's the difference," Theron said. 
After Mad Max: Fury Road hit theaters in 2015 it went on to win six Academy Awards.
Theron won't reprise her role as Imperator Furiosa in the Mad Max: Fury Road prequel but not by choice. The decision was made to re-cast the role because of doubts regarding de-aging CGI.
RELATED: Who Is Anya Taylor-Joy, the Actor Starring in 'Mad Max: Fury Road' Prequel 'Furiosa'?