'Cheers': 30 Years Later, the Cast Members Are Still Worth Millions
It's been nearly three decades since the Cheers cast gathered at their local bar for the last time. These days, most of the actors are in their 70s, but they've still earned plenty of money from other jobs — plus royalties from the iconic show. But which cast member has the highest net worth today?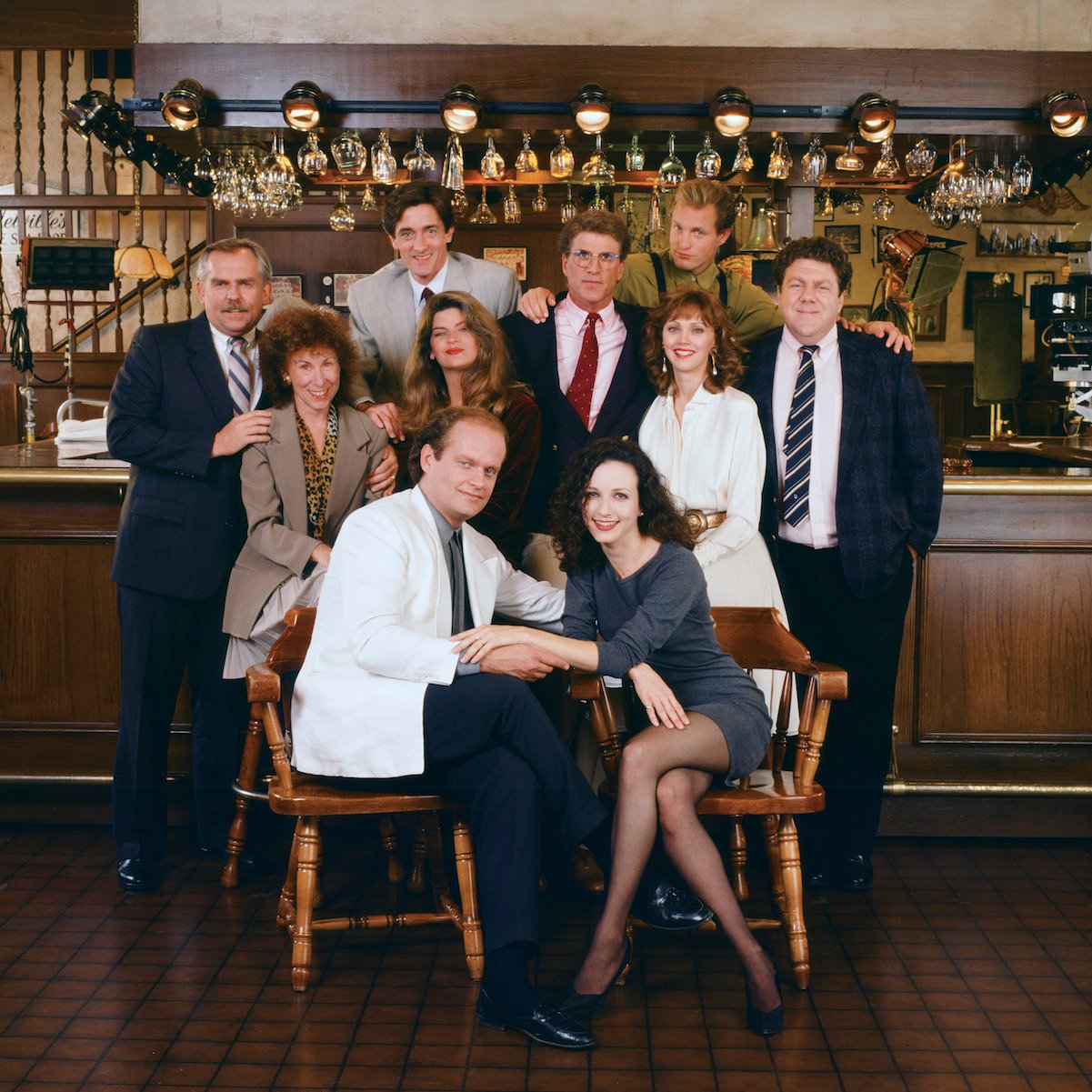 Shelley Long: $10 million
Shelley Long played Diane Chambers, who started her job at Cheers after her fiancé left her for his ex-wife in the first episode. Though she only remained as a main character on the show for five seasons, she starred in various films outside of Cheers and most recently had a recurring role on Modern Family. The actress is worth an estimated $10 million today.
Kirstie Alley: $40 million
Kirstie Alley, who played Rebecca Howe, made a name for herself after landing a role in the Star Trek II film. From there, she was cast in Cheers after Long left the show. Once the show ended in 1991, Alley went on to star in various shows and films such as Veronica's Closet and "Drop Dead Gorgeous." In 2011, Alley appeared on Dancing With the Stars. Today's she's worth an estimated $40 million.
George Wendt: $45 million
It's hard to believe someone could make so much money just by sitting at bar. But George Wendt, who played Norm Peterson, did just that. The actor had six Emmy nominations for his role in Cheers and had roles in productions of "Hairspray" and films such as "Fletch" once Cheers ended. Today, he's worth about $45 million.  
Rhea Perlman: $50 million
Rhea Perlman is best known as Carla Tortelli, the spunky bar waitress. She received 10 Emmy nominations for her role throughout the show's run. After Cheers ended in 1993, Perlman appeared in films such as "Matilda" and "Canadian Bacon." She has also written a children's book series, "Otto Undercover." Today, Perlman is worth around $50 million.  
Woody Harrelson: $65 million   
Woody Harrelson joined Cheers as bartender Woody Boyd after Nicholas Colasanto's untimely death in 1985. (Colasanto played "Coach" on the show.) Harrelson has since starred in shows such as True Detective and films such as "Indecent Proposal" and "The Messenger." He's worth about $65 million today.
Kelsey Grammer: $80 million
Kelsey Grammer played Frasier Crane on Cheers; his role led to the spinoff show Frasier, which ran from 1993 to 2004. Grammer has made various TV appearances since Frasier ended and has also been on Broadway. Grammer has seven children, some of whom have gone into the acting business themselves. His lengthy filmography has netted him about $80 million.
Ted Danson: $80 million
Ted Danson played bartender and owner Sam Malone, arguably the best-known character on the show. Once Cheers went off the air, Danson starred in other films and shows such as "Three Men and a Baby" and CSI: Crime Scene Investigation. He most recently appeared on The Good Place from 2016 to 2020. Danson's long list of acting jobs has earned him an $80 million net worth.
John Ratzenberger: $80 million
John Ratzenberger is best known for his role as Cliff Cavin on Cheers, but a little known fact about the actor is that his voice has appeared in every single Pixar Studios film, including "Monsters, Inc.," "The Incredibles," and "Cars." Ratzenberger received two Emmy nominations for Cheers, and his animated roles have helped him amass an $80 million net worth.