'Cheers': What Is John Ratzenberger's Net Worth?
When NBC first premiered its TV show Cheers in 1982, audiences were introduced to an array of colorful characters. These included bar regular Cliff Clavin, played by actor John Ratzenberger for all 11 seasons of the sitcom.
The role launched Ratzenberger's already-burgeoning career to new heights. After Cheers ended, Ratzenberger went on to star in Pixar's first 22 movies, plus dozens of additional TV shows and films. This has generated Ratzenberger a considerable amount of wealth and a sizable net worth. 
Ratzenberger started his career in house construction
RELATED: 'Cheers': John Ratzenberger's Audition Turned Into Him Creating His Character
Ratzenberger was a house framer before he moved into acting, with his first performing gig being a theatrical performance that toured the United Kingdom during the 1970s. His big break came a decade later.
"In 1982, John accepted a writing assignment for CBS in Los Angeles," explains John Ratzenberger's official website. "On the day he was scheduled to return to [the UK], he auditioned for a role on the upcoming Cheers. At the time of his audition, the character of the postman did not exist. As he walked out of the room, he turned and asked the creators 'Do you have a bar know-it-all?' They didn't know what that was, so John gave them five minutes of improv, demonstrating exactly what it meant with the perfect Boston accent. They loved what they saw and Cliff Clavin was born."
Over the years, Ratzenberger has built a diverse catalog of roles. Besides his TV appearances (including a stint on Cheers spinoff Frasier), he's voiced Pixar characters in movies like 2003's Finding Nemo and 2008's WALL-E. He's worked on major blockbusters like Star Wars and Superman. And he's even had his own TV show on the Travel Channel.
Ratzenberger got married in 2012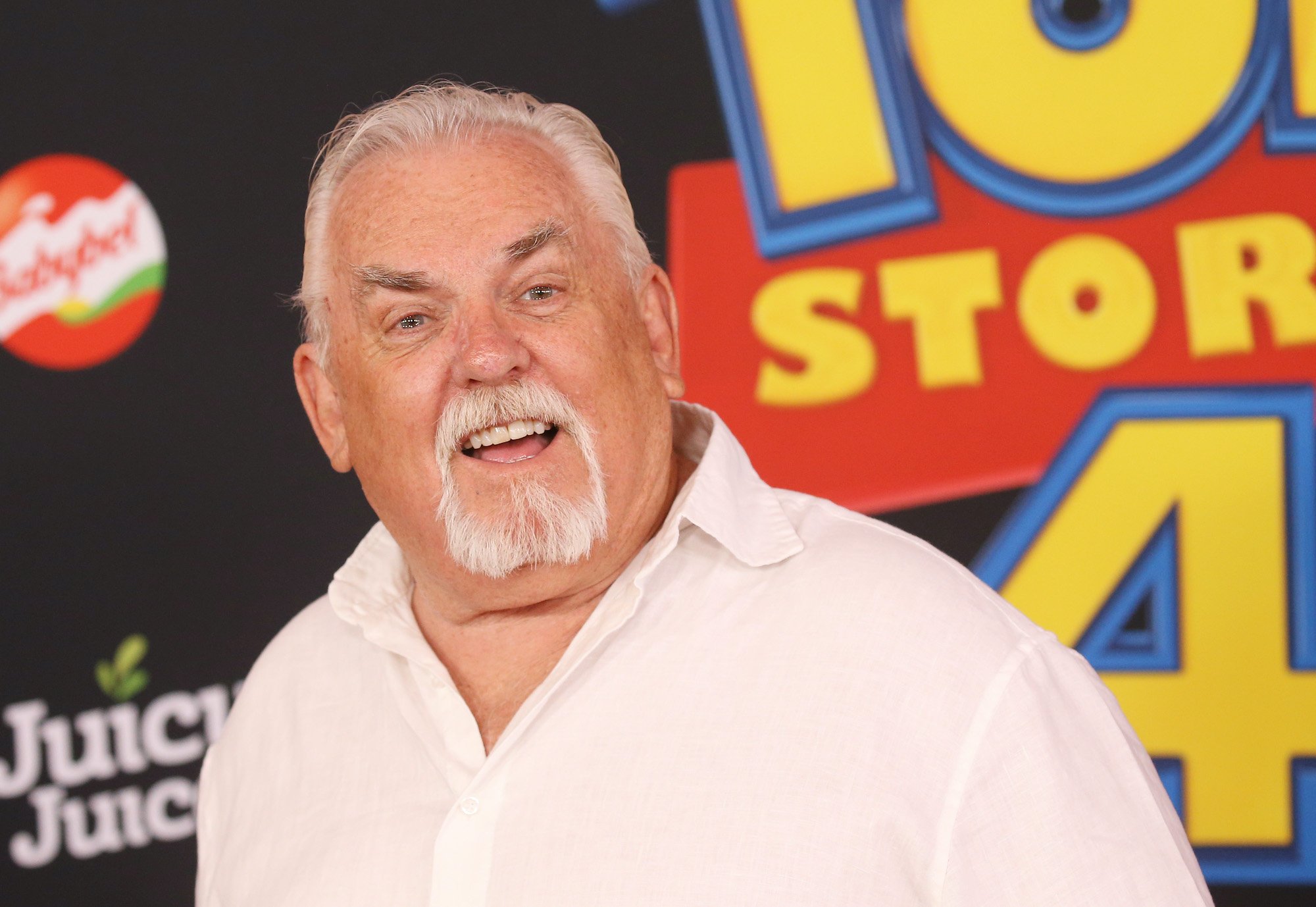 RELATED: Which 'Cheers' Characters Showed Up in 'Frasier'?
Ratzenberger is a twice-married father of two. "Ratzenberger married Georgia Stiny in 1984 and the couple have two children together," reports Biography.com. The two got divorced after 20 years of marriage. He then started dating Julie Blichfeldt.
"Blichfeldt, 46, met Ratzenberger, 65, through family," explains UPI. "Both are avid outdoors enthusiasts, philanthropists and activists."
After dating for four years, the two tied the knot in November 2012. "Forgoing the traditional tux and gown, both wore fur and kept the ceremony very intimate," one of Ratzenberger's representatives told UPI. "The two started their honeymoon by heading north for a hunting trip."
John Ratzenberger has amassed a large net worth over his career
RELATED: 'Cheers': 30 Years Later, the Cast Members Are Still Worth Millions
According to the Huffington Post, Ratzenberger is one of Hollywood's "most successful actors of all time in terms of box office receipts and there's no slowing him down."
"Successful? No question. Self-made? You bet. […] Ambitious? Let's just say that in between his acting, vocal talents, and screenwriting, he is also an avid entrepreneur with his hands in several businesses. Ambitious is an understatement."
That successful, ambitious mindset has led Ratzenberger to considerable wealth. The actor currently has a net worth of approximately $50 million, reports Celebrity Net Worth. Much of it has to do with his acting. "John Ratzenberger has one of the highest box office totals of any actor in history," notes the site.
But Ratzenberger's off-screen career also impacts his net worth. "In 1998, he co-founded a manufacturing company called Eco-Pak Industries," explains Celebrity Net Worth. "In 2016, Ratzenberger launched thegiftbox.com, an e-commerce site that allows customers to subscribe to a variety of monthly subscription boxes. In April 2020, he announced that he had co-founded American Made Advertising."