'Cheers' Original Idea Was Not a Bar — 2 Alternate Locations
The NBC comedy Cheers had the perfect setting for a situation comedy. Cheers was a bar so both the staff and the regular customers made up the ensemble of characters. It also provided plenty of potential for one-off guest stars. So, can you believe the original idea for the show wasn't even a bar?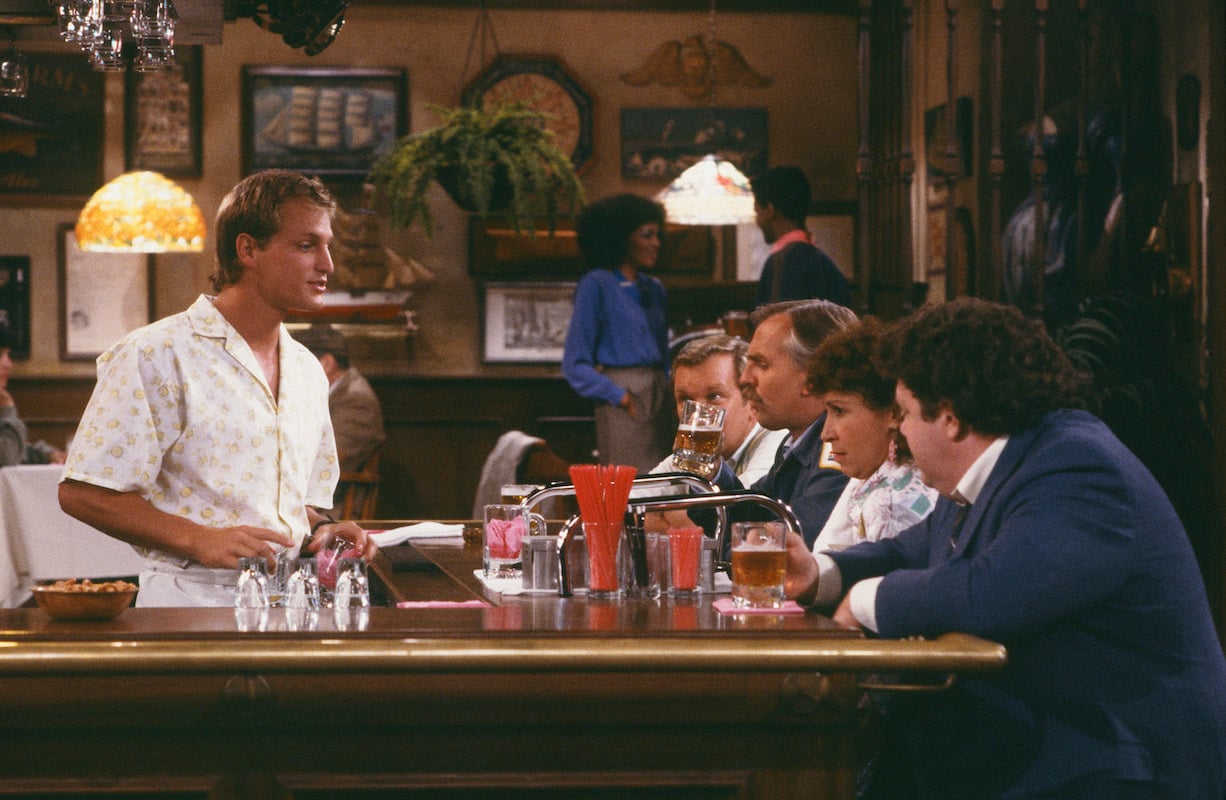 Writer Ken Levine shared some Cheers trivia on his podcast, Hollywood & Levine. One of his bombshells was that creators Glen and Les Charles thought of an entirely different setting for Cheers.
'Cheers' was originally about a hotel 
Glen and Les Charles weren't just brothers. They were a writing team that worked on M*A*S*H, The Mary Tyler Moore Show, The Bob Newhart Show, and Taxi prior to creating Cheers. When they began developing their own show, they had several different ideas first. 
"When the Charles brothers first had the idea, their original conception was that it would be a show set in a hotel lobby," Levine said on Hollywood & Levine. "And then they realized not a lot of traffic, not a lot of interesting things happen. People just walk through lobbies. They don't really hang out. Then maybe, what if we do a restaurant or a bar, something like that?"
The real 'Cheers' inspired the show 
Cheers was a Boston bar, and now you can go to an actual Cheers in Boston. The original bar, The Bull & Finch Pub, was the exterior shown on television. It has since been rebranded as Cheers for visitors.
"Then Glen Charles was in Boston and found his way down to the Bull & Finch which was the inspiration for Cheers and thought hey, what about a sports bar?" Levine said. "That's how it evolved into becoming a sports bar."
They still embellished the real bar for TV
Cheers filmed on a set on the Paramount studio lot. The soundstage was vast to fit the center bar with stools all around, and give the cast room to do scenes. The Cheers in Boston only retains some of that decor.
"If you go there, the decor is right, the Tiffany lamps, the brick and the tables, the railings but it is way smaller," Levine said. "It is just a fraction of the size of Cheers and the bar is actually up against the wall. The gentleman who owned the bar owns the entire building and there are libraries upstairs. There are meeting rooms and libraries."
Viewers did get to see the real Bull & Finch in the specials aired after the Cheers finale.
"When the final episode of Cheers aired in 1993, all of us were there, the cast, the writing staff, producers, tons and tons of invited VIPs and we were all sitting there watching from that second and some cases third story meeting rooms and libraries of the Bull & Finch," Levine said. "I'm sitting there next to Jack Welch who was the chairman of the board of GE. So it's me and Jack just hanging out watching that final episode."