Chef Adam From 'Below Deck Sailing Yacht' Shares How to Create a Campfire Oven
Chef Adam Glick from Below Deck Sailing Yacht is a pretty resourceful guy. He mastered cooking on a sailing yacht while it heels over, plus he also starred in an outdoor cooking series for Outside TV.
Glick recently demonstrated on his Instagram story how to create an "oven" on the go. Glick lives in his tricked out van and typically cooks his meals over a campfire. He had to bake a meal over an open flame and showed how easy it is to create a makeshift oven.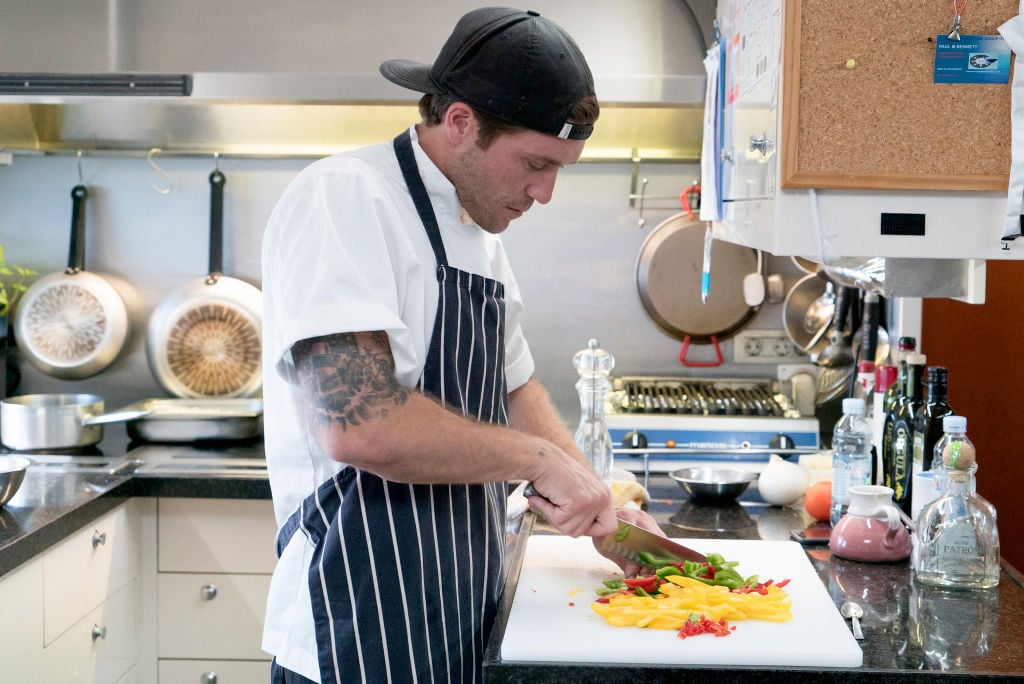 His dog Tex runs freely with a new puppy friend around the van as Glick makes breakfast for a human friend. His van is parked in the woods, near a rushing river and he is enjoying mild weather.
He's making stuffed biscuits
Glick shared a video of bacon sizzling in the pan over an open fire. He then shows a line of homemade biscuits but reveals that these are no ordinary biscuits. "These sweet little biscuits," he says kneading the dough. "I'm thinking instead of baking biscuits, we kind of stuff 'em up, get some cheese, a little bit of bacon that's already cooked. Make a little turnover."
He lays each stuffed biscuit in a pan. "Into the bacon grease," he comments. Next, Glick shows exactly how he's going to bake the biscuits. He lays a pan over the top of the pan containing the biscuits. "We'll put some coals on top. Make a little oven!"
Glick pans his camera over to the campfire that shows he has a tripod set up with a round grill that is suspended over the flames.
He makes an oven using two pans
Glick shows how easy it is to make an oven while camping. He shot a video of the pans sitting on the suspended grill along with hot coals on top. He peeks inside the pan to determine if the biscuits are ready.
Next, he whisks some eggs that he will pour over the biscuits. When the biscuits are cooked he generously smothers the biscuits in scrambled egg. He then adds shredded cheese over the dish. Each biscuit gets a nice topping of cheese. "Then cover it up and effectively broil it one more time," Glick says returning the top pan over the pan containing his meal. "Melt the cheese and top it with some chives. And it will be a tasty breakfast."
The finished product is nothing short of mouthwatering. Glick used one of his signature folding knives to chop the chives, which he douses all over the biscuits.
Glick also has a set of knives that are ideal for chefs on the go
This fall Glick introduced a set of collapsable knives that make for ideal traveling companions. He shared the thinking behind the set of chef's knives in a promotional video. "I need a chef's knife I can take with me on an adventure," he said. "Packs easily in a glovebox, easily in my backpack, something more mobile."
 "As a professional chef I only use top-quality equipment," he continues. "What if that quality in the kitchen, I could also have outside by the creek next to my campfire? The time has come."
"Having folding knives, not only is it safer and capable of going into my pocket, but they'll stay sharper longer," he remarks. And are substantially more compact." Glick's initiative began on Kickstarter and merchandise can now be purchased on the Messermeister site.