'Chicago Fire': 1 Main Cast Member Was a United States Marine
Portraying a firefighter on television likely gives a lot of insight, respect, and appreciation for what real fighters go through in daily life. Similarly, actors who play military personnel, probably gain the same for those who are or have served in the military.
There are some actors on Chicago Fire, who are actual Chicago fireman. There is also one regular cast member who was a United States Marine and understands what it means to serve.
Chicago Fire's Lieutenant Christopher Herrmann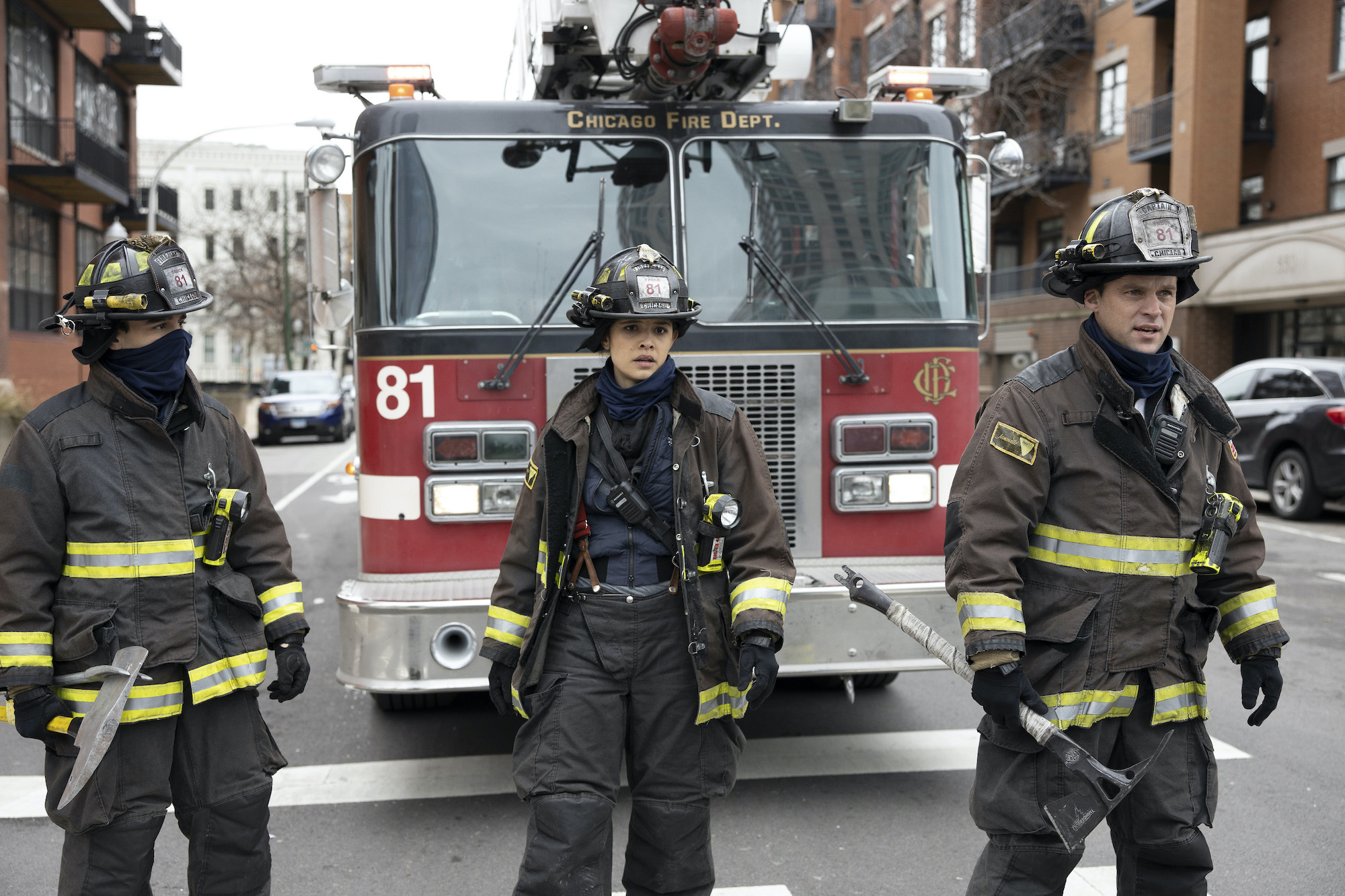 Fifty-six-year-old actor David Eigenberg portrays Fire House 51's, Lieutenant Herrmann. Hermann has been a main character of Chicago Fire from the onset of the show, now in its ninth season on NBC. The middle-aged firefighter didn't become a lieutenant until Season 7.
During the first season, the Herrmann family lose their home, having to temporarily move in with the firefighter's in-laws. Not happy with the arrangement, Herrmann attempts to find a viable side hustle to earn extra funds.
During the season, he convinces paramedic Gabby Dawson (Monica Raymund) and firefighter Brian "Otis" Zvonecek (Yuriy Sardarov) to invest in a bar with him, according to Fandom. They named the bar, Molly's in honor of the late wife of a man whose army medal they found during their renovations of the building.
By the end of the season, Herrmann's wife, Cindy (Robyn Coffin), gives birth to their fifth child, and the family finds a house to rent. Moving forward through the subsequent seasons of Chicago Fire, we learn a lot about Herrmann through his work at the firehouse, his management of the bar, and the storylines involving his family.
Eigenberg's acting career
Although born in New York, Eigenberg grew up outside of Chicago. His family moved there when he was just four. He has five sisters, one of whom, Helen, is also an actor. Eigenberg's own first acting gig came when he was 12, in a community theater production of Happy Birthday, Wanda June.
Much later, he got a part in the chorus of One Shining Moment in Chicago. Afterward, he was accepted into the American Academy of Dramatic Arts. He then moved to New York where he performed in many off-Broadway plays.
The early 2000s brought him to television. Guest roles included such shows as Third Watch, Criminal Minds, Castle, Law & Order: Special Victims Unit, and NCIS, according to IMDb.
His breakout role came with his recurring role as Steve Brady on HBO's Emmy-winning series Sex and the City. In 2012, he landed his Chicago Fire character of Herrmann.
Lance Corporal David Eigenberg
RELATED: 'Chicago Fire': Jesse Spencer Reveals Intense Disaster Scenes Are Filmed In Just 1 Take
Eigenberg went through a rough patch following high school. He had worked every summer from the age of 12 saving up for college, but his college studies only lasted five weeks. He had run-ins with the police during his teens for alcohol and mild drug abuse. He worked menial jobs trying to make a living, finally enlisting in the Marine Corps Reserve, serving from 1982-1986 while earning the rank of Lance Corporal.
After 9-11, Eigenberg, who was living in New York, joined the USO, according to the organization's website. He felt the need to give back to those called into action following the attack. It was through his USO work that he met his wife, Chrysti, who was serving in the military at the time.
In 2019, Eigenberg was honored to return to the USO, leading a tour to the Naval Station Great Lakes in his home state of Illinois. He was also asked to speak at the USO of Illinois Star-Spangled Gala, according to the USO website.
"It's a gift and a privilege to be invited to work with the USO because our service members are outstanding special Americans," Eigenberg said. "I think it's a great opportunity to see one of the things that's best about this country."
He later explained what the USO had meant to him as a young Marine. "When you're first coming into a duty station, you don't know anyone, and then there's this place: the USO! Civilians don't understand that when you're a recruit and living out of the barracks, you don't have too many places to go [so the USO is very helpful]," he said.
The Eigenbergs have made Chicago their home. They have two children, Louie and Myrna.