'Chicago Fire' Actor David Eigenberg Says the Cast Is 'Like Family'
They have been on television for nearly a decade. The cast of Chicago Fire has become a tightly knit family and are as close as, well, a shift of firefighters.
Following the recently aired episode of "My Lucky Day," David Eisenberg, who portrays Lt. Christopher Herrmann, told fans just how close the cast has become.
But it isn't only the Chicago Fire cast. Friendships include members from the other Chicago shows, too. Cast members from Fire often appear in Chicago Med and Chicago PD as well, and vice versa. It is a bit like having an extended family.
The episode 'My Lucky Day'
Eisenberg and Joe Minoso, who portrays firefighter Joe Cruz, have been on Chicago Fire since its first episode. While they are not best friends on the show, they have become close, as has all of those in Firehouse 51. In "My Lucky Day," the two are trapped inside an elevator of a burning building along with two members of a construction team.
That morning had started with Herrmann receiving a cookie fortune saying this would be his lucky day.
The fire sent the firefighters upward in the building. At first, Cruz was going to hoof it up the stairs, but Herrmann told him to ride along. Lucky for Herrmann and the two others, not so lucky for Cruz.
The elevator gets stuck along the way. Most of the episode was filmed inside the elevator, which is unusual. Generally, one episode is filmed in multiple locations which can take days to produce. 
"I was really happy that I got paired off with Joe Minoso; we're old friends now. We're all like family," Eisenberg told Entertainment Weekly. "It's been nearly 10 years that we've been working on the show, and we've developed a friendship over the years."
Some takes lasted 15-20 minutes which Eisenberg liked. "We were all locked up in an elevator, and it really flowed," he said. "I remember after some of the more crazy takes, the entire crew broke into applause."
Missing Otis and a baby on the way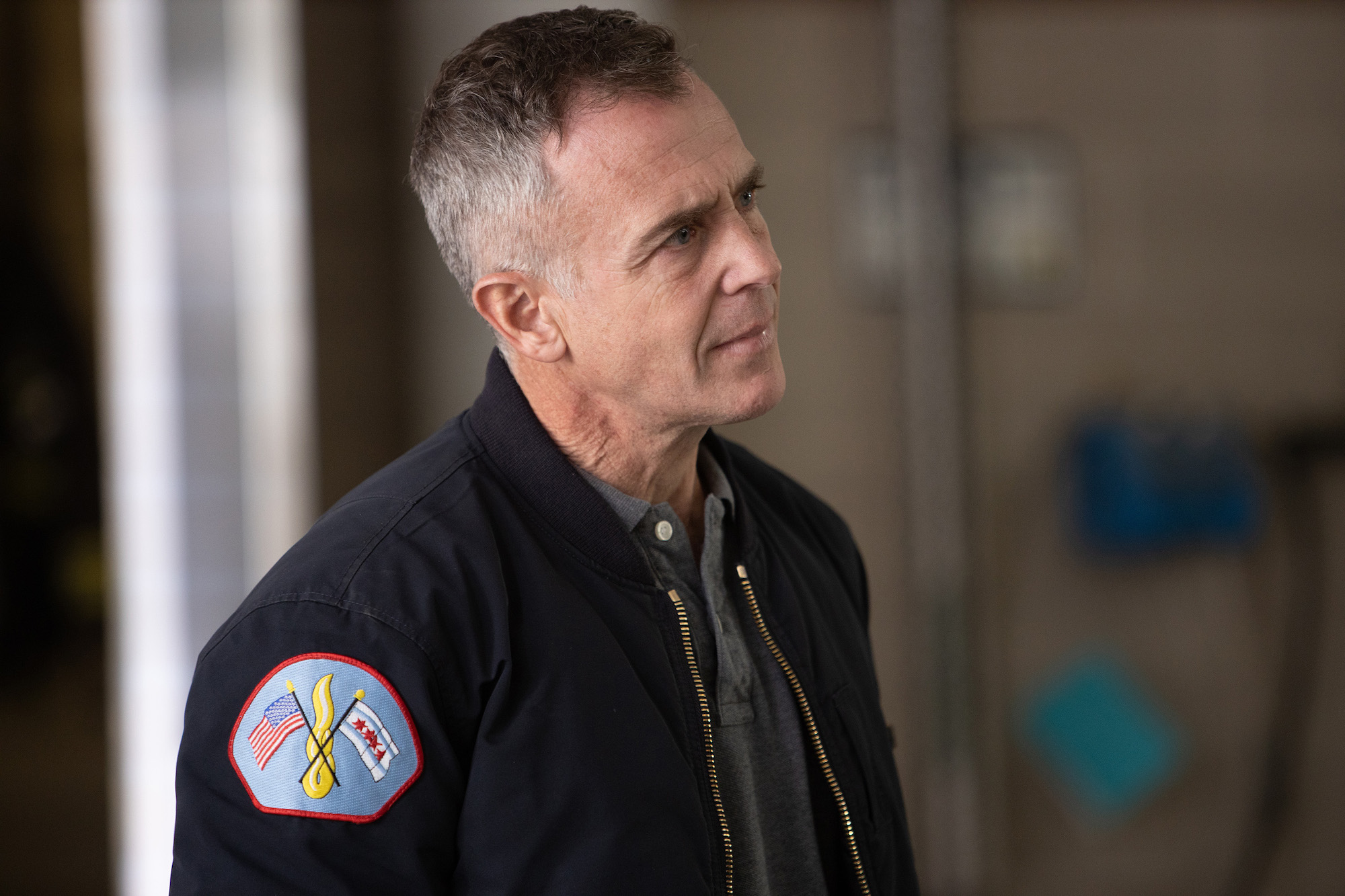 The episode had Herrmann and Cruz remembering a former team member. Cruz's best friend, firefighter Brian "Otis" Zvonecek (Yuriy Sardarov), died after injury fighting a fire in season 8. Herrmann told Cruz to channel Otis's electrical knowledge while trying to fix the elevator.
"His character was so heartwarming and sweet. We miss Yuri tremendously," Eisenberg said. "Joe's character was close with Otis, all of us were really, so it kind of pops out and comes in, which is sweet and bittersweet at the same time."
While gone from the show, Otis is far from forgotten. He has been mentioned or alluded to in every episode since his death. Eisenberg explained that Chicago Fire is a show "about life and death." He also recalls while learning techniques from real Chicago firefighters, he can see that pain in their eyes. "I hope that was conveyed in the episode."
While stuck, Cruz opened up to Herrmann, sharing that he and his wife, Chloe (Kristen Gutoskie), are expecting. He also swore Herrmann to secrecy, as Chloe did not want the word out yet.
Although the sex of the child was not revealed at the time, not unexpectedly, in a subsequent episode, Chloe told Cruz they are having a boy. Cruz later shared the news with his entire firehouse family.
'Chicago' cast members are besties
It's not just that the characters are close. Many of the cast members are, too. And that goes for crossover characters who sometimes appear on another show. For example, Marina Squerciati, who portrays Officer Kim Burgess on Chicago PD is besties with Torrey DeVitto, who plays Dr. Natalie Manning on Chicago Med.
They are the same age, 36. Squerciati is married and the mother of one. DeVitto is divorced with no children. The two find time to dine and travel together. In February 2020, the two posed for a photo posted on Instagram, commenting "Don't mess with the best vacation ever . . . in Texas."
Some cast members have lived in the same West Loop condo building including Squerciati, Fire's Tyler Kinney (Lt. Kelly Severide), and Med's Yaya DaCosta (nurse April Sexton). The building is close in proximity to the medical center used for Chicago Med, the police facility used for District 21, and the firehouse utilized for Firehouse 51.
Chicago Fire actors and fans don't know yet whether Chloe will give birth this season or next, according to Eisenberg. He is hoping that Herrmann, being a father of five, will have the chance to mentor Cruz in future episodes adding, "He (Cruz) will be a wonderful father."