'Chicago Fire': Do They Use Real Fire During Scenes?
Chicago Fire has scenes that will leave you on the edge of your seat. The characters are often in tricky situations where they must quickly rescue people from a raging fire. Most of the time, the character gets out before getting seriously injured. Do they use real fire on the set of Chicago Fire? Here's what Showbiz Cheat Sheet knows.
The 'Chicago Fire' cast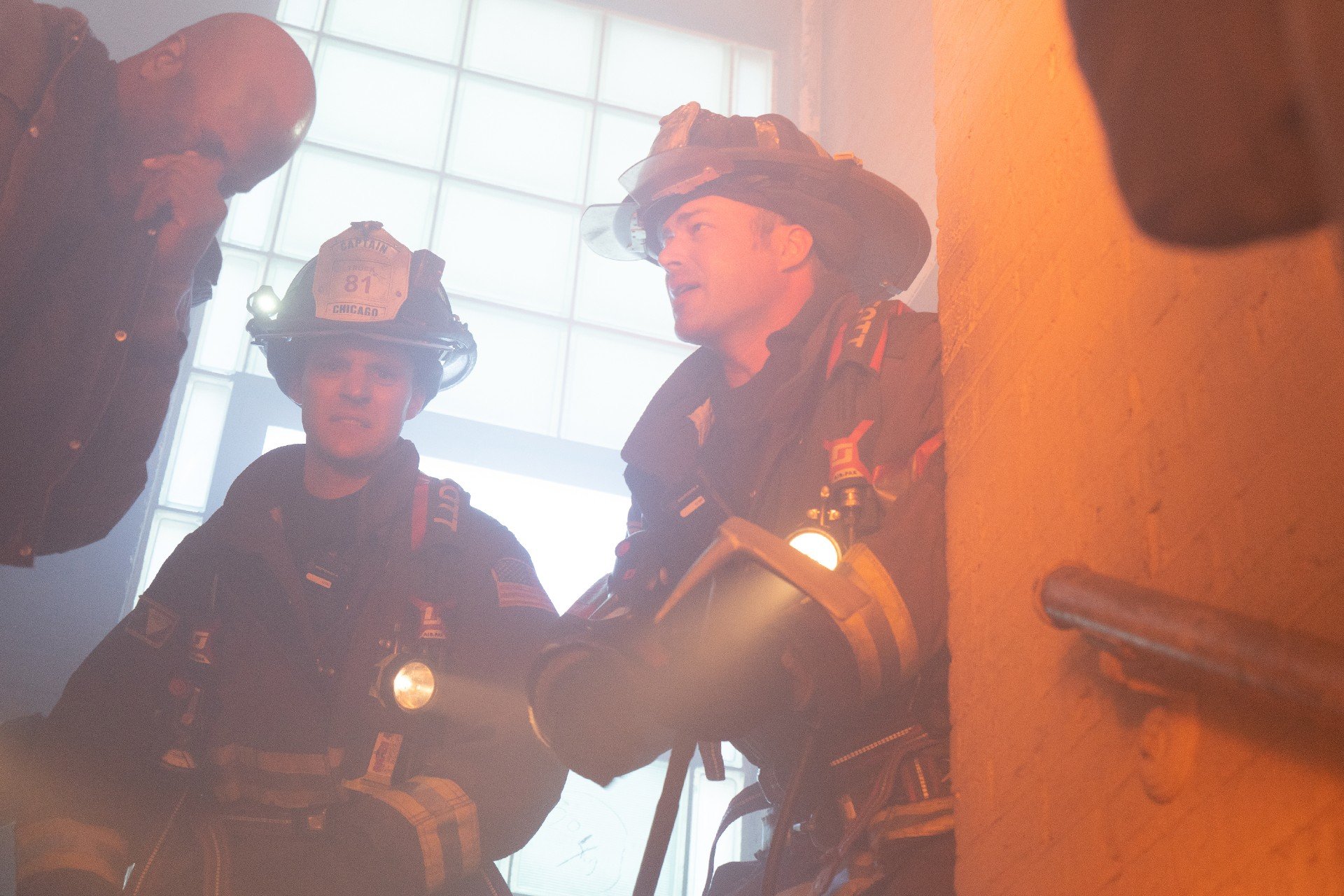 The Chicago Fire cast is made up of a talented group of actors. Among them are Taylor Kinney as Kelly Severide, Kara Killmer as Sylvie Brett, Jesse Spencer as Matt Casey, David Eigenberg as Christopher Herrmann, Miranda Rae Mayo as Stella Kidd, Christian Stolte as Randy "Mouch" McHolland, Eamon Walker as Chief Wallace Boden, Joe Minoso as Joe Cruz, Alberto Rosende as Blake Gallo, Daniel Kyri as Darren Ritter, and Hanko Greensmith as Violet Mikami.
Do they use real fire on 'Chicago Fire'?
One thing you've probably wondered when you're watching Chicago Fire is if they use real fire during scenes. The answer is, yes, real fire is used on the set. Jayson Crothers, a cinematographer for Chicago Fire from 2014 to 2018, tells American Cinematographer, "every couple of episodes we have a big burn."
Crothers goes on to explain that fires that take place outdoors are filmed on location and fires that take place indoors are held in a controlled environment on what is called a "Burn Stage" in a converted warehouse. The cinematographer notes the set-up process can take a long time. This isn't surprising, considering conditions could become unsafe if the proper precautions aren't taken.
"Every setup on the Burn Stage takes between 45 minutes and an hour to set up," says Crothers. "We design our setups to get as many edits as we can within a single setup, but they never run very long." He tells the publication that scenes won't run any longer than 20 or 30 seconds because the heat can become intense.
What real firefighters say about 'Chicago Fire'
Overall, how realistic is Chicago Fire? Firefighter Kelseigh Castillo tells KCEN Channel 6 News that some parts of the show are realistic, and some are not. For example, she says the relationship drama isn't realistic. So, you typically won't see major drama like the show portrays between Matt Casey and Sylvie Brett.
However, Castillo says the emotions the firefighters display when someone is in danger are very real. "The stress that they show and the tension that they show on calls, that is very real," Castillo tells Channel 6 News.
Another part of the show that is accurate is the close relationships that develop between the firefighters. "One of their guys will get trapped in the house fire, and the emotion that the guys on the outside go through. The fear that they kind of have of, 'is it going to be OK?' the brotherhood that they have is exactly how we are," she says.
Follow Sheiresa Ngo on Twitter.