'Chicago Fire' Fans Are Over Brett and Casey's Drama and Just Want Them to Communicate
Chicago Fire has plenty of action-packed scenes full of daring rescues amid incredible disasters. It's one of the reasons the show has built up such a huge fan base over the years. Fans also love the relationships that the characters have built with one another over the past decade, and they definitely have a few favorites. 
Matthew Casey and Sylvie Brett are two characters that everyone seems to love. They've been waiting for these two to get together, but they're starting to get tired of all that waiting. They desperately want these two to grow up, act like adults, and talk about their feelings. The show's creator might have something different planned, however, and fans might be waiting even longer to see these two together…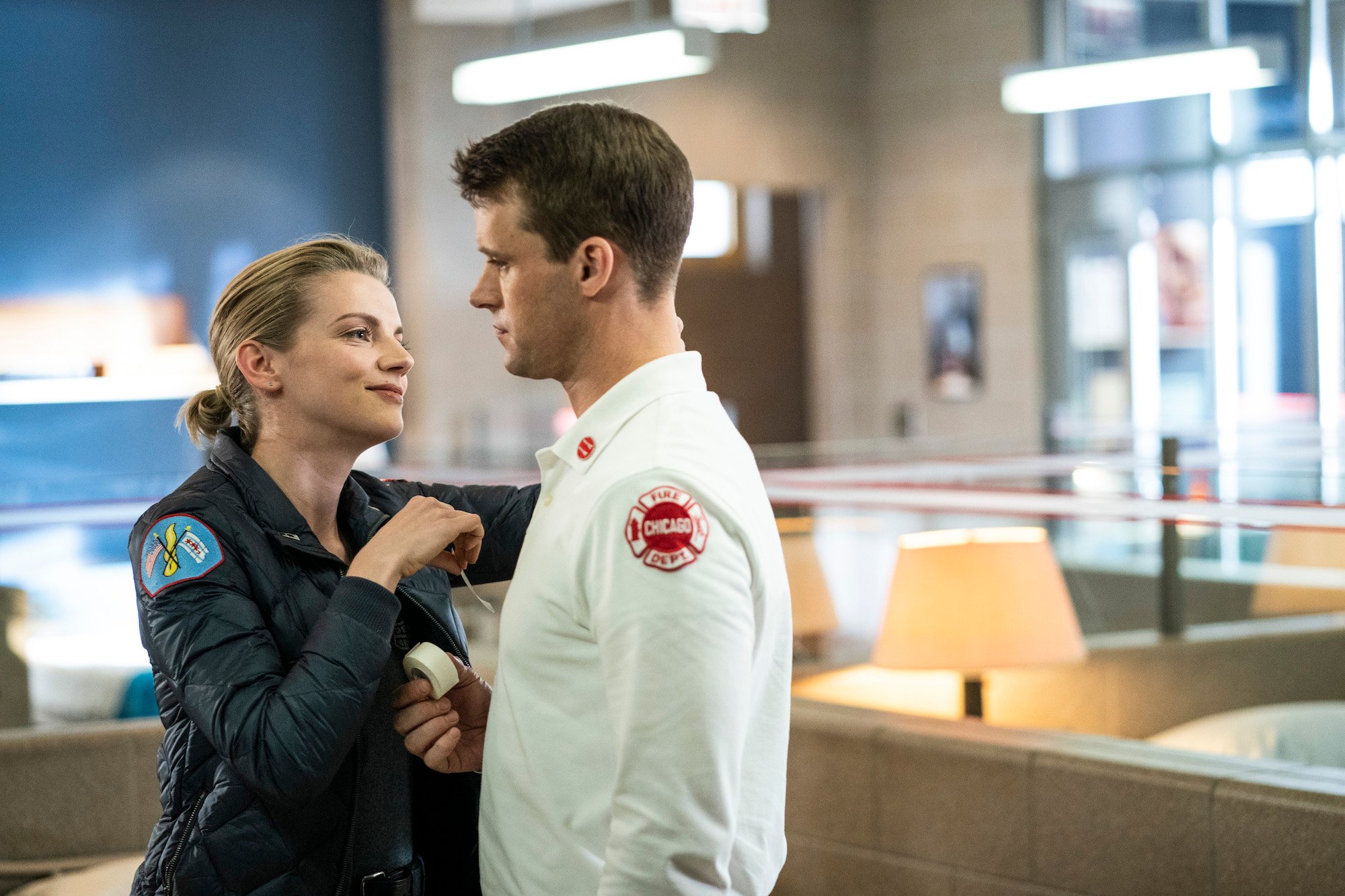 Matthew Casey: He used to be everyone's favorite Captain
Matthew Casey (portrayed by Australian actor Jesse Spencer) is a staple of Chicago Fire. He's been in the series since the beginning and has pretty much always been a fan favorite. Over the past couple of seasons, however, some fans are tiring of the heroic Captain of Truck Company 81. 
Casey is a natural leader. He wears his heart on his sleeve, and always sticks up for his friends and co-workers, no matter how dire the consequences. He cared for a friend's children when she had to serve time in prison for a DUI. He used his political position as an Alderman to help those less fortunate and serve justice in the city. Throughout the show's nine seasons, his huge heart, passion, and selflessness have earned him quite a fan base. 
Some fans feel that Casey's character has become less likable as the show progresses. They are noticing flaws in his character that they find annoying, or they believe his storylines are too weak. One of his biggest flaws is his habit of keeping his feelings to himself, and his inability to communicate. Both of these flaws have sabotaged his relationships, both romantically and with his family.
Sylvie Brett: She's cute and sweet, but don't underestimate her
Sylvie Brett (portrayed by Kara Killmer) joined the Chicago Fire team in season three. She replaced paramedic Leslie Shay after she died in the line of duty. Brett is an Indiana farm girl, sweet, soft-spoken, and hard-working. When she is first assigned to Ambulance 61, everyone in the firehouse notices her striking resemblance to Shay. 
She quickly becomes best friends with Dawson, breaking through the depression and guilt that Dawson experienced after Shay's death. Brett proves herself to be a talented paramedic who is quick-thinking and works well under pressure. She is eventually promoted to Paramedic-in-Charge when Chili is fired and leaves for a rehab program. 
Brett and Casey's romantic drama–have fans had enough?
Both Brett and Casey have plenty of fans, and those fans have been eagerly awaiting the moment when these two get out of their own way and finally get together. We thought that it was happening in a recent episode when the two shared a passionate moment, but we were all disappointed when Brett hit the brakes. 
So what is the issue with these two? They clearly have feelings for each other, and they'd make a super cute couple. The biggest problem seems to be that Casey just can't let go of his ex. Dawson may be long gone, but she always seems to be lingering there in the background. It's apparent that Casey is harboring some lingering feelings for her, and Brett feels guilty because Dawson was her best friend. 
Fans have had enough of the awkward tiptoeing around the situation. They want Brett and Casey to act like adults, talk it out, and start the fantastic relationship they could surely have if they stopped sabotaging it before it even begins. 
Several fans took to Twitter to share their thoughts after that steamy moment that led to absolutely nothing, referring to the whole thing as a "teenage storyline." Some fans are completely bored with the potential couple, saying that the whole relationship is very "high school" and are ready to move on from the pair.
Others are still holding out hope that the two will end up together, stating that there is no competition for Brett because she belongs with Casey and the two just need to talk and figure it out.
It seems the show's creator might be throwing another wrench into the plans, however. In an interview with US Weekly, Derek Haas hinted at some potential roadblocks for Brett and Casey–in the form of a new love interest for one or both characters. What a bummer. One thing is for sure– we'll have to tune into the rest of season nine to find out if these two will finally get their happily ever after.