'Chicago Fire': Gianna Mackey Has a Deeper Backstory to Be Revealed, Showrunner Says
Unlike previous paramedics who have come and gone on the show 'Chicago Fire', Mackey or Mac, as she is called, is a relative newbie.
Anyone who has missed the first few episodes of Chicago Fire's ninth season has missed a lot! There is what is happening, or not happening, between Captain Matthew Casey (Jesse Spencer) and paramedic Sylvie Brett (Kara Killmer).
We are exploring the potential of firefighter Stella Kidd's (Miranda Rae Mayo) growth within the department, as she prepares for taking the lieutenant's exam. And there is a new paramedic, Gianna Mackey (Adriyan Rae) on Ambulance 61.
Unlike previous paramedics who have come and gone on the show, Mackey or Mac, as she is called, is a relative newbie. She is confident, mind you, but she has a lot to learn and Brett is the right one to show her the ropes. So, what do know about Mac and how is she settling in at Firehouse 51? Let's take a look.
The relationship between Brett and Mac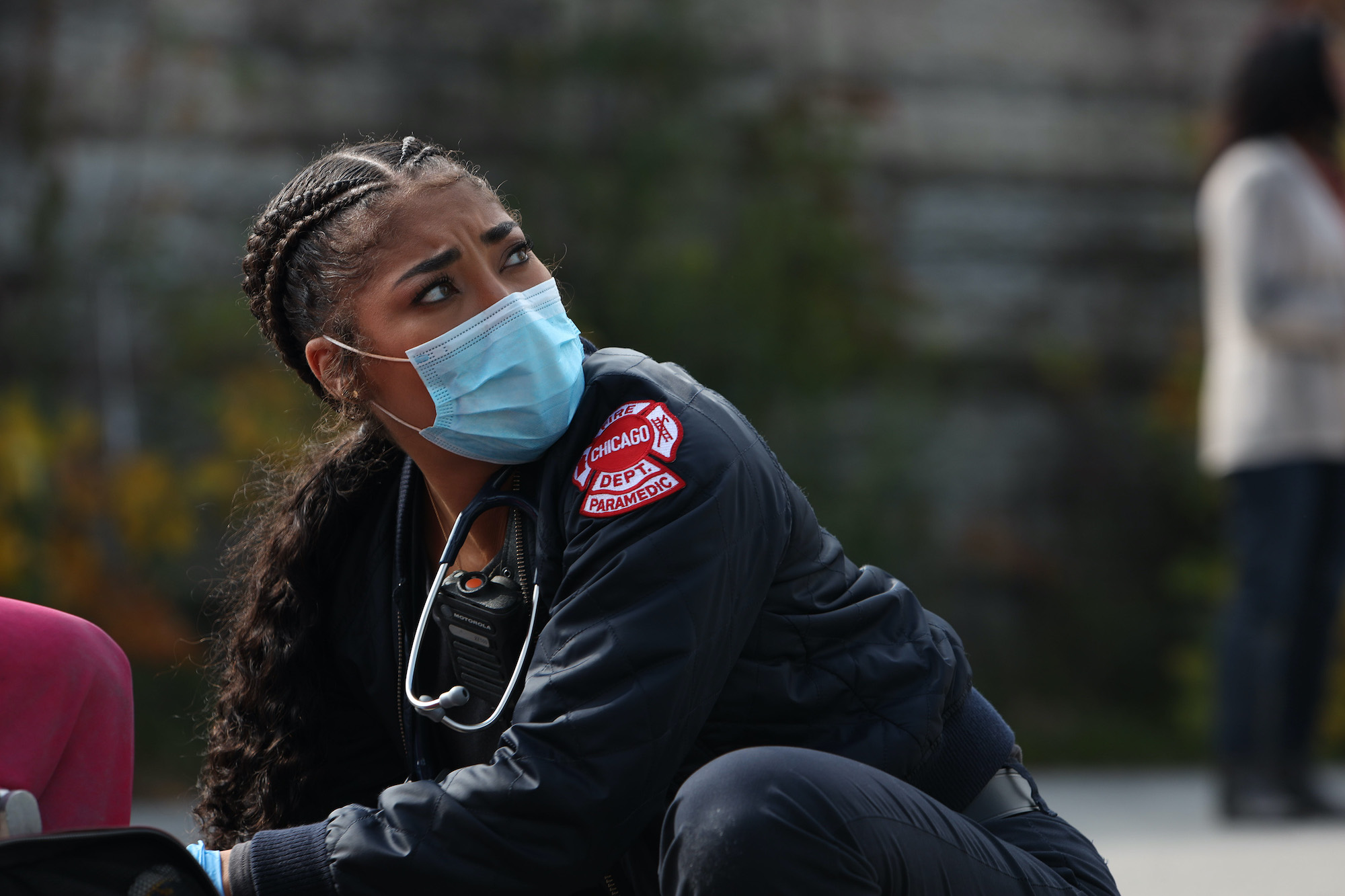 So far, Brett and Mac seem to have hit it off. Mac has gone through her paramedic training and from what we know she does have some actual work experience, but in a much slower situation. Instead of being contemporaries, Brett is more of a mentor to Mac, according to TV Insider. Mac has said she wanted to be in a busier house but didn't realize just how busy Station 51 and Ambo 61 would be.
On one of their first runs together, Mac and Brett are forced to treat a patient suffering an overdose while held at gunpoint by his brother. After informing the gunman that his brother needed to get to the hospital if there was any hope of saving him, Brett pushed forward despite the gun, loading the patient into the ambo.
The patient dies after arrival at the hospital. The angry brother later runs their ambulance off a bridge. Brett and Mac are OK despite totaling the vehicle. They turn their attention to rescuing the man who made the attempt on their lives. 
That danger was one of a few things that left Mac questioning whether she was a good fit for the station. After thinking about it though, she knows she wants to stay.
What we know of Mac's past and how her character is moving forward
Mac's relationship with firefighter Joe Cruz (Joe Minoso) goes back to her childhood. Cruz seems quite a few years older. He has shared that he had promised her brother he would look after her. The implication is that her brother died while they were all quite young. Cruz is glad she is at Station 51 where he can keep an eye on her.
A flirtation has started between firefighter Blake Gallo (Alberto Rosende) and Mac. Cruz has warned Gallo to stay away from Mac, which Gallo has, so far, taken seriously. But Mac is interested. In a private conversation with Brett, Mac has asked whether Gallo is involved with anyone.
When will we learn more about Mac's past?
There is possibly a lot to uncover about Mac. Showrunner Derek Haas has shared we will learn more during this season. Maybe we will learn more about Cruz, as well. We don't know a lot of background about Cruz, although we have met his younger brother, Leon (Jeff Lima), who has been involved in gang activity. We saw Leon get placed in the witness-protection program having left the gang and sharing information with police officials.
It was through Leon's appearances in seasons 1, 2, 6, and 7, that we learned just how protective Cruz can be of those he cares about. It is clear he considers Mac family. Maybe we will learn about the relationship between Mac's brother and Cruz. Maybe there will turn out to be a connection between Mac and Leon. And what about the gang Leon was involved with?
At this point, we are just going to have to wait and see what Chicago Fire writers will share about Mac throughout this season. Chicago Fire airs Wednesdays at 9 p.m. EST between Chicago Med and Chicago PD on NBC.