'Chicago Fire' Has a Number of Real Firefighters in Those Intense Incident Scenes
Chicago Fire has been airing on NBC for the past eight seasons. The popular dramatic television series focuses on the firefighters, paramedics, and rescue squad members of Firehouse 51 in Chicago. The fictional show does its best to accurately depict real-life situations that the Windy City squads face every day. To recreate intense incident scenes, the show's producers often rely on the help of real Chicago firefighters.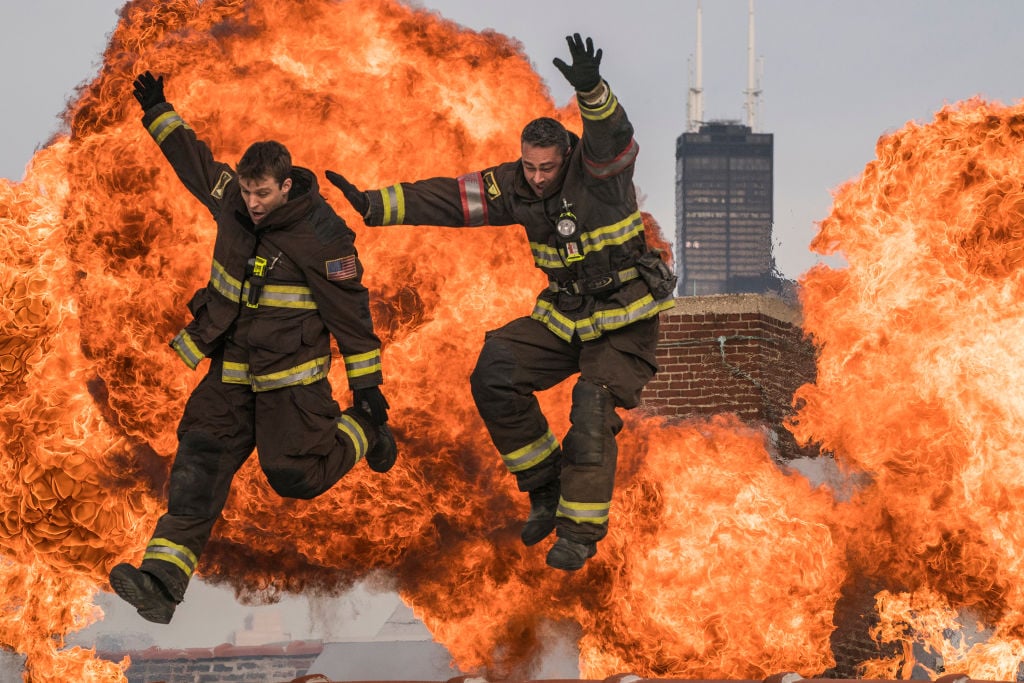 Chicago Fire
NBC describes the high-octane drama as "an edge-of-your-seat view into the lives of everyday heroes committed to one of America's noblest professions." Executive producer Dick Wolf, who established the Law & Order brand, and co-creator Derek Haas wanted to make a show about people that risk their lives every day to protect the citizens of Chicago. After eight seasons, the show continues to attract an audience. Last year Chicago Fire saw a 36 percent increase in viewership, according to TV Series Finale. Fans can't seem to get enough of the popular crossover episodes with Chicago P.D. and Chicago Med.
It seems Wolf knows what his audiences like.
Episodes are often graphic in nature 
Chicago Fire is an intense emotional drama intended for mature viewing audiences. The creative team works hard to design authentic fire scenes that pull fans in. Heartfelt relationships, dramatic music, intense sound effects, and incredible pyrotechnics complete the package. Not every episode focuses on a raging inferno. Sometimes graphic car crashes, terrible accidents, or city-wide disasters replace the fires. 
The special effects team goes above and beyond to make sure every precaution is taken so that flare-ups don't occur on the set. Disaster lurks around every corner with exploding gas tanks, cars dangling from bridges, backdrafts, fireballs, and everything else in between.
DNA Info reports that Steve Chikerotis is a technical adviser on the show, bringing more than 35 years of firefighting experience to the table. He has used his real-life knowledge to help recreate death-defying moments for the show. A retired Chicago deputy district chief, Chikerotis gets about 16 days to plan, conceptualize, and test a concept before determining if it is safe for the cast and crew to start filming an episode, according to AV Club.
The need for real firefighters on the set
Tony Ferraris, also a technical adviser, plays himself on Chicago Fire. Wanting to be a fireman since he was a little kid, Ferraris has worked as an active firefighter in the Windy City for many years. Closing in on retirement from his risky lifestyle, the Chicago native took the time to reflect on his unexpected acting career, saying, "Acting! It's tough, man."
Ferraris has been part of the NBC television series for eight seasons. He originally started as an extra, which morphed into the squad truck driver. By episode six of the first season, his character was written into the storyline, and he has been a fan favorite ever since.
Ferraris, who never intended to become an actor, recently explained that he was nervous about taking the role. Co-workers encouraged him to be himself and just act normally. The best advice he received was to do things like he does when he goes out on a typical call. These tips helped him to relax and ease his way into acting like an on-camera firefighter with the Firehouse 51 squadron.
Just like he was never an actor, most of the cast on the show were never firefighters. Because of the intense nature of the incidents, technical advisors realized early on that they were going to need to bring in the real thing. Ferraris says that they use a lot of real firefighters in the scenes and that several of his real-life friends have appeared on Chicago Fire over the years. Recurring characters such as David, Daniel, Hermann, and Ritter are also real firefighters.
Ferraris claims that being a firefighter is "one of the best jobs in the world."