'Chicago Fire': Herrmann and Cruz are in Danger and Some Big News
If you've fallen behind on your Chicago Fire episodes, have no fear. We're here to catch you up and give you the details on what's been happening so you can jump right in where you left off. Here's what happened during Chicago Fire Season 9, Episode 5.
Herrmann and Cruz get stuck in a freight elevator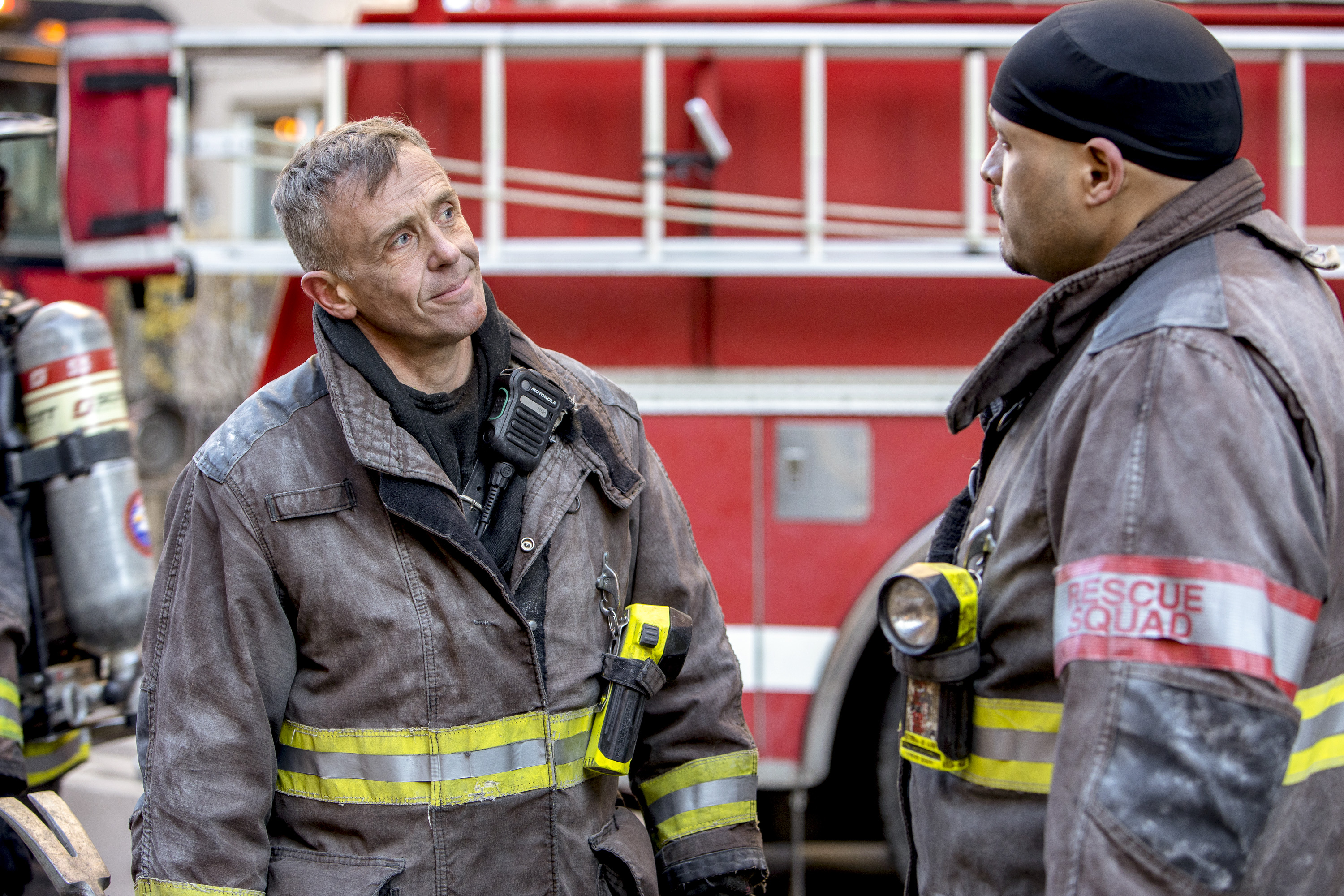 During Chicago Fire Season 9, episode 5 (titled "My Lucky Day"), Herrmann (David Eigenberg) thinks it's going to be his lucky day because of a fortune cookie he read, but he's wrong (at least at first). His team is called in to respond to a structure fire before breakfast. When they arrive, everything looks OK, so they take the elevator.
Unfortunately, Herrmann and Cruz (Joe Minoso) get stuck in the freight elevator and their radios stop working. No one can hear them, so it's up to them to figure a way out.
During the rescue, they meet a very annoying woman named Holly. When they get stuck, all she does is complain and tell them they're going to die. Herrmann gets frustrated with her because he's trying to stay positive, but it's difficult with Holly around. At one point, she gets knocked unconscious after trying to get the elevator to move. Herrmann says he's sorry Holly got hurt, but he's enjoying the peace and quiet.
Since the radios aren't working, no one is able to reach Mouch, who is pinned down somewhere in the building. Cruz is finally able to get everyone out of the elevator and they reach the shaft. Once they're in the shaft, the radios start working and everyone is rescued. They also find out that Mouch is OK.
Cruz has big news
Cruz shared exciting news. He said his wife told him that morning that she's pregnant. However, Joe is nervous about raising a child during this time in the world because of the pandemic and all the political and racial tension. However, Herrmann reassures him.
"This country is not just what's out there, on the news," says Herrmann. "It starts at home in a family. The country that your child is gonna see, the one that's gonna make them who they are, that is the country of Joe and Chloe Cruz."
Herrmann goes on to say that Joe and Chloe are great people who have a lot to offer a child. "You two have such an energy about the both of you. You make other people around you light up. You two made a beautiful, happy home. And that is the country your baby is going to wake up to every day. If you have a solid family, it balances out all the bad out there."
What's happening with Stella and Severide?
Stella and Severide continue to have relationship problems. They're still not talking to each other after Severide pulled away and stopped helping Stella with her exam preparation. Since Severide has been so distant, Stella decides to stay with Brett for a few days. To be continued for these two.
Chicago Fire airs Wednesdays on NBC at 9:00 p.m. Eastern Time.
Follow Sheiresa Ngo on Twitter.