'Chicago Fire': Kidd and Severide's Relationship Could Get Rocky Next Season
Chicago Fire has been a source of some real heat — and we're not just talking about the flaming buildings. Like the other shows in the One Chicago trilogy, Chicago Fire combines some real-life drama of the work of first responders in the Windy City with the interpersonal twists and turns that keep viewers tuning in. Creator Dick Wolf — best known for his success with the Law & Order franchise — knows a thing or two about this particular mix of large-scale crises with the everyday relationships of the people who have to navigate them. 
As fans look ahead to the upcoming season of Chicago Fire, they'll want to keep an eye out for signs of trouble between Kidd and Severide. Creators warn things are about to get rocky.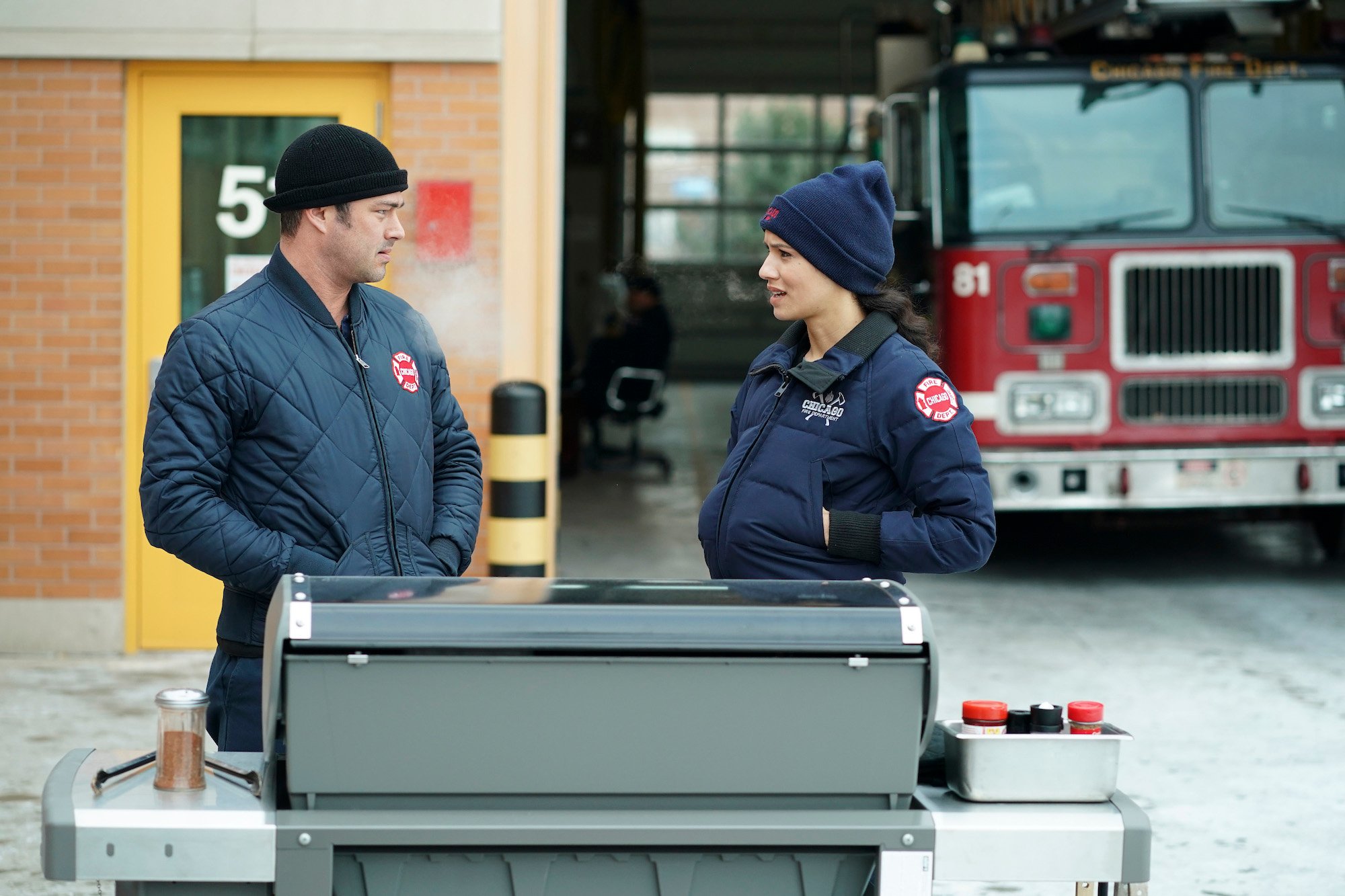 'Chicago Fire' Season 8 wrapped up with suspense
Like so many shows in 2020, Chicago Fire had to wrap up faster than expected. Due to the coronavirus (COVID-19) shutdown, Season 8 filming came to an abrupt end with the last episode airing April 15. Shows typically end their seasons on a cliffhanger to build suspense until they return, but the abbreviated production timeline left even more questions hanging in the air than usual. 
There were several smaller personal dramas set up in the finale with Foster and Brett parting ways after Foster's decision to return to medical school. More seriously, Capp faced a major injury and a potential loss of eyesight — which in turn could mean the end of his time at the firehouse. In light of that much more pressing concern, there was not as much attention to Stella Kidd's plotline involving one of the students with her Girls on Fire program. Her boyfriend, Kelly Severide, encourages her to contact the student to check in on her concerns. 
Kidd and Severide have a supportive relationship
RELATED: 'Chicago Fire': The Fire Station Will Look Different Next Season
As the Season 8 finale showcased, Kidd and Severide have a supportive relationship where they help build one another up in their respective careers. Kelly Severide (portrayed by Taylor Kinney) is the leader of Rescue Squad 3 and one of the most talented and dedicated members of the team. Meanwhile, Stella Kidd (played by Miranda Rae Mayo) is a likable fan favorite who is seen as one of the guys around the firehouse — able to hold her own in the tough, male-dominated career.
Kidd and Severide's relationship — deemed "Stellaride" by fans — had been an on-again, off-again affair with lots of steamy moments whenever it is "on." It wasn't that long ago, however, that Severide's exit from the show was teased by creators, and — especially since we didn't get to see the original ending of Season 8 play out — some fans are still concerned that Severide might decide to move on despite his relationship with Stella.
Things will get rocky for Kidd and Severide
There's  bad news for "Stellaride" fans. TV Insider takes a look at what we know about the upcoming Season 9 of Chicago Fire, and things don't look great for Kidd and Severide. Stella will be approached by Chief Wallace Boden with an invitation to take the lieutenant's exam. This new ambition will certainly open professional doors for Stella, but at what cost to her personal relationship with Severide? 
The teaser suggests that Kidd's efforts to rise in rank will ruffle feathers across the firehouse and that ruffling will include her own boyfriend. Severide was able to support Kidd when it came to working with her Girls on Fire students, but will he be able to take the way that this new potential position shifts the dynamic of their relationship? Fans will have to tune in to find out.