'Chicago Fire': Miranda Rae Mayo Said Stella's Storyline Helped Her Confront Her Own Imposter Syndrome
NBC is well-known for the network's "Chicago franchise". Chicago Med and Chicago P.D. are two of the television dramas that so many fans love. However, Chicago Fire was the original show to kick off the drama-based dynasty. Debuting in 2012, almost one decade later, Chicago Fire is preparing to wrap up yet another season.
With that being said, there are a lot of unanswered questions, especially when it comes to Miranda Rae Mayo's character. Take a look back at season 9 of Chicago Fire and find out how Stella's storyline has helped Miranda Rae Mayo on a personal level. 
What has been happening on season 9 of 'Chicago Fire'? 
After season eight was cut short due to the global pandemic, fans and viewers of Chicago Fire were eager to see how their fictional faves were doing. Season nine kicked off welcoming Gianna Mackey, a new firefighter to Firehouse 51. In the newest season Chief Wallace Boden continued to encourage and support Stella Kidd to take on more opportunities and leadership roles. It definitely seemed to work out in her favor. 
Speaking of Stella, many fans were thrilled to see the character finally receive what seemed to be her happy-ever-after. That was, until the season nine finale aired. 
The season nine finale of 'Chicago Fire'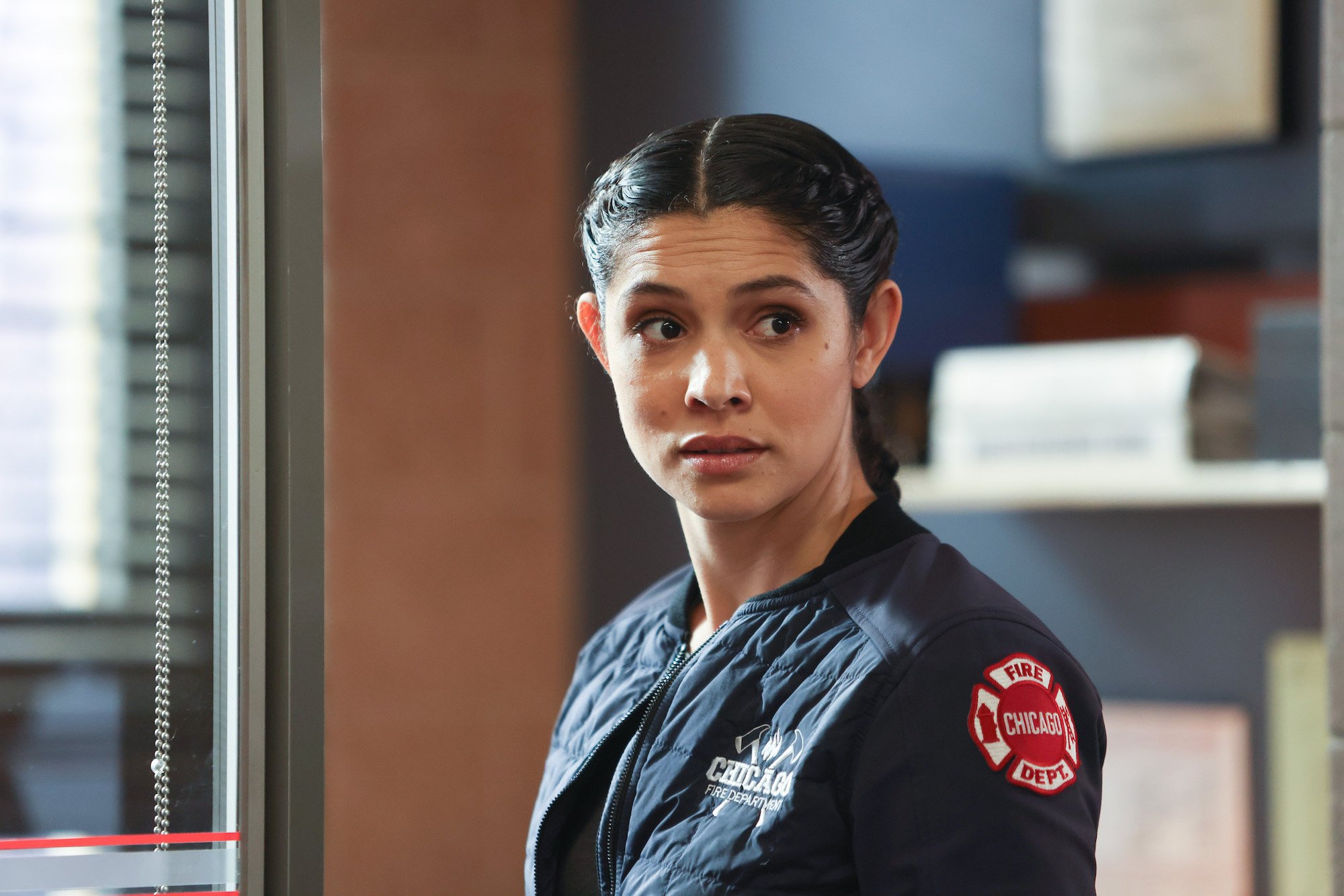 Since her entrance onto Chicago Fire, Stella, who is played by Miranda Rae Mayo, has always had a strong connection with Kelly Severide. The pair's friendship quickly turned into more, and this past season, the couple seemed to really hit their stride. In very "Stellaride" fashion, the two got engaged in the middle of a fire. 
However, though many viewers were pleased to hear the news, the good vibes didn't last long. The season nine finale ended with Severide, Tony, and Cruz jumping into the water to save a man from a sinking boat. Unfortunately, things did not go as planned. As viewers already know, the episode came to an end with the crew and the passenger stuck on the boat and quickly running out of oxygen.
Many people are wondering what this means for all of the firefighters' fate, and others are questioning if Stella and Severide will actually ever be able to get married. 
Miranda Rae Mayo shared how Stella's storyline helped her
Mayo has been portraying Stella on Chicago Fire since 2016, and as the actress shared with EW, she isn't quite ready to leave this character in the past. However, the actress also reiterated the importance of having to be ready for just about anything. 
In another interview with HELLO! Mayo highlighted some specifics as to why Stella is so significant to her. The actress explained, "I would love to see more Girls On Fire, more of the character Aaliyah [Ward] and how Stella, Kylie [Estevez] and Aaliyah interact, to see Stella navigate her imposter syndrome, and watch her find her boundaries." It is clear that Mayo holds a very special place in her heart for Stella and that the character has changed her life.
In a hypothetical conversation where Mayo addressed Stella she shared, "Dear Stella, it has been magnificent watching you discover your power and the effect that you have on people. The love that you are capable of and the magic that you are. You have forever changed me and my life will never be the same because of you and all that you've brought out in me. I love you and I'm going to carry you with me wherever I go." Talk about a theoretically touching moment. Fans and viewers of Chicago Fire are eager to see what season 10 has in store for both Stella Kidd and her fiancé Kelly Severide.