'Chicago Fire' Season 10: Cruz Isn't Happy About This Aspect of the Stellaride Wedding
Kidd and Severide's wedding in 'Chicago Fire' Season 10 won't be smooth sailing, and Joe Cruz might have something to say about his status in the celebration.
A significant event is set for the end of Chicago Fire Season 10. Stella Kidd and Kelly Severide's wedding is finally happening, but it might not go exactly the way they expected. There are a few surprises in store for the couple's big day, and Joe Cruz won't be too happy about this aspect of the wedding.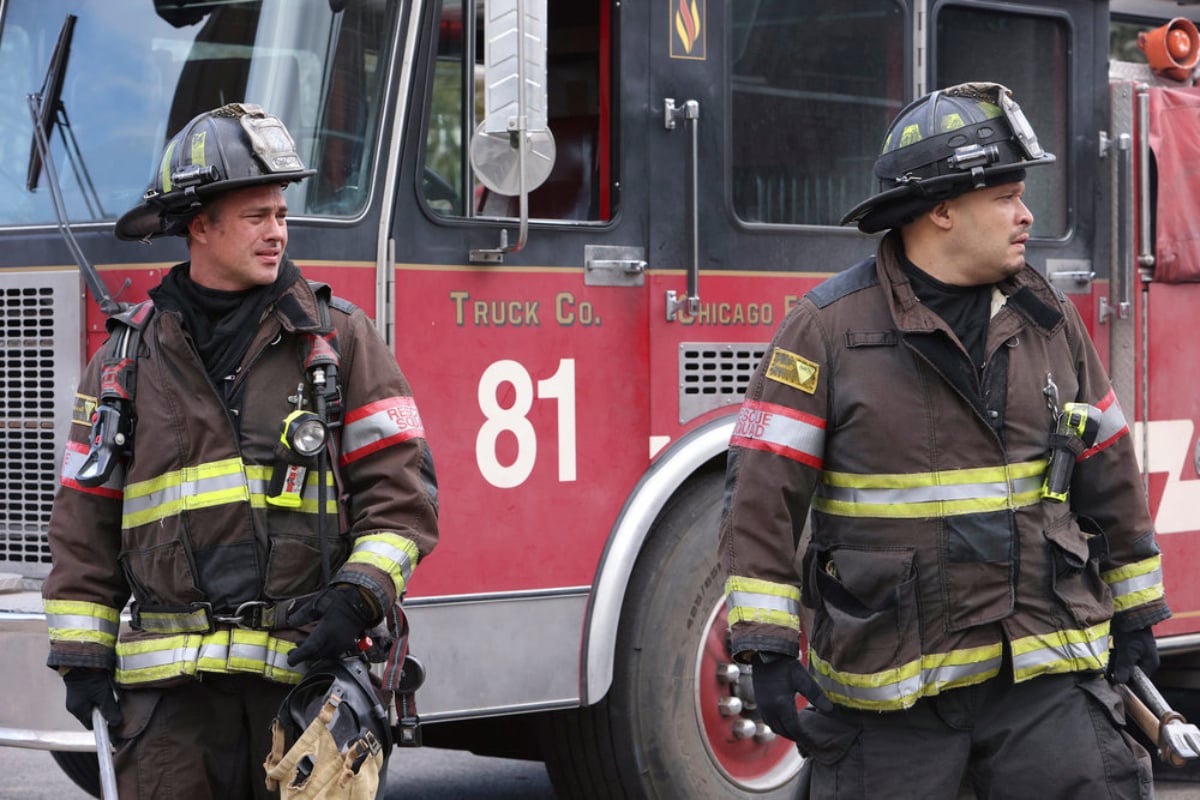 Stella Kidd and Kelly Severide's wedding will take place during the 'Chicago Fire' Season 10 finale
Kidd and Severide got engaged toward the end of Chicago Fire Season 9, but a Stellaride wedding has yet to occur. In Chicago Fire Season 10, Kidd left Chicago to work on her Girls on Fire program in Boston. She even went radio silent on Severide for a while to make matters worse. However, Kidd is back, and their relationship seems stronger than ever.
Chicago Fire executive producer Derek Haas teased that the couple's wedding will occur in the final episode of season 10. Jesse Spencer's character Matthew Casey will return for the event. "The juicy details are that we went to him and said, 'You're so loved on this show. And with the Severide wedding coming up, there's no way Casey would miss seeing his best friend getting married. Come on, man!' So, he graciously agreed to come back for the finale," Haas told Deadline.
Cruz is not happy with this aspect of the Stellaride wedding
Chicago Fire has shown a few weddings over the years, but there hasn't been one in a while. In season 8, Joe Cruz married Chloe Allen. Severide stood by Cruz's side as his best man. Unfortunately, Cruz's best friend Otis died before he could see Cruz's nuptials.
"There's a very poignant mention of his late best friend Otis [Yuri Sardarov] in the episode," Joe Minoso told TV Insider, "but [this] really was a happy ending for Cruz." However, it sounds like Severide isn't returning the favor for Cruz. Executive producer Andrea Newman said of Casey to Deadline, "He promised Severide he would be his best man, and Casey is a man of his word."
Haas added, "Cruz is not happy, of course. Severide was his best man when Cruz got married, and now he's been relegated to second-best man. That's going to be fun." The executive producers teased more surprises and guest appearances in the finale.
'Chicago Fire' fans spot something odd about Kidd and Severide's wedding location
Some fans noticed something else a little odd about Kidd and Severide's plans for their wedding. In Chicago Fire Season 10 Episode 19, Kidd took Severide to the Crystal Gardens. The spot overlooks where Squad 3 nearly drowned while trapped in an overturned boat. "This is where I almost lost you," Kidd tells Severide, revealing that this is the spot she wants them to get married.
However, one Reddit user found the location choice a little strange. "Hey Cruz, wanna come to our wedding? I know it's where you almost died, and as a result, you had to take time off of work and had PTSD for months, but we don't care that it might be difficult for you because it's our wedding and we're the only ones that matter," they wrote. Hopefully, Cruz will be able to handle the location.
Chicago Fire Season 10 airs Wednesdays at 9 p.m. EST on NBC.
RELATED: