'Chicago Fire' Season 10 Episode 18 Will Focus on Chief Boden
It's been a while since Chicago Fire has had an episode focused on Chief Boden and season 10 is going to deliver just that. Episode 18 will put the spotlight on Boden during a dangerous hostage situation. Here's what you can expect from tonight's new episode of Chicago Fire Season 10.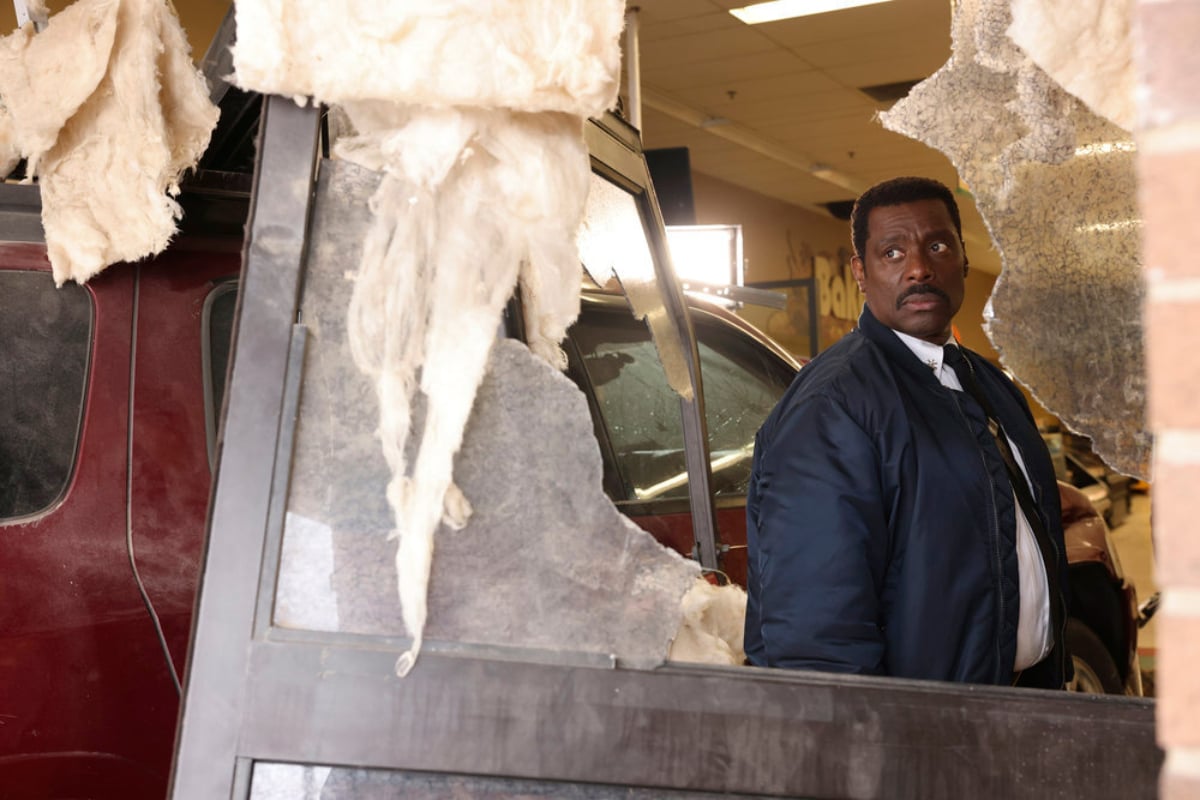 'Chicago Fire' Season 10 Episode 18 promo breakdown
Chicago Fire Season 10 returns with episode 18, "What's Inside You," tonight, April 13. The synopsis for this episode on TV Promos reads, "Firehouse 51 must band together when one of their own is taken hostage." The promo video shows Chief Boden shopping in a grocery store when a man with a gun suddenly starts shouting.
The scene turns into a hostage situation, with police officers waiting outside. Boden tries to help injured victims inside the grocery store. He even confronts the man with the gun. In the video, Boden's voiceover states, "I'm a firefighter. It's my job to rescue people. No one needs to die here."
'Chicago Fire' EP previews tonight's new episode
In an interview with TV Insider, co-showrunner and executive producer David Haas previewed the April 13th Boden-centric episode. "We started to think about what could we do this year, and it just went right to our minds: 'Let's do Eamonn [Walker] in jeopardy alone, not with his firefighting crew and having to navigate a really, really intense, personal drama unfolding in front of him and how he can influence that,'" Haas said.
"I got to see Eamonn a few years back in theater, in a play called Between Riverside and Crazy. He was insanely great, and so then when you write these long scenes — these guys are used to doing a one-page scene — and here's these 10-page scenes where you're having to rip off the dialogue, but we knew Eamonn was the perfect vessel for that," the EP continued.
As for Boden actor Eamonn Walker, the actor teased that fans have a very exciting episode to look forward to. "I really love our writers coming up with ideas," the actor told Cinema Blend. "When Derek called me a couple of weeks ago for Episode 18 that's coming up and we spoke, I got really, really excited when we were speaking on the phone. And I know that the audience will love it too. And it ticks a lot of boxes."
Eamonn Walker teases the 'fantastically written' episode 18
At the beginning of Chicago Fire Season 10, Chief Boden accepted a promotion to Deputy District Chief. While Boden has more desk work to do nowadays, fans are happy that he's still getting screen time on the show. Walker had plenty of praise for tonight's new Boden-centric episode.
"I had an amazing time with the journey of it. It was a fantastically written episode, and the brand-new cast, new little team that was put together for it, everybody gave 150 percent of their energy and time regardless of the size of role," the actor told TV Insider. "I truly, truly enjoyed it and felt that the horse was allowed to gallop."
Chicago Fire Season 10 airs Wednesdays at 9 p.m. ET on NBC.