'Chicago Fire' Season 10 Gives Joe Cruz a Heartwarming New Storyline
In Chicago Fire Season 10 Episode 5, Joe Cruz and his wife Chloe welcomed their first son into the world. At the beginning of the season, Cruz also dealt with PTSD from nearly drowning in the season 9 finale. However, since then Cruz hasn't had a major storyline. That changed in episode 16 when he rescued a little boy from a house fire.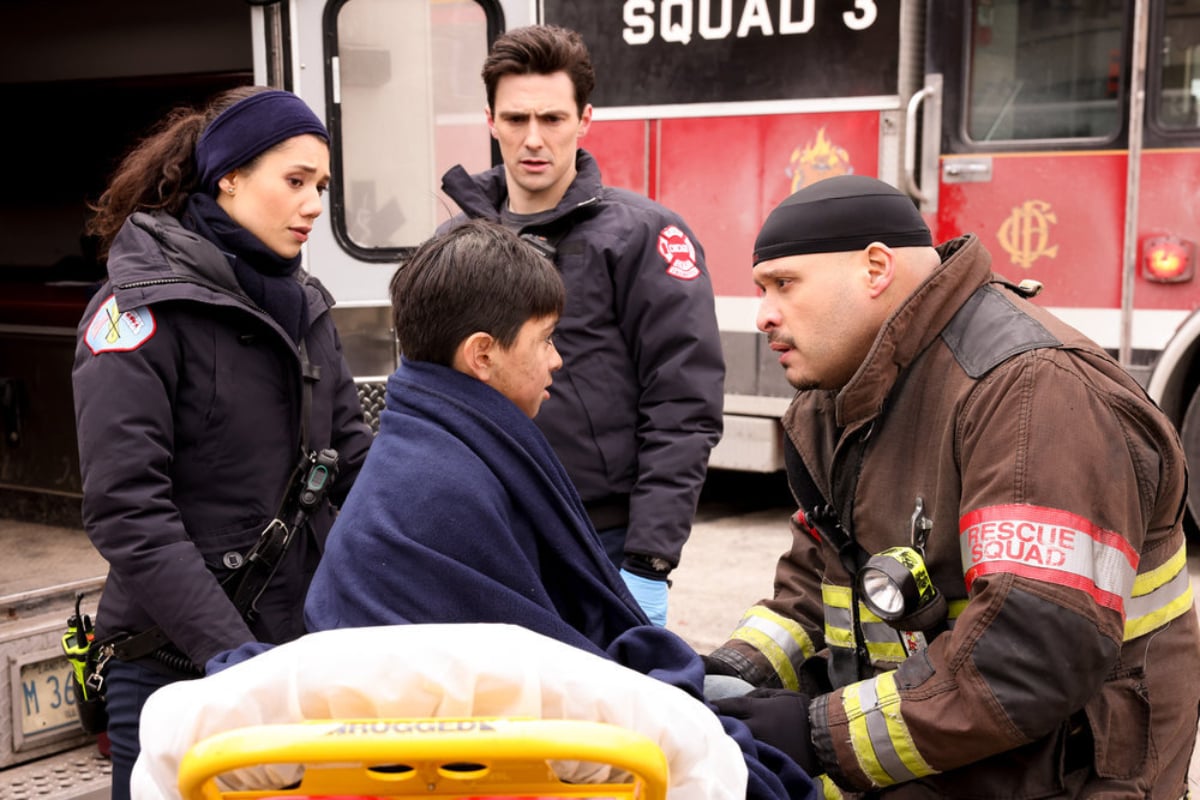 Joe Cruz has had several big storylines throughout 'Chicago Fire'
Joe Cruz has had some interesting storylines throughout Chicago Fire. Season 1 revealed that Cruz's brother Leon ended up in a street gang. Cruz tries to get his brother out, eventually leaving the gang's leader Flaco to die in a burning building. This incident wracks Cruz with guilt.
In season 3, Cruz was suspended from his job driving Truck 81 when he got into a collision with a truck from another firehouse. However, it eventually becomes clear that Cruz was not at fault for the incident. Cruz also has some more lighthearted storylines, such as Sylvie Brett discovering that he teaches a Zumba class.
At Firehouse 51, Cruz is close friends with Brian "Otis" Zvonecek. Otis' death in season 8 deeply affects Cruz. In an interview with Parade, Cruz actor Joe Minoso described this as the storyline for his character that stuck with him the most. "Losing Otis (Yuri Sardarov), which was really two episodes. That one was difficult, not only as an actor to make yourself go to that space, but also personally," Minoso said.
Cruz rescues a boy from a fire in 'Chicago Fire' Season 10
Later in Chicago Fire Season 8, Cruz marries Chloe Allen. She gives birth to their son in season 10 and they name him Brian after Otis. Cruz deals with the stress and sleepless nights that come with being a first-time parent in Chicago Fire Season 10. Episode 16 also introduced a new heartwarming storyline for the character.
During a call, Cruz rescues a young boy who falls out of the window of a burning building. Cruz bonds with the little boy named Javi talking with him when in Spanish when he realizes the child doesn't speak English. Cruz later learns that Javi is an orphan from Honduras. A missionary woman was attempting to take care of him and two other boys.
Javi sneaks out of the hospital and manages to find Cruz at the firehouse. Cruz learns that the woman cannot take care of the boys anymore and that they will be split up. Cruz convinces Chloe that they should give Javi a place to stay. They take Javi in and he sleeps in the newborn baby's room. When Cruz and Chloe wake up to baby Brian crying, they hear Javi singing him back to sleep.
Will Javi stick around when the show returns?
Chicago Fire fans seem to have mostly enjoyed Cruz's story from episode 16. "Cruz is hands down one of my favorite characters and this story really brought out the humanitarian side of his character," one Reddit user wrote. "Love me a good Joe Cruz story, he's one of my favorites, has really grown on me," another said.
Chicago Fire will return with episode 17 on April 6, and it seems like Javi will continue to be a part of Cruz's story. Part of the synopsis for this episode on IMDb reads "Chloe and Cruz adjust to a new family dynamic."
Chicago Fire Season 10 airs Wednesdays at 9 p.m. ET on NBC.