'Chicago Fire' Season 10: Hanako Greensmith Says Violet 'Needs Something Super Different From What Gallo Can Offer'
Chicago Fire Season 10 introduced a new love interest for Hanako Greensmith's character Violet Mikami. Violet got together with Paramedic Field Chief Evan Hawkins. Violet had an on-again-off-again relationship with Blake Gallo throughout her time on Chicago Fire. Now it seems like she is ready to move on. Greensmith thinks a guy like Hawkins is exactly what Violet needs right now.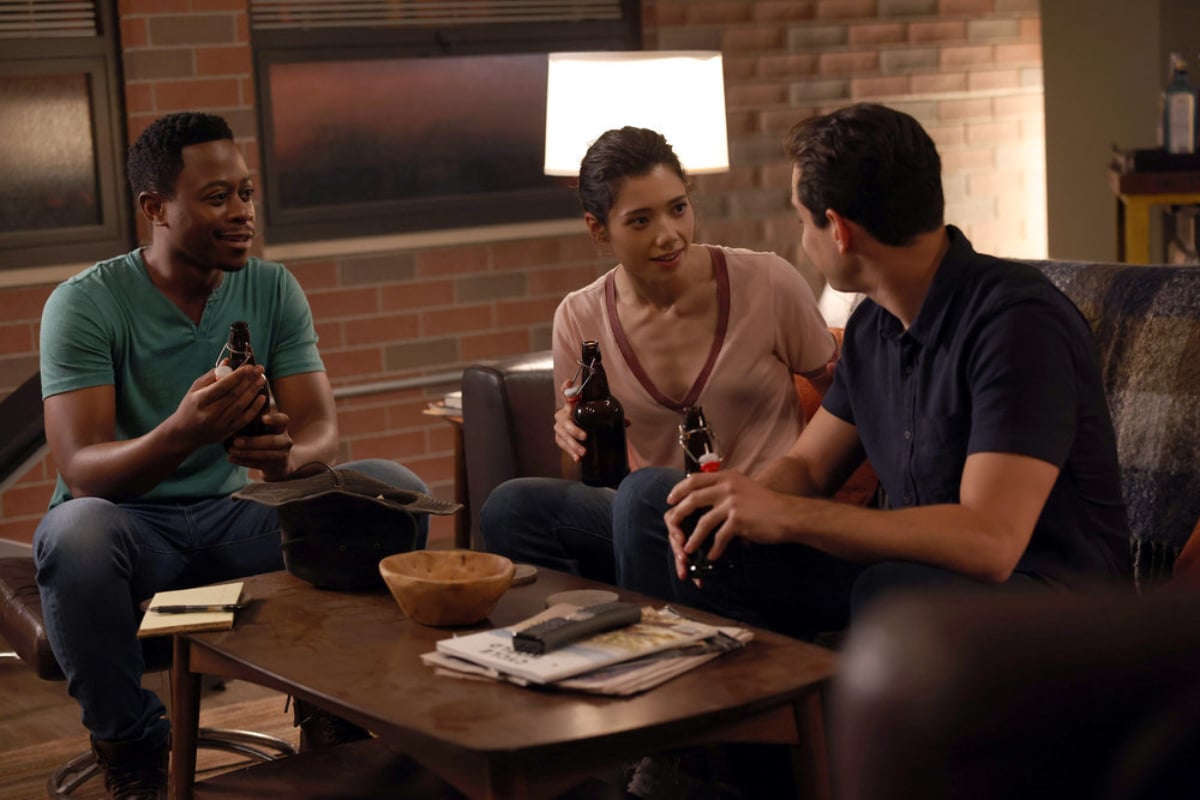 Gallo and Violet have a complicated relationship
Violet and Gallo have had an interesting relationship. The pair were rivals at the fire academy and are constantly competing with each other. They eventually enter into a sexual relationship, but jealousies and miscommunication cause things to go south. Greensmith explained some of the issues with Violet and Gallo's relationship in an interview with TV Insider.
"I think with Gallo, their relationship has been so competitive and so combative. Though there was something attractive and sexy about that maybe for the both of them, I don't think it necessarily brought about enough emotional sensitivity to their relationship for them to move forward, unfortunately."
Violet begins dating Chief Hawkins in 'Chicago Fire' Season 10
Chicago Fire Season 10 introduced Chief Hawkins, who quickly takes notice of Violet. Although their relationship is forbidden, they take things to the next level in episode 12. Hawkins is straightforward with Violet. He makes it clear that he wants them to be together despite what people may think.
Greensmith explained what drew her character to Hawkins in an interview with TV Insider. "What I think is so funny is Gallo is so entirely different to Hawkins, and maybe that's what right now Violet is attracted to," she said.
"I think she needs something super different from what Gallo can offer, someone who is emotionally available and who is unafraid to show that they have attraction and feelings for her, and therefore it's less of a game and more of a journey."
That's not to say that there won't be challenges for Violet and Hawkins. Workplace relationships in shows like Chicago Fire are rarely straightforward. "You're gonna see the excitement that comes with a relationship that is forbidden and you are gonna see them kind of toy with the anxieties that come with that kind of risk," Greensmith teased to TV Insider.
"You're also eventually going to have to see some of the judgment that comes with that. I think that's been kind of a harsher pill to swallow for Violet, is recognizing that obviously, this isn't going to please everyone, for the people that are closest to her."
What does Violet and Gallo's relationship look like moving forward?
In Chicago Fire Season 10 Episode 13, Violet called out Gallo for acting jealous. The pair might have a long road ahead of them, but it seems like there's potential for Violet and Gallo to be friends in the end.
"You're gonna see them go through a bit of a rollercoaster together to make amends on some of the missteps that are made by the both of them. You're gonna see a real friendship come out of this because it's important to have conflict in your relationships, to heal from that, and to trust each other more moving forward," Greensmith told TV Insider.
"In a weird way, you're gonna kind of see them flesh out this relationship in a more genuine way because of this honesty and because of this confrontation."
Chicago Fire Season 10 airs Wednesdays at 9 p.m. ET on NBC.
RELATED: A Guide to 'Chicago Med,' 'Chicago Fire,' and 'Chicago P.D.' Shows, In Order