'Chicago Fire': The Season Finale Is Going to Be 'Rough', Showrunner Says
Chicago Fire is one of television's most popular series, with engaging storylines and charming characters.
The series often shocks fans with unexpected plot twists, killing off major characters or throwing serious wrenches in favorite relationships. Derek Haas, the creative genius behind the series, recently hinted at a very surprising, possibly gut-wrenching finale for Chicago Fire's current season.
What happened this season on 'Chicago Fire'?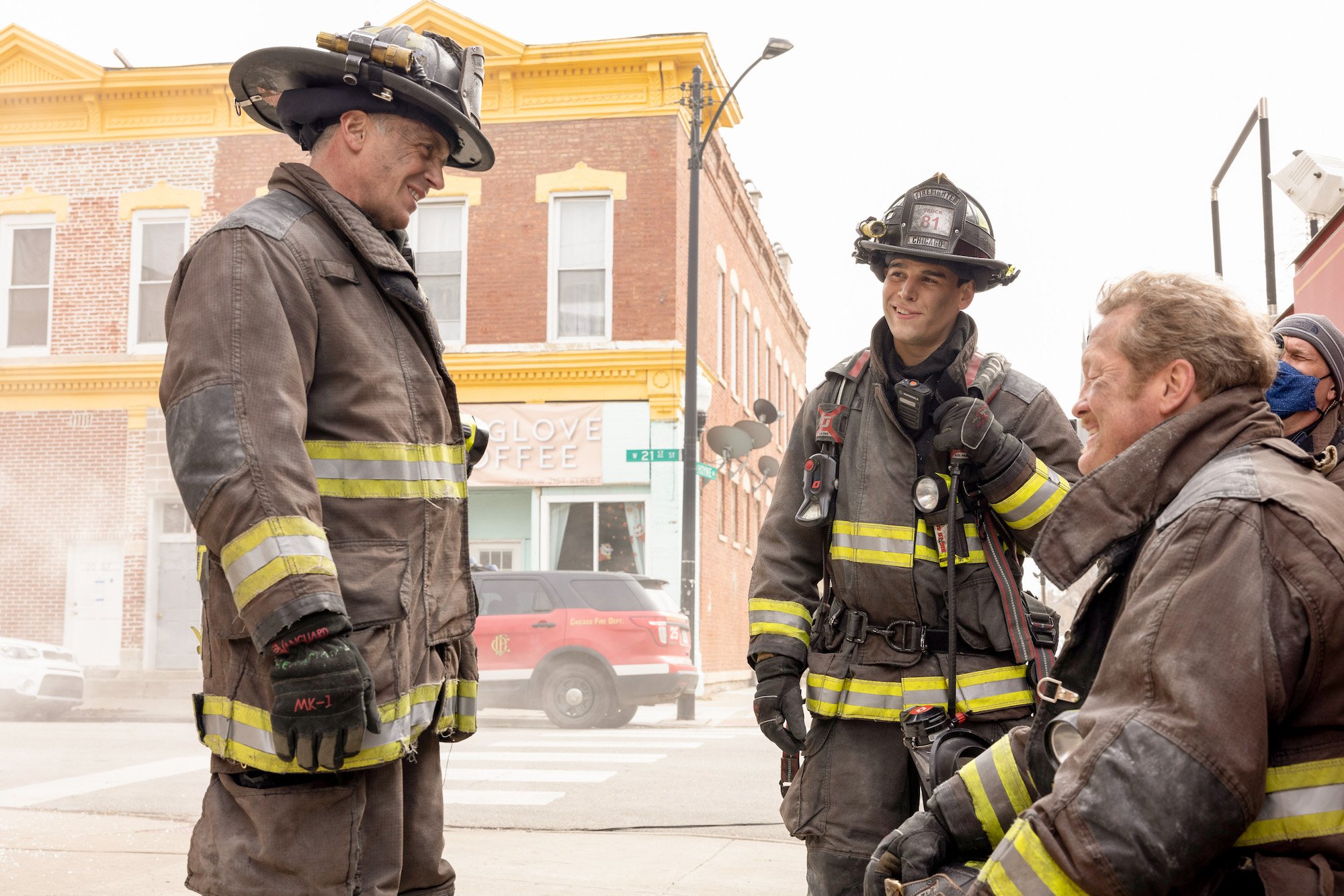 Season nine of Chicago Fire started out by introducing a new face to the team–Sylvie's new partner, Gianna Mackey (played by Adriyan Rae). We also saw the COVID changes implemented in the firehouse, like temperature checks and mask-wearing. Mackey and Brett get into an accident in the ambulance, and fans rejoiced when Casey raced to the scene to make sure Brett was okay.
The "will-they, won't they?" drama continues throughout the season with Casey and Brett, after they shared a kiss in the second episode. Casey wants to pursue the relationship, but Brett is worried that he still has feelings for Dawson. They eventually date other people, but both seem to be harboring some jealous feelings…
Kidd saved Severide's life at a call early in the season, which prompted Boden to encourage her to take the lieutenant's exam. She later believes she's being jinxed when she has a slew of bad luck right before the exam.
The team's newest addition–Gianna Mackey–ends up leaving soon after she arrives. Brett gets help from another firehouse, who lends them a temporary replacement for Mackey.
Brace yourselves: Derek Haas says the season finale is going to be 'rough'
In a recent interview with Entertainment Weekly, Derek Haas addressed Mackey's departure and the previous sting from Dawson's departure. He also teased at the upcoming "rough" season finale.
Mackey announced to the team that she was leaving the firehouse for a new job with opportunity for advancement. Adriyan Rae, who plays Mackey, gave her own private reasons for departing the show. Haas told EW that it's always a possibility that Rae will return as a guest on the series, since she left the firehouse on good terms.
Haas looked back on the last big departure from the series–when fan favorite Dawson left in season seven. Although she's been gone for two seasons, her absence is still felt regularly on the series. She still plays a big role in Casey's life, possibly holding him back from pursuing a healthy relationship with anyone new — especially Brett.
The showrunner mentioned how much he admires and respects Monica Raymund, who played Dawson. He isn't making any promises, but he says the door is always open for her to return anytime she wants. Haas also made a cryptic remark about the upcoming finale, saying "We have a big finale coming, that's all I'll say. We're Chicago Fire, and we don't ever give you everything you want. The finale is going to be rough, I'll say that."
'Chicago Fire' fans are no strangers to 'rough' storylines on the series so far
RELATED: 'Chicago Fire': Brett's About To Get Cozy With Someone and It's Not Casey
Haas' comment about the season finale probably has fans feeling a bit nervous… They're used to the rollercoaster rides of previous seasons, with shocking deaths, shocking tragedies, and rocky romances.
Chicago Fire's unpredictable twists and turns are part of the reason why the series is so popular. No one is safe, and crazy things happen at the drop of a dime. Remember when Freddie (the busboy at Molly's) got tired of Hermann's joking and stabbed him with a steak knife in the middle of the bar? How about when Rebecca Jones killed herself?
Probably the most tear-jerking moments for the fans came during the deaths of two beloved characters. Leslie Shay — who wasn't on the show for long, but stole everyone's hearts all the same — lost her life in the line of duty. After responding to a fire that was actually set as a trap, Shay was fatally struck on the head by a falling pipe.
In season eight, fans received another shock when Otis died from burns sustained while fighting a fire in a mattress factory. A definite fan-favorite, Otis was lovable and funny, and fans were devastated to see him go. Haas explained why he chose Otis (and his explanation sheds some light on how other shocking moments are probably decided as well), "For it to be a real surprise, you need it to be a core cast member."