'Chicago Fire' Star Jesse Spencer Wants Brett and Casey to Get Together Too!
'Chicago Fire' star Jesse Spencer admits he is just like the fans, he wants Brett and Casey to get together too!
Fans are not the only ones shipping Brett (Kara Killmer) and Casey (Jesse Spencer) on Chicago Fire. In a recent interview, Spencer admitted that he would love to see the characters take their long-time friendship to the next level. The only problem is that nobody knows if Chicago Fire creator Derek Haas feels the same way.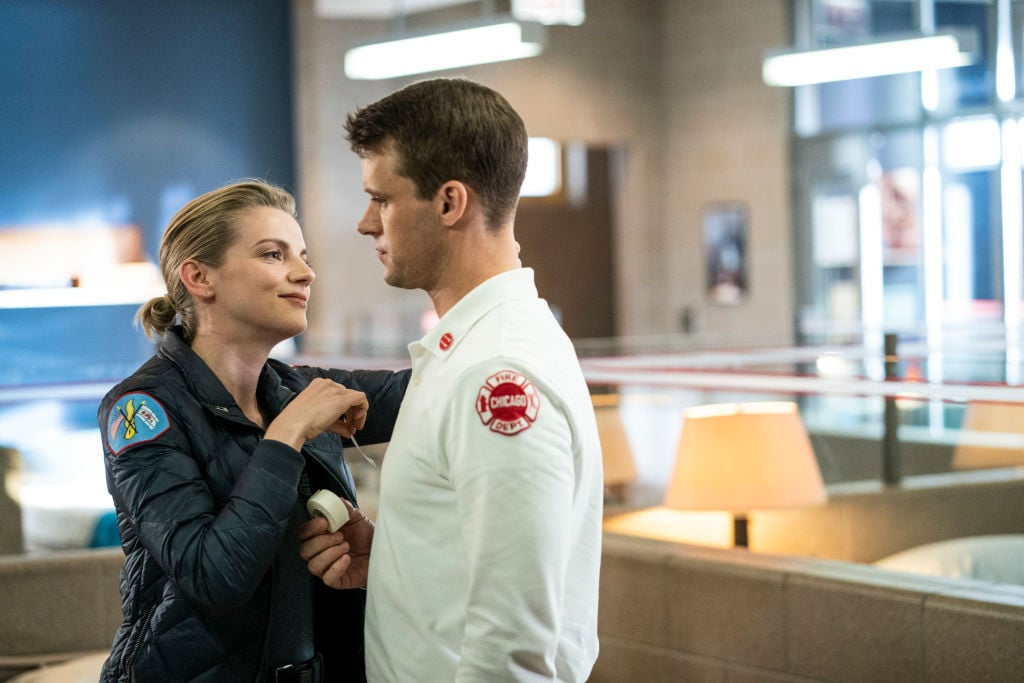 Spencer opens up about Brett and Casey
Brett and Casey have been friends since they were first introduced to each other. Casey was even married to her best friend, Gabby (Monica Raymund), while Brett once went out with Gabby's brother, Antonio (Jon Seda).
With the Dawsons now gone, Brett and Casey have grown closer over the past few seasons of Chicago Fire. According to Us Magazine, if Spencer had his way, Casey and Brett would continue to develop feelings for each other and would eventually get together.
"But yeah, I would like to see them get together because what they're building right now is a friendship and it feels organic. They had different situations, but they're quite similar, and they both have a bit of an ugly past," he stated.
Spencer added that even he does not know what Haas has in store for the characters. He admitted that the Chicago Fire creator loves to throw fans off the trail, so it is possible that romance is not in the works.
The actor also believes that Brett and Casey are good for each other because they have experienced similar heartbreak. He assured fans that the healing process will continue as the season wears on, which is definitely good news.
What else is in store for Casey on 'Chicago Fire'?
While fans would love to see Casey and Brett finally get together, this season has taken Casey in a different direction. In a new interview, Spencer talked about his character's journey this season and what the future might hold.
Spencer revealed that this season of Chicago Fire has been more about Casey's mentorship with Gallo than anything else, which has been a heartwarming story to explore.
But when it comes to romance, Spencer admitted that he was worried about bringing Gabby back into Casey's life. In particular, Spencer thought that Gabby would complicate things even more for Casey, something that thankfully did not happen.
Instead, Spencer felt like Casey and Gabby got a lot of closure in their scenes, which opens the door for both of the characters to move on.
That said, Spencer also believes that there is a chance that Casey and Dawson get back together and eventually remarry. He does not believe that it is likely to happen, but you never know.
Will Brett and Casey get together this season?
With Casey ready to move on, the door seems open for him and Brett to finally start something romantic on Chicago Fire.
For Spencer, he still sees the characters developing a closer friendship before things turn into a love story.
"They're building their friendship, which I really like. It's the right way to go about it. [They're] just getting to know each other, because they do like each other, [but] they work together and there's history," the Chicago Fire star shared.
Spencer added that both characters are being cautious about where their friendship is going, which is probably a good thing. Chicago Fire fans, of course, would love to see them take things to the next level soon, but it is nice to see them slowing it down.
Spencer also added that Casey and Brett could be too alike for things to work. At the end of the day, the two are such good friends because they share so much in common. This could lead to something more platonic, but we will just have to wait and see.
Is Gabby returning to 'Chicago Fire'?
After playing Gabby for six seasons, Raymund left Chicago Fire to star in Starz's new drama, Hightown.
Raymund's brief cameo in season 8 of Chicago Fire has sparked a lot of talk about her returning to the series full time. So what does Raymund think about reprising her role as Gabby?
"You never know," the actress revealed. "The door is always open for Dawson to come back."
Raymund went on to say that she loved her time on the series and thought her character had a good journey. She was also surprised at how many fans liked Gabby, which could play a role in her returning.
If Raymund did come back to Chicago Fire, that could get in the way of Casey and Brett getting romantic. Luckily, the show has half a season to get Casey and Brett on the same page before they consider bringing Gabby back into the picture.
New episodes of Chicago Fire air Wednesday nights on NBC.