'Chicago Fire': Sylvie Brett Gets a Big Break and Matt Casey Might Leave for Good
Chicago Fire showed a few of the characters in situations where they had to make significant decisions. Hawkins weighs whether to approve Sylvie's paramedicine program, Casey is deciding what to do about Griffin and Ben, and Eric and Darren take stock of their relationship to see if it's worth saving. Read on to learn what happened on Chicago Fire Season 10 Episode 4 ("The Right Thing").
Warning: this article contains spoilers for Chicago Fire Season 10 Episode 4 ("The Right Thing").
Sylvie Brett gets a big break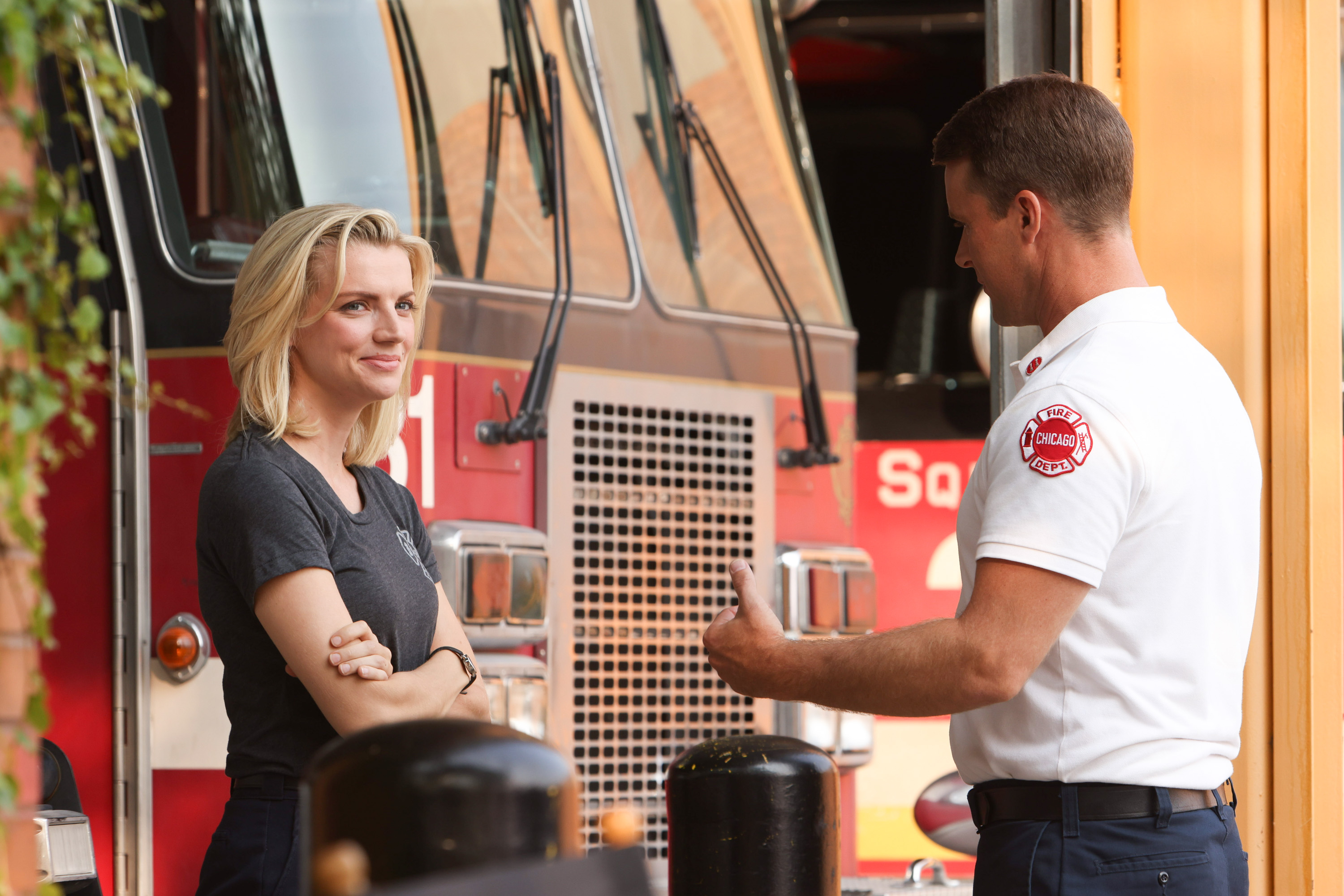 Sylvie Brett (Kara Killmer) is facing a lot of pressure at work. She wants to get her paramedicine program approved by Hawkins. Before he makes his decision, he tells her he wants to observe her in action, so he shadows her on the job.
Unfortunately, Sylvie's first call doesn't go well. A drug addict is having an overdose. After he's given Narcan, he pulls out a knife from his boot and threatens Sylvie. She calms him down and takes away his knife, but it still wasn't a good situation. Sylvie was supposed to do a thorough weapons check and she missed the knife in his boot. She also didn't stick to the rules when she administered Narcan first.
Despite her missteps, Hawkins approves Sylvie's paramedicine program for six months. He also gifts her an old ambulance so she can go out on calls. If the program is a success, Hawkins will make the program permanent.
Is Matt Casey leaving 'Chicago Fire'?
Ben and Griffin, the sons of Casey's (Jesse Spencer) late best friend, Andy Darden, need help. Griffin has been trying to take care of his brother and the family home while their mother is in jail, but things are falling apart. Casey flies to Oregon and stays with the brothers for a few days so he can look after them. When he goes to their school to speak to the guidance counselor, he learns the boys are in jeopardy of being placed in foster care—in separate homes. Casey wants to take the boys back to Chicago, but the guidance counselor thinks it's a bad idea to uproot them.
Once Casey returns to Chicago, he tells Herrmann about his trip. "The boys aren't doing so well," he reveals. "They're alone in the world with no one to help, to lift them up." He then says he needs to move to Oregon so he can take care of the boys. Casey hasn't made his decision yet, but it looks like he might be leaving 51. Will Sylvie come with him?
Darren is having relationship problems
Darren and Eric hit a rough patch in their relationship. Eric doesn't think they spend enough time together, so he's been pulling away. "You fill your off days with so much training there's no room for me," Eric tells Darren. However, Darren explains he needs to stay at the top of his game if he wants to keep his job at the firehouse.
Darren points out that what they're doing doesn't make sense. "This is stupid," says Darren. "We are spending time together arguing about the time we spend apart." Eric realizes he's right and they kiss. A customer sees them kissing and shakes his head in disapproval. Herrmann and the rest of the firefighters defend Darren.
As Darren and Eric are walking home, the man who made homophobic comments drives up and throws a glass bottle at them. The man drives off but gets into a crash, which causes his car to go up in flames. Darren pulls the man out of the burning car and saves his life, but he refuses to thank him. All Darren can do is walk away.
Later in the episode, Eric stops by the firehouse. He tells Darren he's proud of him and how he handled the situation at the bar. However, he isn't satisfied with the relationship. He then breaks up Darren.
What to expect next week on 'Chicago Fire'
We'll hear more from Casey and what he decides to do. In the preview clip of Chicago Fire Season 10 Episode 5, Casey and Sylvie discuss his possible move. He wants her to go with him, but she seems hesitant, especially since her program has been approved. We can't wait to see what's in store for Chicago Fire's 200th episode.
Follow Sheiresa Ngo on Twitter.