'Chicago Fire' Will Return With New Episodes In January — Here's What We Know
Chicago Fire fans got just a taste of Season 9 in November before the show takes a break until January. Two new episodes aired providing a hint of what's to come in 2021, introducing new characters, furthering Stella Kidd's potential career advancements, and falling short of a long-anticipated romance between paramedic Sylvie Brett (Kara Killmer) and Captain Matt Casey (Jesse Spencer). If you missed the recent episodes, you missed a lot — spoilers ahead!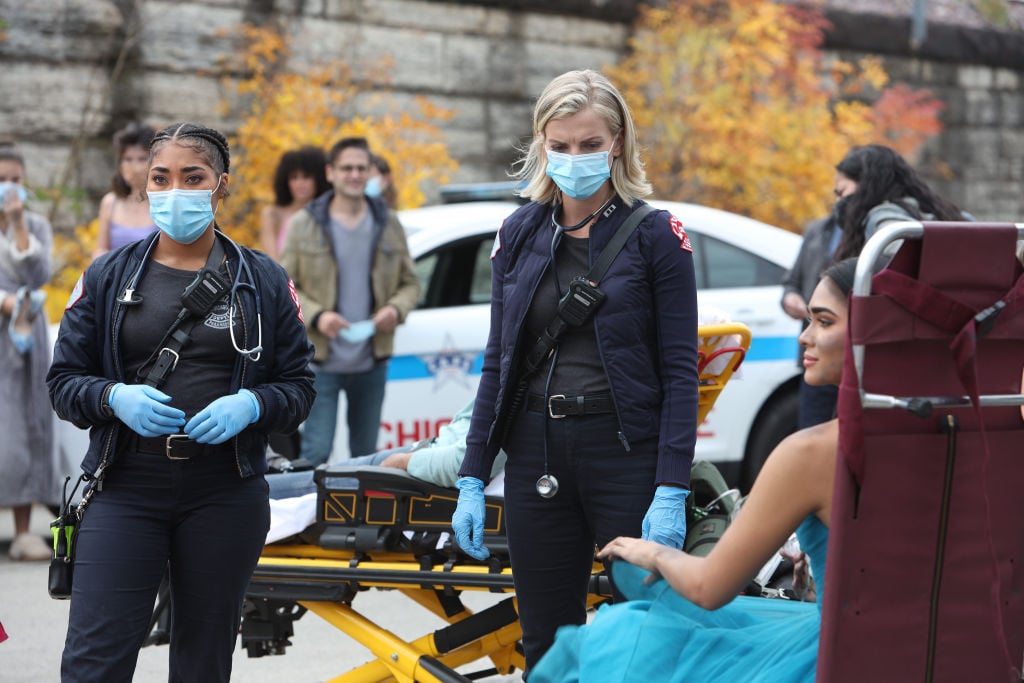 'Chicago Fire' character development
With paramedic Emily Foster (Annie Ilonzeh) leaving her job to return to her med school studies, Brett needs a new partner. Enter Gianna Mackey (Adriyan Rae), who is new to the job. We learn in the first two episodes that Mackey, aka "Mac" is an old friend of firefighter Joe Cruz (Joe Minoso), having grown up in the same neighborhood. Cruz feels responsible for watching over Mac, although her official mentor in Firehouse 51 is Brett.
Mac shows a reluctance toward Cruz's push to get her into his firehouse, as she is not accustomed to such a busy schedule. The first two episodes are loaded with excitement including an attempt on the lives of the two paramedics with their ambulance being forced off a bridge, totaling the vehicle. Yet, Mac decides to stay.
Represented in a few episodes of Season 8, one of the strongest members of Kidd's Girls on Fire program is not able to return to her training. With the onset of coronavirus (COVID-19), her family needs her to help pay the bills. Kidd finds the girl working in a donut shop. With Chief Wallace Boden (Eamonn Walker) buried in paperwork, Kidd suggests he may need a part-time assistant. With approval for funding the station's clerical assistant, Boden agrees to let Kidd ask the former Girls on Fire trainee if she would like the job. We expect to see more of her in upcoming episodes.
Speaking of Stella Kidd
Months following the start of the pandemic, Kidd receives permission to resume her Girls on Fire training for high school girls interested in the field of firefighting. The training sessions must follow all protocol mandated to provide safety during the virus outbreak.
Captain Boden remains high on Kidd and the possibilities for her future in the Chicago Fire Department. The Girls on Fire program is just one example of Kidd's ambitions. Boden suggests she consider taking an upcoming lieutenants' exam. Although taken aback at first, following a bit of thought, she makes plans to study for the exam.
Showrunner Derek Haas has eluded to Kidd's career future growth, as well as her relationship with Lieutenant Kelly Severide (Taylor Kinney). Haas told TV Guide that the pair is heading for "uncharted territory." This could be the season when "everything comes together" for them.
The relationship everyone has been waiting for
Episode after episode during the past two seasons, fans have been waiting to see Brett and Casey get together. Casey was formerly married to paramedic turn firefighter Gabriella Dawson (Monica Raymund). Dawson also happened to be Brett's best friend, complicating Brett and Casey's budding romance. She left the show in Season 7 following much heartache from failing to get pregnant with Casey. They divorced.
Ever since the sparks have been growing between Casey and Brett. After a flying leap from the fire truck on finding Brett's ambulance thrown over the bridge, Casey finds Brett and Mac suffering only minor injuries. He later stops by Brett's apartment to check on her and they engage in a lengthy kiss but that was it. Brett asks Casey whether he would get involved with Dawson again, should she ever return. He could not say, "no."
Show representatives, as well as Raymund, have not ruled out her return to the show. She did make one return visit during an episode last season when Dawson invited Casey to be her date for a benefit dinner. One reviewer on Cinema Blend put it this way. "If Fire is or was going to give them a serious shot at romance, Dawson either needs to be directly addressed or left out entirely, and it felt for a while like Casey's rendezvous with Dawson in Season 8 was going to be forgotten." We will have to wait and see.
As for what will happen next, viewers should stay tuned for Chicago Fire's return on Wed., January 6 in its 9 p.m. EST time slot. New episodes of Chicago Med and Chicago P.D. will air the same night at 8 p.m. and 10 p.m. EST., respectively.