'Chicago Med': 1 Of Crockett's Exes Will Return to Stir Things Up
Over the past few years, Chicago Med has been one of the television series to lead ratings and reviews.
NBC first launched the medical-based series back in 2015. People everywhere became instantly hooked. Chicago Med revolves around the close-knit group of professionals who work at the Gaffney Chicago Medical Center. Will Halstead, April Sexton, Natalie Manning, Ethan Choi, and Maggie Lockwood are a few of the beloved main characters that viewers and audiences have gotten to know throughout the series' six seasons.
Chicago Med's newest season has lots of fans wondering what to expect from Natalie when it comes to her complex relationship with Dr. Crockett Marcel.
Take a look back at Crockett's journey on Chicago Med and see what viewers can expect to see between him and Natalie. 
A closer look at Dr. Crockett Marcel on 'Chicago Med'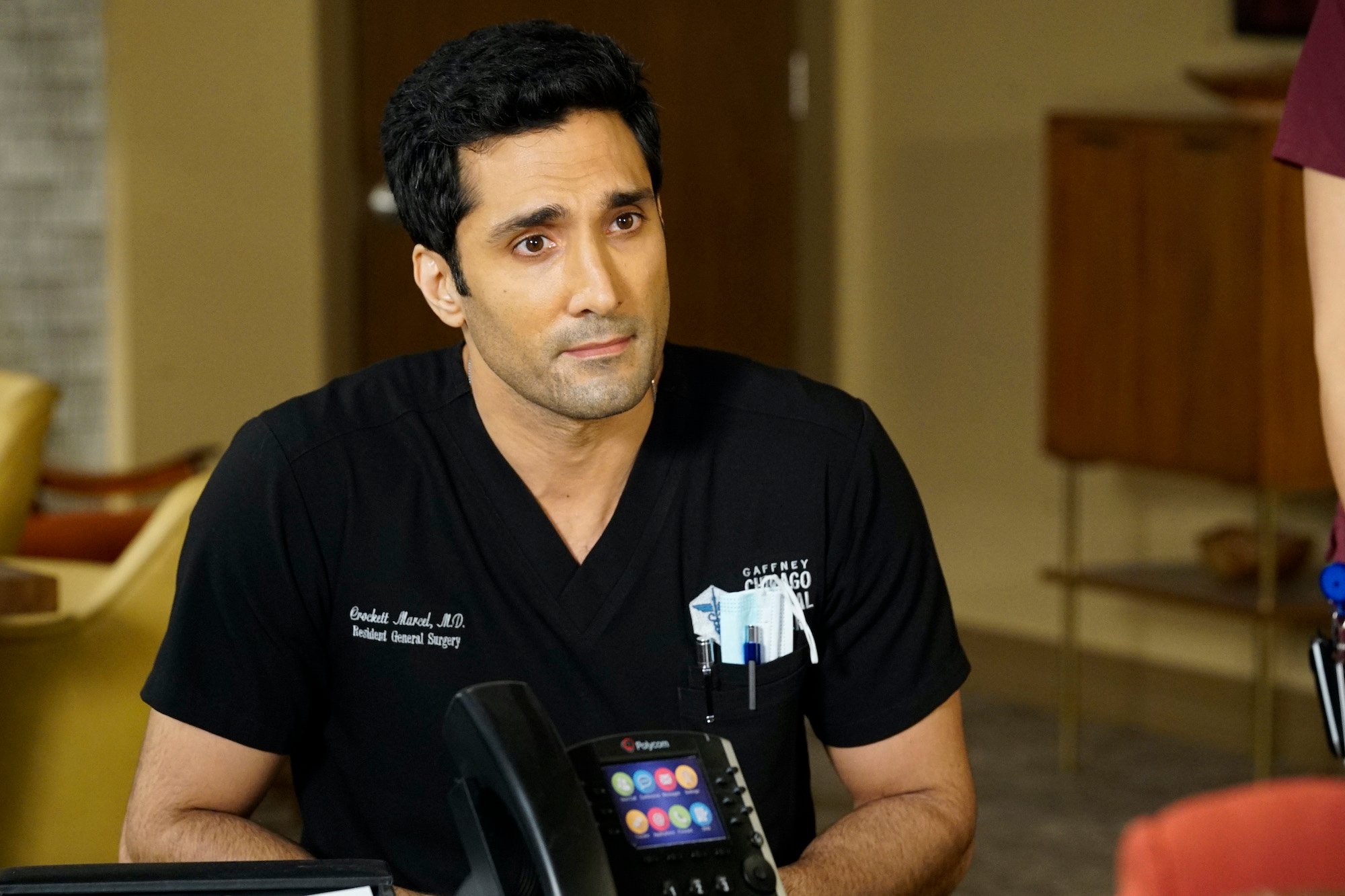 As longtime viewers and fans of Chicago Med already know, Dr. Crockett Marcel is still pretty relatively new on the drama series. Crockett joined the cast in season five, and Dominic Rains is the talented actor who plays Crockett's character.
Raised in New Orleans, Crockett is known for his southern ways. The talented surgeon has a reputation for risky taking and having a good time, but, as viewers have slowly been learning, there is obviously much more to his character. 
Dr. Crockett Marcel and Dr. Natalie Manning's close connection
Throughout season five and in much of season six viewers have been able to pick up on the vibes between Crockett and Dr. Natalie Manning, Gaffney Chicago Medical Center's emergency pediatrics specialist. Natalie sees another side of Crockett that he doesn't easily share with others. While working together Natalie discovers that Crockett once had a daughter that he lost to leukemia.
The pair definitely seem to enjoy each other's presence and flirting with one another, but, the series' newest episodes may have caused concern for some viewers. 
When one of Crockett's exes arrived at Gaffney Chicago Medical Center to be treated it became clear that the whole encounter put Natalie on edge.
However, as "Do You Know the Way Home?" panned out, it became clear that Crockett nor his old flame were interested in one another, so many are wondering what this means for Crockett and Natalie moving forward on Chicago Med. 
Will Dr. Crockett Marcel and Dr. Natalie Manning finally get together in season six of 'Chicago Med'?
RELATED: 'Chicago Med': Ethan Choi Isn't Making Any New Friends But He Is Creating Tension
The flirtatious chemistry between Crockett and Natalie has been brewing for quite some time. Luckily, Andy Schneider and Diane Frolov, Chicago Med's co-showrunners, shared some insight on what to expect from the pair in the episodes to come.
Though things seemed a bit rocky when one of Crockett's ex showed up in the ED, it didn't shake the connection the two doctors have with one another. However, the return of exes doesn't end there. Schneider teased that the audience will be meeting Crockett's ex-wife in the near future, but that isn't all he had to say. Fortunately for Crockett and Natalie, it seems like things will be going their way.
Schneider revealed via ET Online: "Both of them are a little gun-shy about a new relationship. He's always been protecting himself from being vulnerable by avoiding deep relationships since his divorce. Natalie has had a couple of very unsuccessful relationships that we've seen over the last few years. She, too, will have this tendency to want to protect her heart. But their relationship will deepen."
Fans and viewers of Chicago Med are looking forward to seeing where the writers take this growing love story. It is safe to say that many people are rooting for Dr. Crockett Marcel and Dr. Natalie Manning's happily-ever-after.