'Chicago Med': Brian Tee Thinks Ethan's About to Learn He's Not Always Right
Beginning this season, Dr. Ethan Choi, portrayed by Brian Tee, has a new role in the Emergency Department of Chicago Med. With a history of serving as chief resident of the department in the past, Ethan receives a promotion to Chief of Emergency Medicine.
His rival for the position, Dr. Will Halstead (Nick Gehlfuss), also has a history of working as ED chief resident, but his recent life choices made Ethan a safer choice by the hospital board. The decision didn't bode well with Halstead, nor others.
To date, no one seems particularly happy about Ethan's promotion to his supervisory role. In fact, Ethan, and Sharon Goodwin (S. Epatha Merkerson), head of patient and medical services, may be the only ones who are pleased, although his ex-finance, nurse April Sexton (Yaya DaCosta) remains supportive of him despite some added conflicts to their relationship.
Brian Tee, the actor who portrays Dr. Choi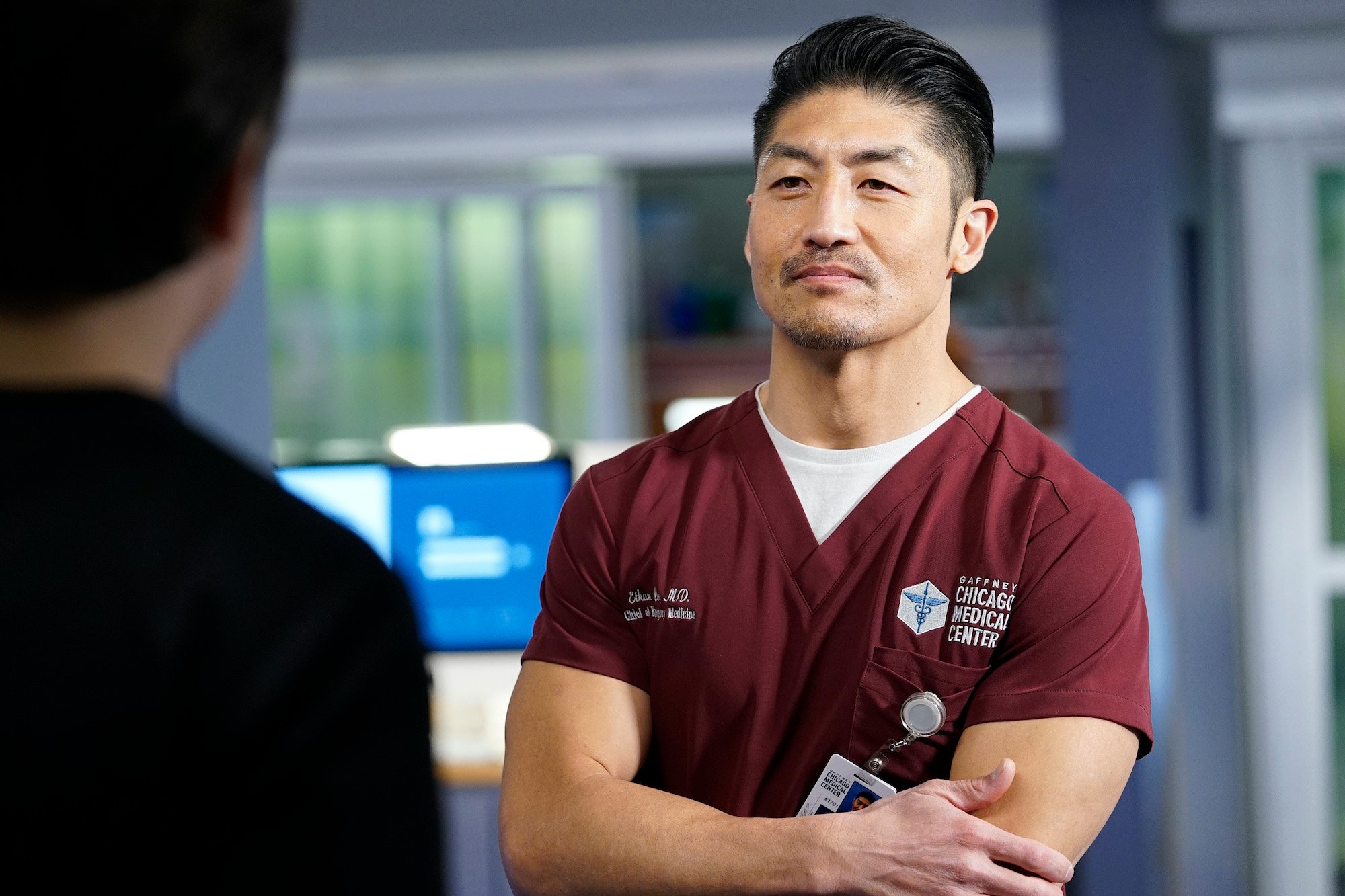 RELATED: 'Chicago Med': What Is Brian Tee's Net Worth?
The 43-year-old Tee was born Jaebeom Takata in Okinawa Japan. His family moved to California when he was two. Best known for his role as Ethan on Chicago Med, Tee is far from new to acting. He portrayed a key villain in The Fast and the Furious: Tokyo Drift, according to IMDb. Other film appearances include The Wolverine and Jurassic World.
On the smaller screen Tee has had recurring roles in Grimm, Hawaii 5-0, and Grey's Anatomy. He also has made guest appearances in such shows as Agents of S.H.I.E.L.D., The Good Guys, CSI, Bones, Without a Trace, and JAG.
Tee is married to fellow actor Mirelly Taylor. They have one daughter born in 2015. Tee is fluent in Korean and Japanese as well as English.
Ethan's history at 'Chicago Med'
Ethan is an initial cast member of Chicago Med which debuted in 2015. A former U.S. Navy medic, Ethan began his medical residency in emergency medicine at the onset of the show. He continually is fighting his Post-Traumatic Stress Syndrome from his deployment in the Middle East.
His strict rules for following hospital procedure and protocol conflict with Halstead and other members of the ER team, who are more apt to bend the rules, according to Fandom.
In season 2, Ethan falls for April and vice versa. By season 3, they are known as a couple. Their off-and-on relationship continues although it is off so far in season 6. With the addition of his responsibilities in the department and the stress it puts on him, he is making some harsh decisions.
One is to pull April out of the COVID-19 ward as he needs her in the ED, according to CinemaBlend. Another is firing her brother, Dr. Noah Sexton (Roland Buck, III), after he allows a suicidal patient, who happens to be a physician, to access medication needed to end his life. Ethan's decisions are not winning him any points.
What is coming next for Ethan?
Recently, Ethan collapsed in the ED. He had gallbladder surgery that morning and came into work later in the day. Maybe that wasn't such a good decision? He is placed on "forced sick leave."
Tee admits that Ethan has "really, really high expectations for himself and his staff," according to TV Insider. He is going to realize that his way is not always the right way.
An old thorn in Ethan's side is about to enter the ED. Dr. Dean Archer (Steven Weber) was the Naval medical officer who oversaw Ethan in the Navy. He will enter Chicago Med relocating from a rural hospital to be Ethan's number 2, as hired by Ms. Goodwin.
"What Dr. Archer's going to do is really create more speed bumps for Ethan," Tee said, adding that Archer will stick "his head into places he shouldn't."
Don't expect the relationship will be simple for his former boss either.