'Chicago Med' Cast: Why Did Yaya DaCosta Leave the Show?
On NBC's Chicago Med, actor Yaya DaCosta played ER nurse April Sexton. For the past six seasons, Sexton has saved lives in Gaffney Chicago Medical Center. When DaCosta announced her departure from the show, many fans wondered why she chose to leave. Here is why Yaya DaCosta decided to exit in Chicago Med Season 6.
Fans say goodbye to April in 'Chicago Med' Season 6
RELATED: 'Chicago Med' Cast: Yaya DaCosta Would 'Absolutely' Return to Wrap Up Ethan and April's Romance
In the season 6 finale, April Sexton gets accepted into a nurse practitioners program. She decided to leave Gaffney Chicago Medical Center to pursue this once-in-a-lifetime opportunity. Before learning about her acceptance, Ethan Choi (Brian Tee) almost dies in the hospital parking lot.
Dean Archer's (Steven Weber) appendicitis patient confronted him and Ethan in the parking lot with a gun in hand. The patient screamed that they took out the "red pill" during surgery. Ethan tried to disarm the patient, but he was shot in the process.
Meanwhile, Dean and Will Halstead (Nick Gehlfuss) argue about the proper treatment for Ethan, who is in critical condition. Ethan is rushed into surgery, despite the risky procedure. In turn, he survives the operation.
When Ethan woke up, April confessed her love. While Ethan was on the gurney, she was reminded about how much she loved him. Shortly after, April prepares to leave the hospital and start the next chapter of her life.
Why did Yaya DaCosta leave the medical drama?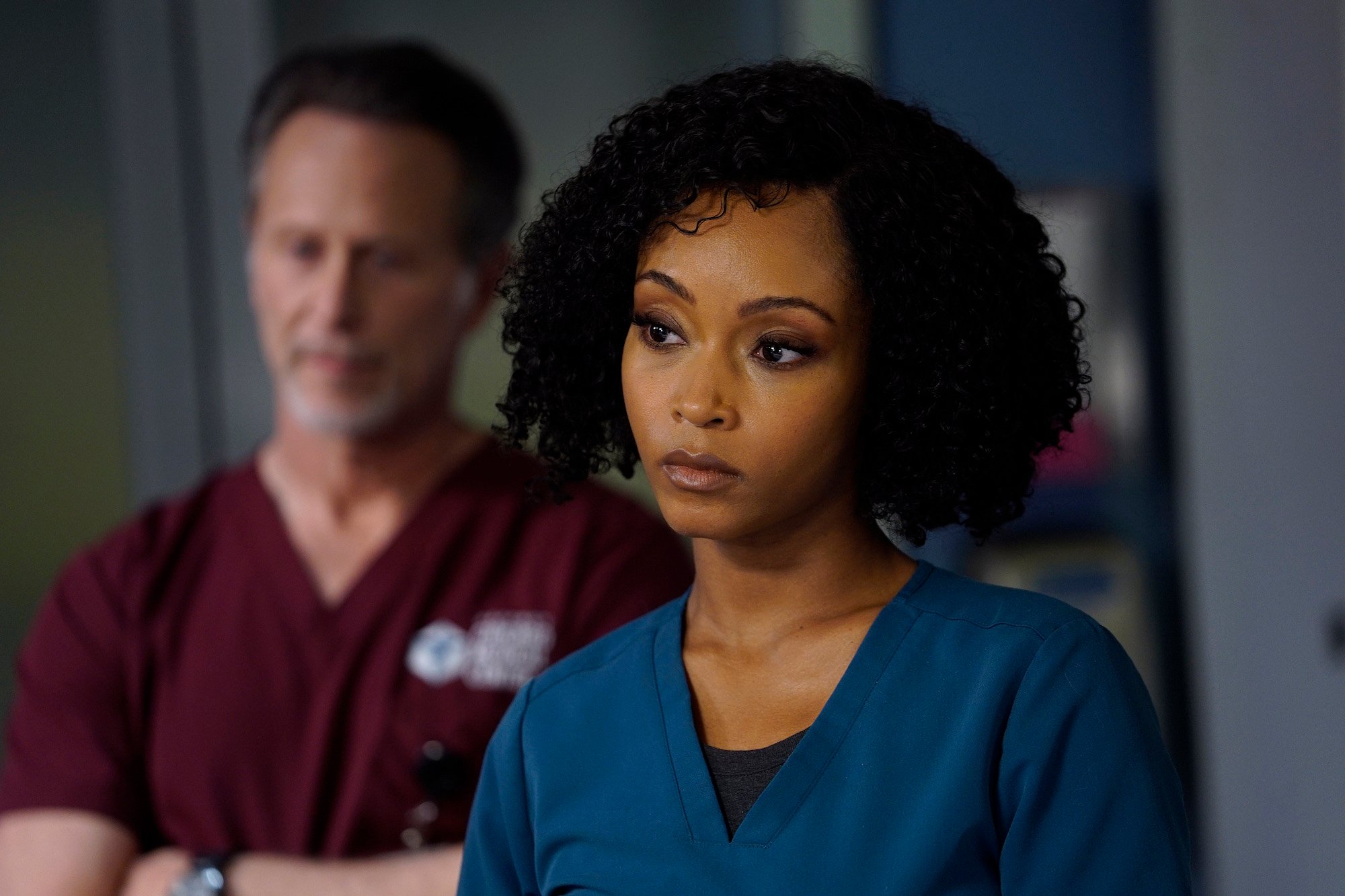 RELATED: Did 'Chicago Med' Actor Yaya DaCosta Really Sing In 'Whitney'?
When Yaya DaCosta announced her departure from the show, many fans were shocked to hear the news. So, why did the Chicago Med star decide to leave the series? Well, it seems the actor landed another acting job. In an interview with Deadline, DaCosta contemplated leaving the medical drama for FOX's new drama Our Kind of People. Ultimately, her admiration for the story led her to leave Chicago Med. 
"My exit from Chicago Med and the arrival of this show happened really simultaneously. There isn't much to say about it. There was a window opening and a question mark as to whether I should stay or go," she explained. "And in that window, I fell in love with Our Kind of People. I jumped at the opportunity to work with Lee Daniels again."
DaCosta continued, "The show is a dream in so many ways, and it's saucy and so much fun! And there's so much about my character that I felt was really important to bring to the forefront of our discussions. We're just playing with these serious themes, and we're making them fun."
What is the plot for 'Our Kind of People'?
Based on Lawrence Otis Graham's book Our Kind of People: Inside America's Black Upper Class, the drama series takes place in the world of Oak Bluffs on Martha's Vineyard. The historical location is where Black elites gathered and conversed for over 50 years.
Our Kind of People follows a single mother named Angela Vaughn (DaCosta). She is on a mission to reclaim her family's name. But, she soon discovers a dark secret about her mother's past that will completely change her life forever.
The series premiered on Sept. 21 on FOX. Along with DaCosta, the ensemble cast features Morris Chestnut, Joe Morgan, Alana Bright, Rhyon Nicole Brown, Debbi Morgan, Kyle Bary, Lance Gross, Nadine Ellis, and L. Scott Caldwell.