'Chicago Med' Fans Think Maggie and Ben Are the Show's Best Couple
It was early on in season 1 of Chicago Med that fans became enamored with Maggie Lockwood, portrayed by Marlyne Barrett. Chicago Med is the third in a trilogy of the One Chicago franchise following Chicago Fire and Chicago PD. It has been a natural fit with characters crossing over between shows and having relationships including being siblings, friends, and romantic interests.
Chicago Med is focused on its ER Department for which Maggie is the charge nurse. She runs a tight ship while exuding compassion for the patients and her co-workers. Her concern and commitment show through as does her loyalty to the hospital, her job, those who work under her, and for her friends. Her life has not been easy, but since she met Ben Campbell Charles Malik Whitfield), her life has definitely changed for the better.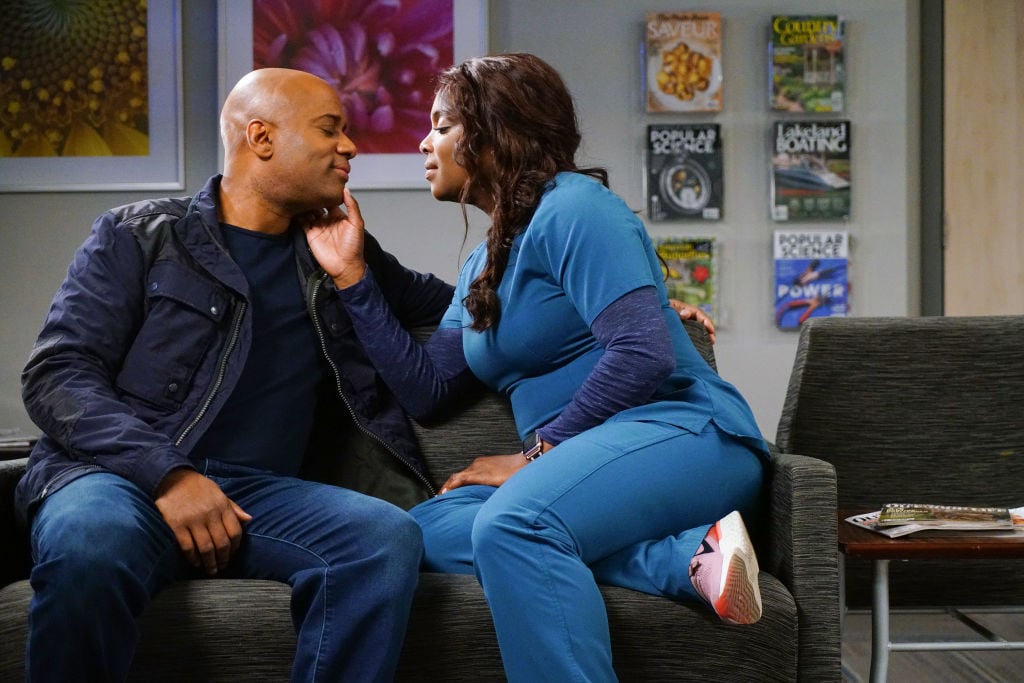 Maggie Lockwood is extremely kind and devoted
The role of Maggie was initially cast as a recurring character for the Chicago Med series which premiered in November 2015. Perhaps it was her importance to the ER, her appeal to fans or a combination of both that got her placed as a main cast member before the end of the season.
In season 2 we learn a bit more about Maggie's past when her sister, Denise, appears as a patient. While undergoing tests, under the direction of Dr. Will Halstead (Nick Gehlfuss), Halstead discovers Denise to have cancer — prostate cancer. Turns out Maggie's sister had at some point transitioned to female. The doctor who performed her surgeries had neglected to remove her prostate.
While Maggie had been longing for her lost brother, this gave her a chance to work-out some family issues with Denise, and for the two to bond as sisters. Sometime later Maggie decides to donate a kidney to a woman she knew growing up. The woman, far down on the transplant list, will undoubtedly die without a new kidney. Despite professional and ethical hurdles and medical risks, Maggie goes forward with the donation anyway.
How Maggie and Ben met and their quickly growing relationship
Perhaps meeting while chemotherapy isn't the most romantic, but Ben sure took advantage of it in the latest season. Maggie learns she has breast cancer through a routine mammogram. Not willing to yet share her diagnosis with her friends at Chicago Med, she decides to undergo treatment at a different hospital where Ben is receiving his own treatment.
A teacher, Ben starts chatting with Maggie during her treatment. She invites him to a clambake party she is throwing with Chicago Med's newest ER doc, Marcel Crockett (Dominic Rains). He attends and they start dating. Fans loved seeing the two get together, one fan wrote on Twitter "Love, love, love Ben and Maggie's connection."
Ben comes down with a case of the measles, develops pneumonia, and nearly dies. However, he pulls out of it, recovers, and soon after learns his cancer has gone into remission. Maggie worries that he no longer is in the same place as her with cancer, and urges him to go on with his life. He patiently helps her through until she, too, learns she is in remission.
Following that good news, Ben is anxious for the couple to get married. After learning of her remission, he calls upon his buddies from his bowling league along with one of Maggie's best friends, Dr. Natalie Manning (Torrey DeVitto), to pull off not only a romantic wedding but a unique and fun one for everybody.
A foster son instead of a honeymoon
One week into being newlyweds, Maggie and Ben make another life-changing decision. A student of Ben's, Auggie (Christopher Farrar), has been hospitalized with autoimmune hepatitis which makes it difficult for him to get routine care and stay in his previous foster home.
Although about to leave on their honeymoon, Maggie and Ben didn't even have to discuss it. "We'll do it," she said and Ben whole-heartedly agreed. They each had decided they should become Auggie's foster parents, themselves.
Obviously Maggie's life hasn't been easy. Together with Ben, they have weathered many storms and in a very short time. Her fans have been delighted with Ben being as kind and caring as Maggie. Fans have endlessly good things to say about the couple, such as: "You and Ben are the sweetest couple," one fan said. "Med's best couple," yet another replied.