'Chicago Med' Season 7: Is Dr. Stevie Hammer Leaving? She's Absent From Episode 15 Photos
Kristen Hager's character Dr. Stevie Hammer is a newcomer in Chicago Med Season 7. The character is a talented doctor, but she has plenty of problems of her own. Hammer was in the process of a divorce and has also struggled to take care of her mother. It seemed like Hammer may have been headed toward a romantic relationship with Dr. Halstead, but in episode 14 she revealed her plans to move away. Could Dr. Hammer be leaving the hospital for good?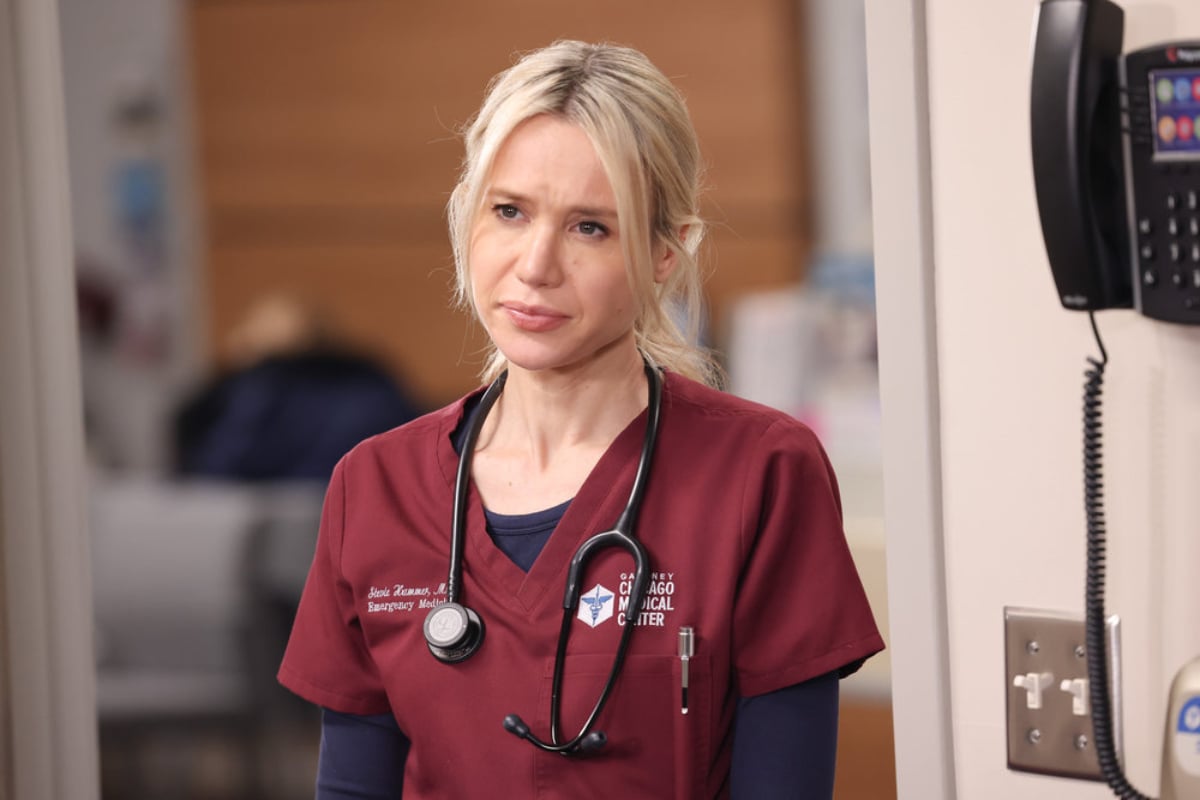 Is Dr. Stevie Hammer leaving Chicago?
In Chicago Med Season 7, Hammer reveals that she is going through a divorce with her husband in Detroit. She flew out to finalize the separation, but things went differently than Hammer planned. In fact, she decided to give her marriage another shot. She tells Dr. Halstead that there is a position available at the hospital she used to work at in Michigan and that her husband wants to put her up for the job.
These plans seem all but finalized by episode 14. Maggie Lockwood asks Halstead if he heard the news that Hammer is moving back to Michigan, and he quickly brushes it off. Hammer even has a heart-to-heart with her mother, who seems to be doing well and confirms she will be fine if Hammer moves.
Still, there's a chance that Hammer won't go through with it and will stay at Gaffney Chicago Medical Center. At this time, Kristen Hager has not publicly said anything about her future on the show.
Promo photos hint Dr. Hammer might not appear in 'Chicago Med' Season 7 Episode 15
According to One Chicago Center, the synopsis for Chicago Med Season 7 Episode 15 reads, "Scott suspects his patient may be a drug dealer; Halstead must decide how to spend his whistleblower settlement; Charles and Taylor help a patient who believes she's infested with parasites; Marcel and Blake are paired with an arrogant surgeon."
Notably, there is no mention of Hammer in this synopsis. Hammer is also not present in any promo photos for episode 15, and Kristen Hager is not credited in this episode on IMDb. It seems very possible that Hammer will be absent from this week's episode, but that doesn't necessarily mean she is leaving the show for good.
Hammer has gone through quite a bit of character development throughout Chicago Med Season 7. She has also grown closer to Halstead. It even seemed like there was potential for a romantic relationship to form between the two of them. Perhaps Hammer will realize that rekindling her marriage was the wrong choice after all.
So what is episode 15 about?
It seems clear that Chicago Med Season 7 Episode 15 won't focus on Hammer, so what exactly is the new episode about? Avery Quinn recently learned the truth about Crockett and her mother, and Dr. Blake broke things off romantically with Crockett.
The episode 15 promo video shows Crockett and Blake working with a surgeon who butts heads with Crockett — literally. Meanwhile, Doctors, Scott, Charles, and Taylor deal with their own patients.
Chicago Med airs Wednesdays at 8 p.m. EST on NBC.
RELATED: 'Chicago Med' Season 7: Showrunners Reveal What Happened to Dr. Natalie Manning After She Left