'Chicago Med' Season 7 Episode 20 Recap, 'End of the Day, Anything Can Happen'
Chicago Med Season 7 returned from another break with episode 20, "End of the Day, Anything Can Happen." Dr. Ethan Choi grappled with uncovering a huge secret about his father. Meanwhile, Dr. Scott makes a house call for the daughter of a mob boss, and Halstead prepares to testify against Dr. Cooper. Pamela and Crockett perform a liver transplant, and Vanessa asks Maggie about her biological father.
[Spoiler warning: This article contains spoilers for Chicago Med Season 7 Episode 20.]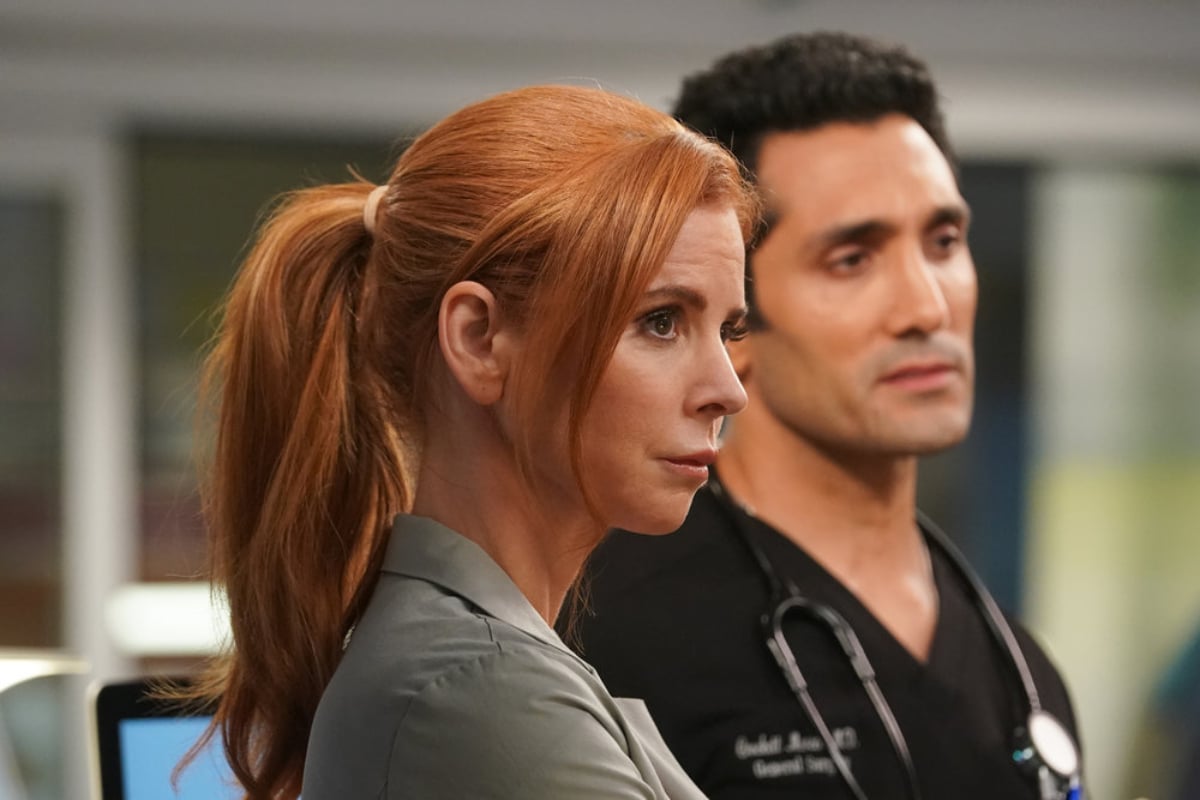 Dr. Ethan Choi copes with his father's secrets in 'Chicago Med' Season 7 Episode 20
In Chicago Med Season 7 Episode 20, Dr. Ethan Choi is struggling with the news that his father was in love with one of his military friends. Ethan feels like he has been lied to, and these feelings spill over into his work. A man named Miles arrives at the hospital with a sprained wrist, accompanied by his daughter, Anya. It turns out that Miles has MS but wants to keep the news from his daughter.
However, Ethan gives her the information anyway, angering his patient. Miles tells Ethan that Anya gave up her new job to take care of him, something that he didn't want her to do. Ethan realizes that he may have been wrong to tell her the news. Later, he confides in Dr. Charles, who helps him realize his father may have been trying to protect him by withholding the truth.
Dr. Scott makes a house call and Halstead practices for court
Dr. Dylan Scott runs into Stephen, a man he treated for a gunshot wound outside the hospital. Stephen asks Scott to make a house call for his boss' daughter Eva and it doesn't seem like no is an option. It turns out the little girl has appendicitis, but her father is reluctant to take her to a hospital.
Milena, who is working undercover for the mob, acompanies them to the hospital. The surgery goes well, though Dr. Scott realizes that Eva has CCHS, but she will be fine. Milena talks with Dr. Scott outside the hospital, and they are spotted by a member of the mob.
Meanwhile, in Chicago Med Season 7 Episode 20, Halstead is preparing to testify against Dr. Cooper. His new apartment building is earning him some strange comments from his coworkers, and it's clear that being a whistleblower isn't easy. Halstead also learns that his ex, Dr. Hannah Asher, wants to rent from him. He is reluctant at first but agrees to have her as a tenant in the end.
Dr. Blake realizes something is amiss and Vaness wants to know her father's identity
Dr. Crockett and Dr. Blake treat a little boy named Zeke (Judah Abner Paul), who needs a new liver. His grandmother Celeste is begging to donate a portion of hers, but the surgery isn't ideal since she isn't in great health. Eventually, Crockett and Blake perform the surgery, but Blake incorrectly places a clip. Luckily they are able to fix things, but Blake is hit by the shocking realization that there is something wrong with her hand, which could be devastating to her career as a surgeon.
Meanwhile, a friend from Maggie's high school named Dorian is admitted to the hospital. Vanessa notes that they have similar allergies, leading her to wonder if Dorian is her father. Maggie assures her that he isn't, but Vanessa wants to meet her real father. Maggie tells Vanessa that she didn't keep in touch with her father, but that she will look into finding him.
Chicago Med airs Wednesdays at 8 p.m. EST on NBC.
RELATED: 'Chicago Med' Season 7: Showrunners Reveal What Happened to Dr. Natalie Manning After She Left