'Chicago Med' Season 7: Ethan Choi Officially Returning on April 13, 2022
'Chicago Med' fans have even more reason to watch season 7 episode 18 tonight. Ethan Choi will return following his spinal fusion surgery.
Chicago Med Season 7 has been missing an important character for most of the season. Dr. Ethan Choi is still recovering from getting shot in the season 6 finale. In season 7, he opted for spinal fusion surgery, which required him to take more time off work. Tonight, Choi will finally return to the show for the remainder of the season.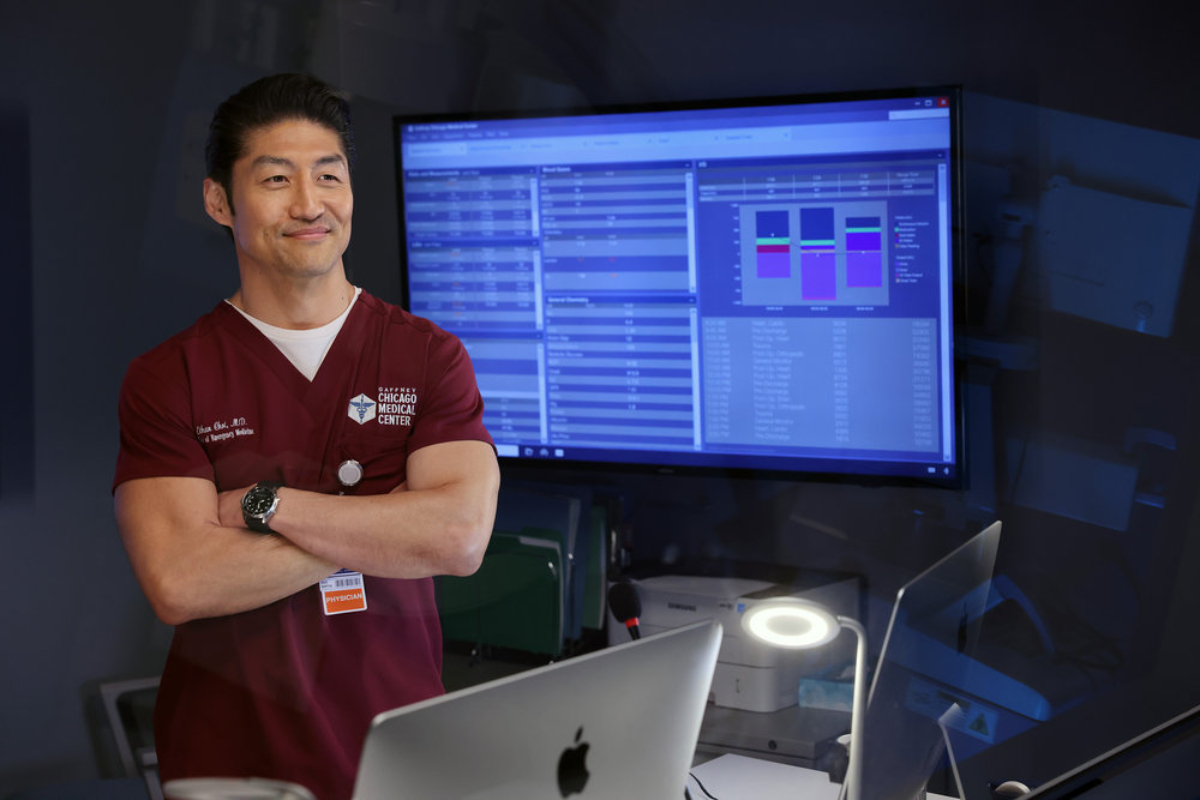 What happened to Dr. Ethan Choi?
Toward the end of Chicago Med Season 6, a deranged patient confronted Choi and Dr. Dean Archer in the parking lot. Choi tried to wrestle the gun away from him but got shot in the process. Although he survived the incident, Choi began a long road toward recovery.
Dr. Choi returned to Chicago Med Season 7 Episode 7, but in episode 8 he suffered another setback. Choi manually worked on a patient and ended up with multiple herniated lumbar disks. He finally decided to undergo multi-level spinal fusion surgery, which would again require him to be off work for several months.
Choi returned for episode 12 and appeared to be making good progress toward recovery. Unfortunately, in this episode, he learned that his father is terminally ill. By the end of the episode, Dr. Charles informed Choi of the death of his father.
Dr. Ethan Choi returns in 'Chicago Med' Season 7 Episode 18
Brian Tee has been on Chicago Med since the beginning, so it makes sense that fans have been wondering where he's been all season. Tee has been busy filming a new role in the Amazon Prime series Expats, but on April 13 he will return to Chicago Med.
Chicago Med Season 7 Episode 18, "Judge Not, For You Will Be Judged," will bring back Dr. Choi, and his road to recovery hasn't been an easy one. "Ethan has gone through a lot of changes in his life with the shooting," showrunner Andrew Shneider teased, according to Variety.
The new episode will put other characters in difficult positions as well. The episode synopsis on TV Promos reads, "Archer and Hannah clash over a patient with close ties to Goodwin. After a patient is shot during a home invasion, Dylan and Crockett help with the investigation. Maggie and Will work to protect a patient who is in the country illegally."
Sharon Goodwin has been excitedly telling Dr. Charles about her daughter's pregnancy throughout Chicago Med Season 7. The episode 18 promo teases complications in her pregnancy and a heartbreaking situation for Goodwin. Emotions are sure to run high in this episode.
'Chicago Med' Season 7 has gone through many cast changes
Chicago Med Season 7 has been through quite a casting shake-up. Yaya DaCosta and Torrey DeVitto did not return as series regulars. Instead, the series brought on Guy Lockard and Kristen Hagar. However, NBC recently announced Hager's departure from the show.
"She's a wonderful actor. We felt we had pretty much done her story regarding her mom and resolved that, but we'd love to have her back," said showrunner Andrew Schneider, according to Variety. "And the great thing about the One Chicago series is if the character's alive, the character can come back."
Chicago Med Season 7 also brought back Jessy Schram's character Dr. Hannah Asher, who was previously a series regular. Tonight, Brian Tee will return for the remainder of the season.
Chicago Med airs Wednesdays at 8 p.m. EST on NBC.