'Chicago Med' Season 7: Here's Where You've Seen Dr. Pamela Blake Actor Sarah Rafferty Before
Chicago Med Season 7 added several new faces to the cast of the medical drama, such as Avery Quinn (Johanna Braddy) and Dr. Dylan Scott (Guy Lockard). Transplant surgeon Dr. Pamela Blake appeared in episode 5 after her daughter was admitted to the hospital. Blake became a kind of mentor for Dr. Crockett Marcel and is now a recurring character in Chicago Med. Here's everything you need to know about the actor who plays Blake and where you've probably seen her before.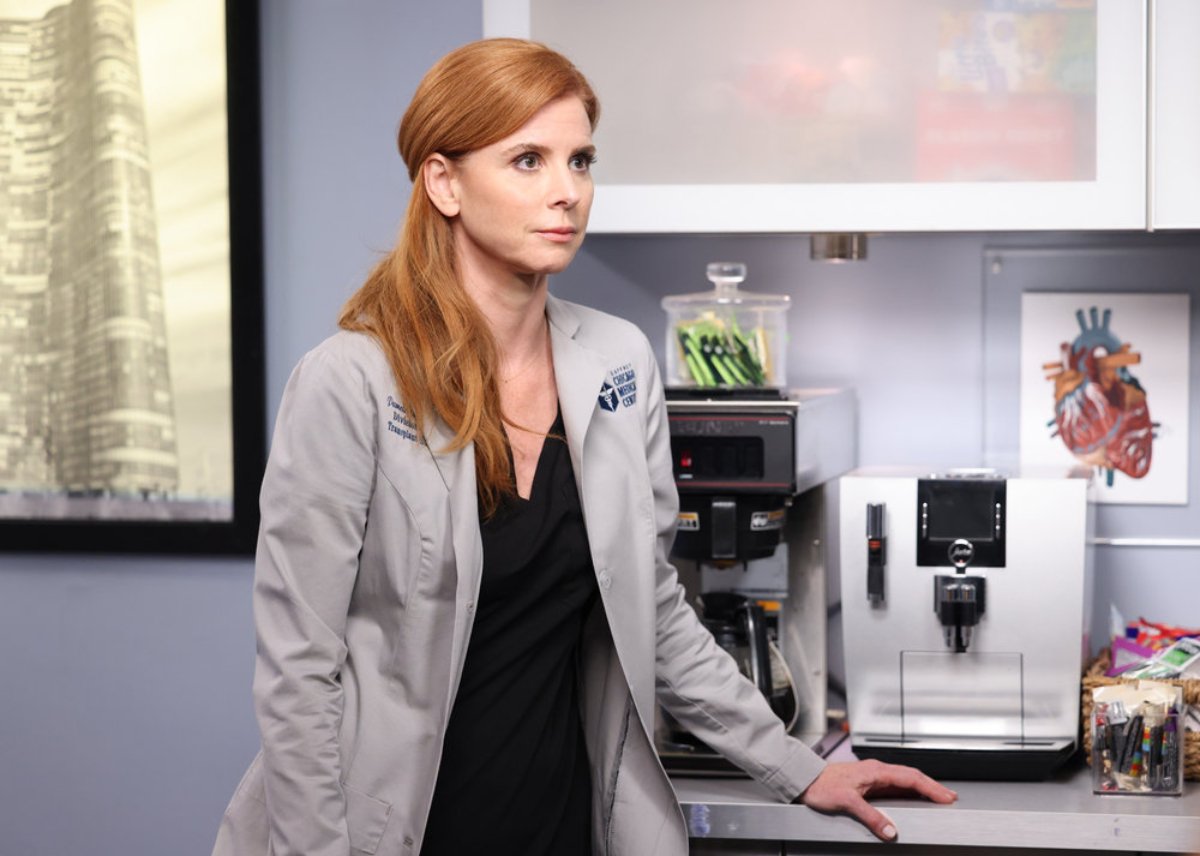 Who plays Dr. Pamela Blake in 'Chicago Med' Season 7?
Sarah Rafferty joins the cast of Chicago Med Season 7 as Dr. Blake, a gifted transplant surgeon at Gaffney Chicago Medical Center. Blake and Crockett initially butt heads while Crockett is treating her daughter Avery. However, Blake later began mentoring Crockett, and in the fall finale, they shared a kiss.
It's no surprise if Rafferty looks familiar to fans of Chicago Med. The actor has appeared in numerous TV shows, including Six Feet Under, CSI: Miami, Law & Order: Criminal Intent, Bones, and Grey's Anatomy. The actor also lends a hand to important organizations such as the Alzheimer's Association and The Brain Project, according to IMDb.
Sarah Rafferty played Donna Paulsen in 'Suits'
Rafferty appeared as Donna Paulsen in the legal drama series Suits. Donna was the secretary and confidant of attorney Harvey Reginald Spencer. The two also developed a romantic interest and eventually married in season 9.
Donna briefly leaves Harvey to work for Louis Litt, though she later returns. Eventually, Donna becomes the COO of Pearson Spector Litt. She is an extremely intelligent character and those around her benefit from her sharp wit. Rafferty appeared in every episode of Suits and even became close friends with co-star Megan Markle while on set, Looper reports.
Rafferty appeared in several episodes of the TV show 'Tremors'
The Tremors franchise has been around for a while. The original film revolves around a small town that must defend itself against giant worm-like creatures. The series went on to have seven movies in total, according to tvdb. In 2003, Syfy released a short-lived TV series called Tremors based on the original films.
Rafferty played Dr. Casey Matthews in three episodes of the early 2000s show. Unfortunately, the series was canceled after only one season.
Will Sarah Rafferty return to 'Chicago Med' Season 7 in 2022?
Blake's role in Chicago Med Season 7 is becoming more and more important. Fans can expect to see more of Sarah Rafferty when the show returns in 2022. In the fall finale, Crockett and Blake kissed under the mistletoe, which will make things very complicated going forward.
Not only is Blake a mentor to Crockett, but Crockett has also been dating Blake's daughter Avery. Needless to say, the two women won't be happy when they learn Crockett has been romantically involved with both of them. It looks like there's quite a bit of drama in the future.
RELATED: One Chicago: Dick Wolf Added 1 Common Theme in All 3 Shows