'Chicago Med' Season 7 Showrunner Teases 'Repercussions' for Sharon Goodwin
Sharon Goodwin is the Head of Patient and Medical Services at Gaffney Chicago Medical Center in Chicago Med. She is a former charge nurse who cares a lot about her employees but is also a bit of a stickler for the rules. In Chicago Med Season 7, Goodwin reported Dr. Cooper to the FBI for receiving kickbacks from the hospital using the VasCom devices. Although reporting him was the right thing to do, it looks like there will be serious consequences for Goodwin.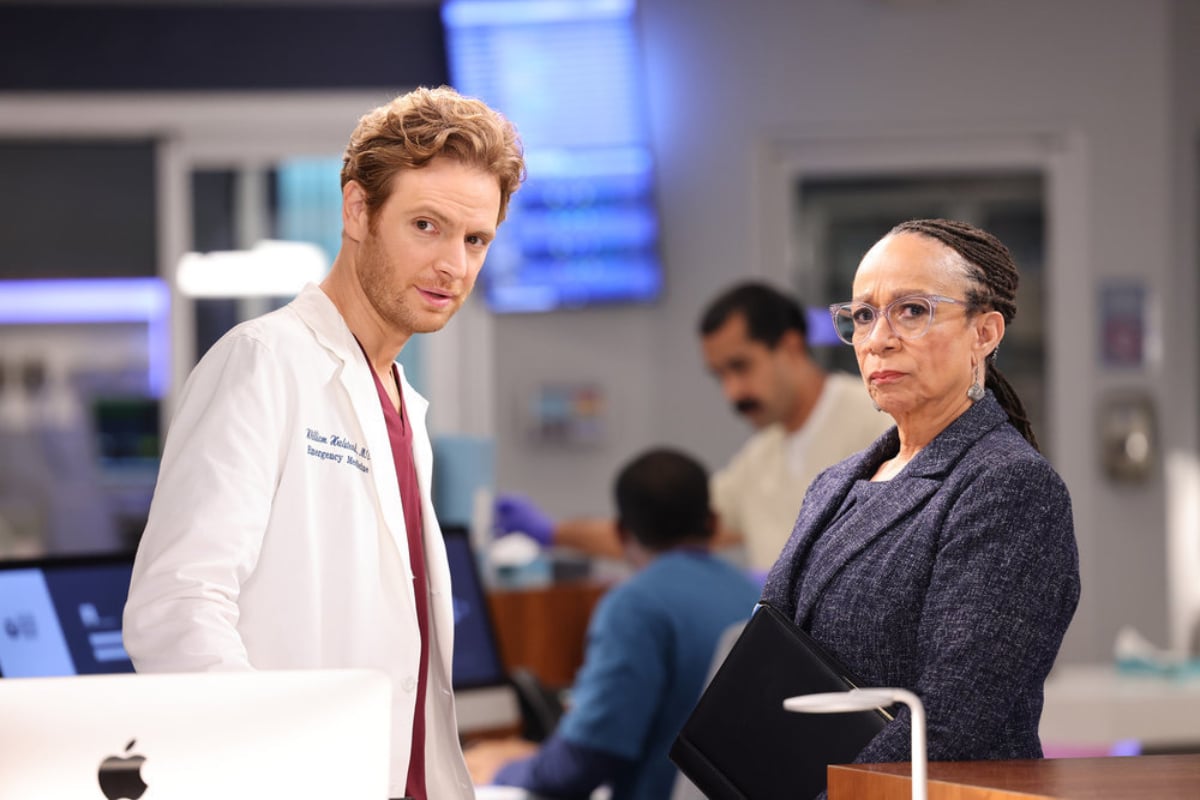 Sharon Goodwin blew the whistle in the 'Chicago Med' Season 7 fall finale
At the beginning of Chicago Med Season 7, Goodwin enlists Dr. Will Halstead's help in investigating Dr. Matt Cooper, who is suspected of taking kickbacks for VasCom devices. Halstead succeeds in getting close to Cooper and the VasCom reps, though in doing so he has to pretend to sing the device's praises.
In the Chicago Med Season 7 fall finale, Halstead finally got the proof he needs. He and Goodwin took their information to the hospital's higher-up Peter Kalmick. However, Peter warned the pair not to go to the FBI, since Cooper's father-in-law is a member of the board and it could have negative consequences for the hospital.
Goodwin appears to agree, but without telling anyone she goes to the FBI anyway. When Cooper is arrested she assures Halstead she will take all the blame. Peter warns her that there will be consequences for her decision, and this will definitely come into play when the show returns.
Showrunner teases 'repercussions' for Sharon Goodwin
Goodwin did what she felt was right in the Chicago Med Season 7 fall finale, but it won't come without consequences. Co-Showrunner Andrew Schneider teased what's next for Goodwin in an interview with TVLine.
"There'll be repercussions," he told the outlet. "Goodwin was driving this investigation and so it made sense to us that she would take the responsibility to blow the whistle, rather than this guy [Halstead] that she had brought in to really work for her on it."
"We thought that was a more responsible, boss thing to do," Schneider continued. "So that's why we had her be the one. We like the thought that knowing who Will is there's this worry that he's not going to let it sit and we thought it was an interesting way to twist the story and make it surprising that it was her."
The promo for Chicago Med Season 7 Episode 10 shows Peter telling Goodwin, "They're gonna come at you, and I doubt it's going to be from head-up." Goodwin definitely has a difficult path ahead of her, but hopefully, things will work out in the end.
When does 'Chicago Med' Season 7 return?
Chicago Med Season 7 is currently on a break for the holidays until 2022. The series will return on Wednesday, Jan 5, 2022, with the episode "No Good Deed Goes Unpunished… In Chicago." The episode's title definitely hints at Goodwin's storyline. Unfortunately, fans have a few weeks to wait before they learn her fate.
RELATED: One Chicago: Dick Wolf Added 1 Common Theme in All 3 Shows