'Chicago Med' Season 7: Vanessa Taylor's Job Might Be in Jeopardy in Episode 8
Asjha Cooper joined the cast of Chicago Med as Vanessa Taylor at the end of season 6. Vanessa is the biological daughter of charge nurse Maggie Lockwood and a first-year medical student at Gaffney Chicago Medical Center. Vanessa becomes a reoccurring character in the series and has had her fair share of struggles so far. The promo for Chicago Med Season 7 Episode 8 suggests things might be getting worse for Vanessa.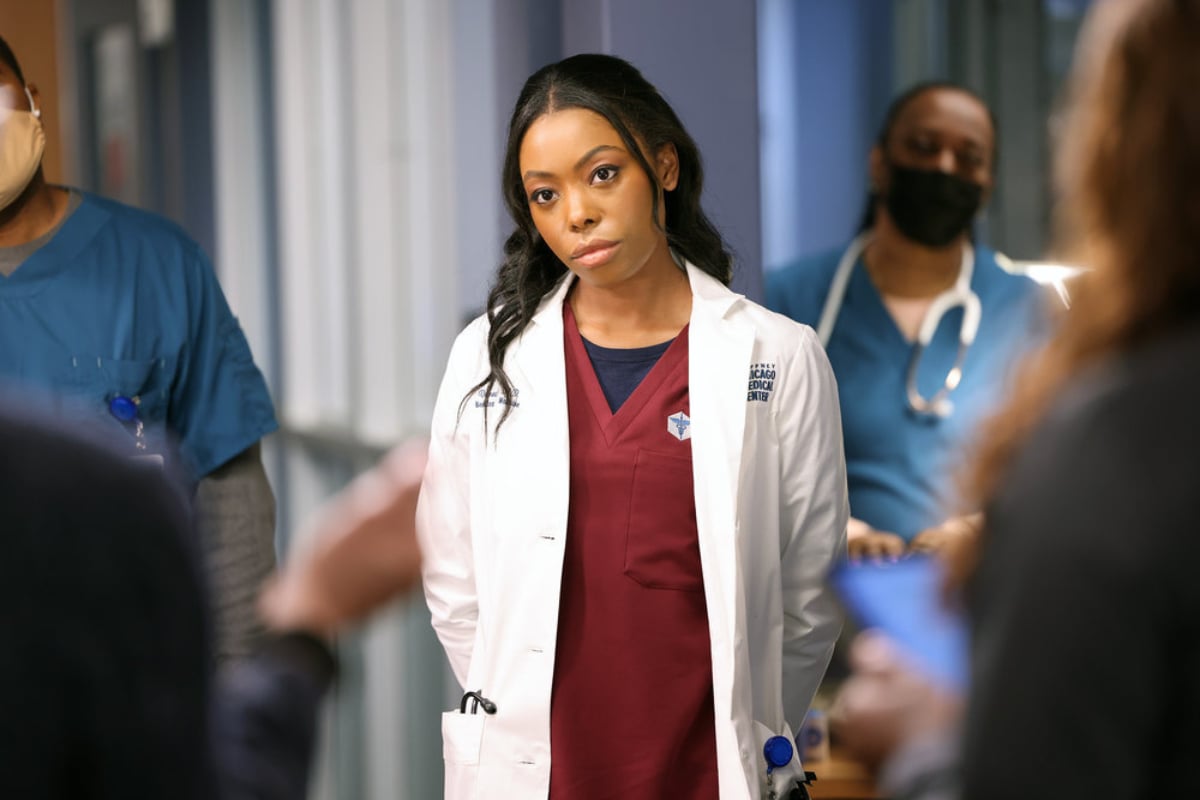 Who is Vanessa Taylor in 'Chicago Med'?
Maggie has been a reoccurring character on Chicago Med since season 1. It is eventually revealed that Maggie had a baby when she was young who she gave up for adoption. In season 6 of Chicago Med, Maggies's daughter Vanessa begins her residency at Gaffney Chicago Medical Center.
Vanessa discovers on her own that Maggie is her biological mother. However, she makes Maggie promise to keep it a secret in the season 6 finale so that others won't think she got her residency out of favoritism. Vanessa is now a reoccurring character in Chicago Med Season 7 and things haven't been smooth sailing for her.
'Chicago Med' Season 7 Episode 8 could spell trouble for Vanessa
The staff at Gaffney Chicago Medical Center get pushed to their limits at times and fans are beginning to worry about Vanessa. In the episode "Chicago Is a Tough Pill to Swallow" of Chicago Med Season 7, Vanessa monitors a young boy named Alex. Unfortunately, she doesn't notice that the patient's brain bleed is getting worse.
Vanessa hasn't been sleeping much in order to prepare for her boards. She has also been taking on more than she can handle at work and pushing herself too hard. At the end of episode 5, Vanessa takes an Adderall while studying at home. She is likely to burn out and perhaps develop a reliance on drugs. Things don't look good for her in episode 8.
The new promo for Chicago Med Season 7 Episode 8 shows Vanessa upset and gasping for air. This could be a result of Vanessa pushing herself too hard and having a panic attack. It's also possible that Vanessa's job could be in jeopardy because of her drug use.
The synopsis for the upcoming episode via Fansided reads, "The annual random drug testing puts a doctor's career in jeopardy." We know that Vanessa has been using Adderall, so the synopsis is likely referring to her.
Fans are concerned about Vanessa Taylor
Fans have noticed Vanessa's drug-taking and are concerned. "Honestly, It seems like Vanessa is on the route to burnout," a fan commented on a Reddit discussion of episode 5. "She comes in earlier for shifts, takes on more jobs than she can do, and also has boards on top of that."
"Oh, Vanessa girl stop before you become another drugged-up doctor because you have no work-life balance," another fan said on a discussion for episode 6. "Maggie knows something is wrong and as a charge nurse needs to raise these concerns not look at it in a motherly way." Hopefully, Vanessa doesn't have to lose her job to turn things around.
How to get help: In the U.S., contact the Substance Abuse and Mental Health Services Administration helpline at 1-800-662-4357.
Chicago Med airs Wednesdays at 8 p.m. EST on NBC