'Chicago Med': Steven Weber Says 'Something Big Is Going to Happen' in the Season 7 Finale
The Chicago Med Season 7 finale is almost here, and fans are in for an exciting episode. Dr. Blake decided that she will undergo surgery to fix her shaking hand, which may make things complicated for Crockett. Meanwhile, Dr. Scott and Jo (aka Milena) are navigating a dangerous situation and promos show Goodwin's daughter going into labor. Actor Steven Weber teased that there is a lot to look forward to in this season's final episode.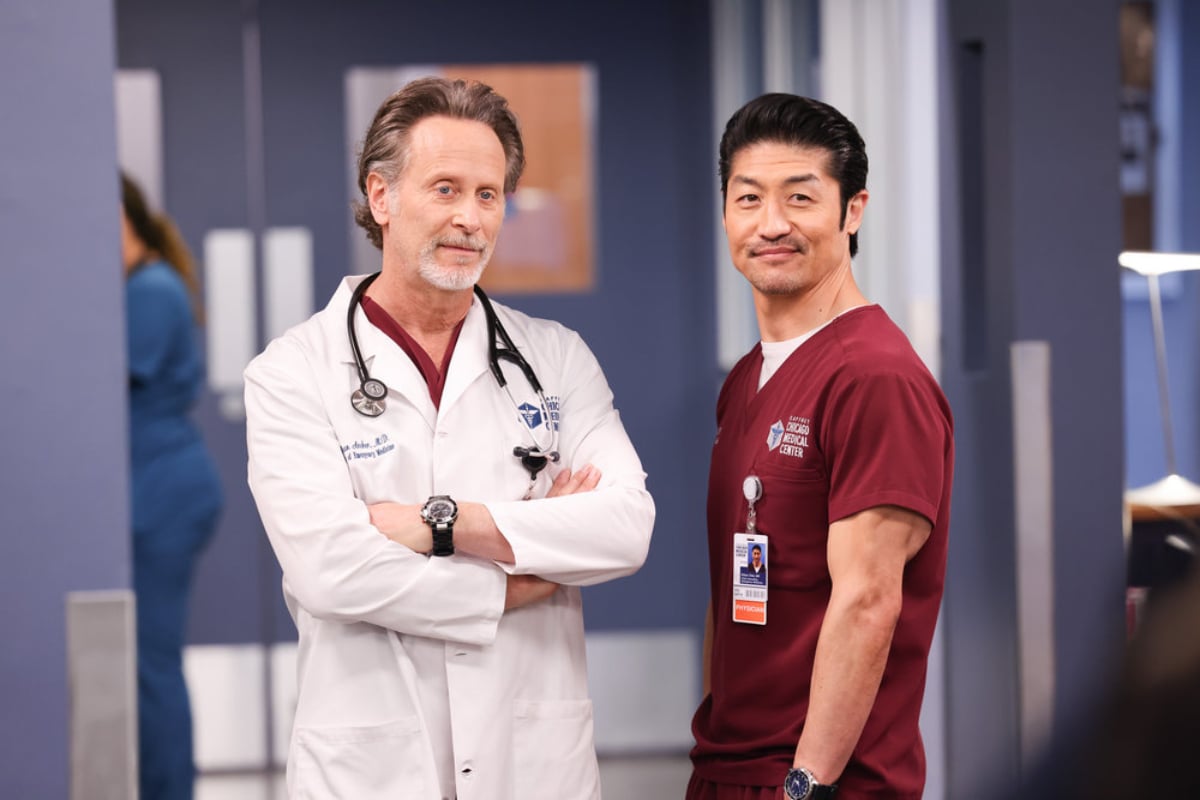 The 'Chicago Med' Season 7 finale needs to tie up several loose ends
The Chicago Med Season finale has a lot of loose ends that need to be wrapped up. Dr. Scott is romantically involved with Riley Voelkel's character, a woman named Jo who is working on a dangerous undercover case. In episode 21, Jo needed to get off the grid. Scott implied that he would ask Dr. Halstead if Jo could stay at his recently purchased apartment building until things were safe again. Now fans are nervously wondering if Jo will survive the season.
To add to the drama, Vanessa has been asking Maggie about her biological father, a man named Grant. Maggie and Grant promised that they wouldn't contact Vanessa, but the situation is more complicated than that. In episode 21 Maggie confessed to Goodwin that she was deeply in love with Vanessa's biological father when they were together and she is afraid that seeing him again will stir up those feelings.
Steven Weber teases what's to come in the season finale
The Chicago Med Season 7 finale is titled "And Now We Come To The End." According to TV Promos, the synopsis for this episode read, "Will and Hannah clash over a patient in need of a kidney transplant. Crockett is faced with a tough decision when Blake is in surgery. Ethan and Archer treat the son of Med's general counsel."
The promo for the Chicago Med Season 7 finale also shows Goodwin's daughter, Tara going into labor. Tara panics, stating that she is supposed to have a C-section, but Goodwin tells her they may not get to the hospital in time. Dr. Dean Archer actor Steven Weber gave fans a taste of what's to come while speaking with One Chicago Center.
"There's going to be a big impact, something big is going to happen that is going to make people jump out of their Barca loungers and say, 'Whoa, Whoa, ha.' People are just gonna lose the power of articulate speech, and they're just gonna be grunting for about 20 minutes after it's over and they won't know what to do."
Weber says the finale will wrap up an Ethan Choi storyline
Weber continued, telling One Chicago Center, "Fans will not be disappointed. On the one hand, it very beautifully and movingly wraps up some stories that we've been watching, most notably, the one involving Ethan (Brian Tee)." Ethan has spent much of season 7 recovering from spinal fusion surgery.
After his father's death, he also discovered that he had a huge secret. Ethan's father was in love with a man with whom he served in the military. This came as a shock to Ethan, who had never even met his father's lover before season 7.
Weber added, "There are some hints about my character and my storyline, which are being teased at interestingly. And also without giving it away. There was going to be a pretty enormous surprise."
Chicago Med airs Wednesdays at 8 p.m. EST on NBC.
RELATED: A Guide to 'Chicago Med,' 'Chicago Fire,' and 'Chicago P.D.' Shows, In Order