'Chicago P.D.' Actor Jason Beghe Says: 'We're Going In Both Barrels Blazing' For Season 8
After a year that has been highlighted by the coronavirus (COVID-19) pandemic and a growing distrust in the law enforcement community, many shows are forced to tackle heavy topics. On the hit NBC series Chicago P.D., creators pride themselves on offering a realistic look inside the titular department. However, with complicated issues such as race and police brutality connected, star Jason Beghe sees it as an opportunity to set themselves away from the pack while remaining true to the show they have grown.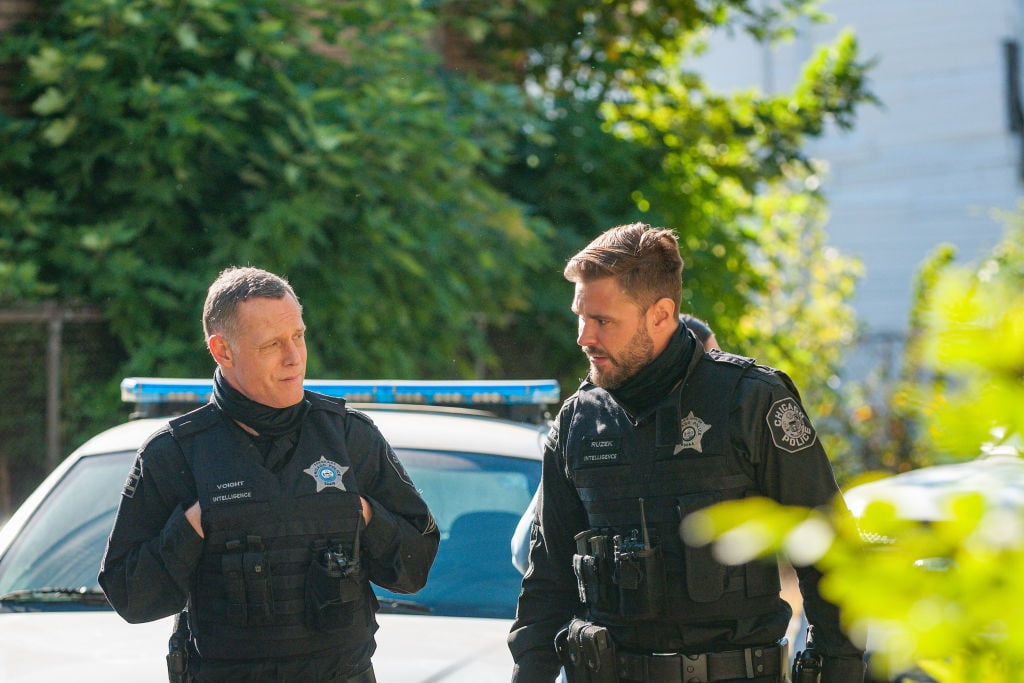 Shakeup at the precinct
The show has seen some shakeups since the unintended season finale. Hailey Upton has returned from her brief time working with the FBI, where she made an appearance on another Wolf Entertainment show, FBI. From the looks of it, the FBI might want Upton back — for good. Detective Rojas has left the department, leaving Atwater ready for a new partner. The most notable cast change of all is the new Superintendent. Empire's Nicole Ari Parker will come in as Superintendent Samantha Miller. Here, the show will tackle some topical subjects. 
Where did we last leave off?
RELATED: 'Chicago P.D.': 1 Character Might Not Survive Police Reform — and It's Not Hank
Season seven set up the stage for another memorable year without knowing how topical its season finale would eventually be. During the season seven finale, after the corrupt Officer Doyle runs into an undercover Atwater and racially profiles him, Atwater starts to make enemies for calling him out on his racism. Ultimately, Doyle profiles another Black man without just cause, which led to him getting shot and killed. Doyle has a strong 'blue wall' of police behind him, and this didn't go well for Atwater.
This caused a snowball effect that led to a moral quandary about doing what was right morally and doing what was good for the department. The episode ends with Atwater speaking up against the systemic racism within the police unit. With Atwater speaking out and people showing where they stand, the next season will be filled with a nuanced but unabashedly poignant look at real-world problems. Beghe and the rest of the cast will now have to grapple with the fallout. 
Police dramas in the time of Black Lives Matter
The police drama has been a staple of television since the earliest days of the medium. However, while the genre has continued strong for several decades, the public's opinions on the police have grown more complicated. While many view law enforcement as necessary to maintain law and order, others think the police handle too many things they're not equipped to handle without violence. If the genre wanted to stay with the times, these warts in the police would have to be investigated. 
Beghe sees this as an opportunity to show why the Chicago universe is different. It's not afraid to show the good, the bad, and the ugly of whatever world its characters live inside. This, according to Beghe, comes with the territory. 
"I think we feel a certain sense of responsibility to address these issues, which is fun and challenging. Thankfully we have some good writers and good advisers," Beghe said (per Deadline). "I'm really proud of our first scripts, I hope they're not only entertaining. We're trying, without being grandiose, to be useful."
The same race-related plot points that ended the last season were made more critical by a summer filled with unrest after the killing of George Floyd, Breonna Taylor, and many other unarmed Black Americans. According to Beghe, the show's creators took notice and are doing what they can to tackle it head-on. 
"We're continuing from there and drawing out the bigger things," he said, "So it's fun, but it's a responsibility. There may be people who are offended, there may be new fans," Beghe said (per Deadline). "Who knows what's going to happen, but we're going in both barrels blazing."
Fans will have to wait to see where season eight goes. However, with so much going on in real life, the series will have a tricky time making it work.