'Chicago P.D.' Actress Marina Squerciati Has Dabbled in Comedy
The One Chicago trilogy — which is made up of Chicago Fire, Chicago P.D., and Chicago Med — offers some of the best dramatic moments on television today. The show takes to the streets of Chicago and follows some of the toughest first responders as they tackle the heartbreak and adrenaline rushes of their day-to-day jobs. By giving viewers an up-close look at police officers, medical professionals, firefighters, and rescue squad members, the show is packed full of moments that keep viewers on the edge of their seats and bring tears to their eyes. 
That's why it might be surprising to learn that one of Chicago P.D.'s actors started out with comedy before landing the dramatic role. Marina Squerciati, who plays Officer Kim Burgess, has a background in comedy improv.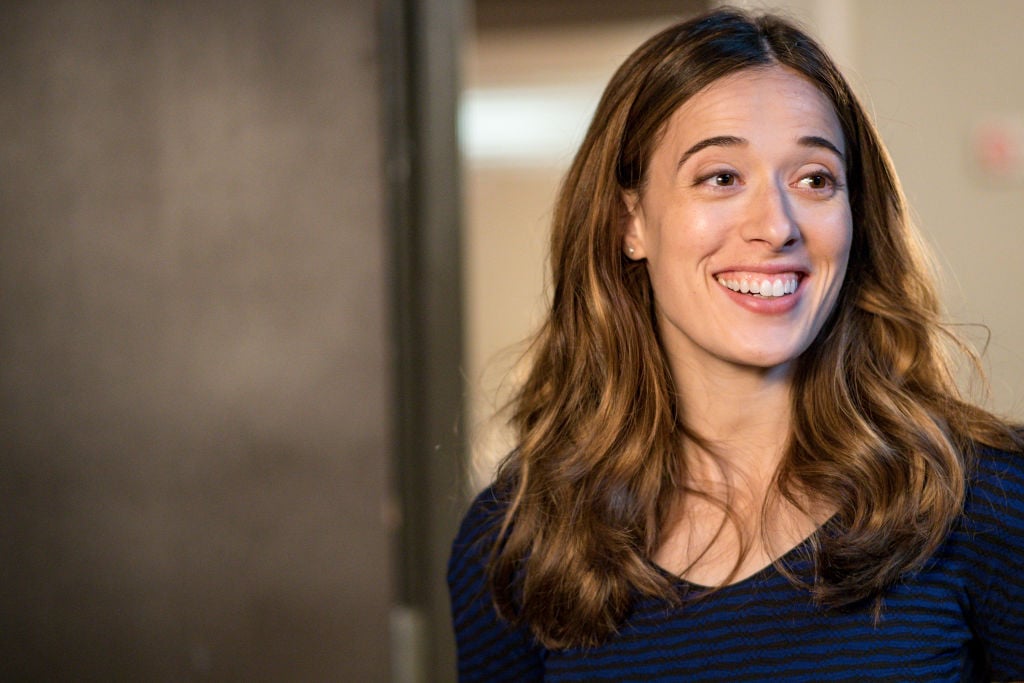 Marina Squerciati is relatively new to acting
RELATED: Who is 'Chicago P.D.' Actress Marina Squerciati?
Squerciati has acting credits dating back quite a while (including a role in The Nutcracker as a mouse when she was just a kid), but she has only recently seen mainstream success in the career. Starting in 2009, Squerciati had several small appearances on television shows like Gossip Girl, Law & Order: Criminal Intent, Blue Bloods, and The Good Wife, according to IMDb. The roles clearly helped push her toward her dramatic appearance on Chicago P.D.
While Squerciati had been working toward a career in acting, her day job was as a real estate paralegal. She got the call from her agent less than 24 hours after she auditioned for the Chicago P.D. position, but she couldn't bring herself to leave her day job. She told Rachael Ray that she is "very fiscally conservative" and was too scared that something would go wrong. She didn't want to give up her steady income. She ended up keeping her paralegal position for a full year after getting the position, which must have made for some grueling schedules to juggle!
Marina Squerciati has appeared in all three One Chicago shows
Since joining the cast of Chicago P.D. as Officer Kim Burgess, Squerciati has had the opportunity to appear in crossover episodes that have taken her on the set of all three shows in the trilogy. She's a fan favorite because her character's cheerful attitude allows her to overcome many obstacles, making her an inspiration to viewers. 
Before she landed this life-changing role, Squerciati had been acting in stage productions. She received a BA in theater from Northwestern University in 2003. Her stage work was well-received, but Squerciati shifted her focus to getting television roles within a few years.
Improv work helped prepare Marina Squerciati
Fans might not guess it by watching her portray Officer Burgess, but Squerciati actually has a background in improv comedy. The Chicago Tribune reports that Squerciati and Patrick Webb — who was a stand-in for Chicago P.D. actor Brian Geraghty — worked together to create a web series called "Special Skills." The series was shot over a single weekend and drew heavily on Squerciati's background in improvisational training. 
Squerciati commented on how she and Webb trained in different improv styles but that they shared some overlap. She also commented on how much fun it was to get back in touch with her comedy roots: "it's been really fun to flex that muscle since, you know, Dick Wolf isn't — I love my job, but it's not a comedy." 
If fans would like to see a different side of their favorite hardened police officer, they could check out "Special Skills" for the chance to watch Squerciati stretch her comedy experience and let loose. It is definitely a different perspective on the actor, but it helps to demonstrate the real range and talent that she brings to the screen.