'Chicago P.D.': The Cast Saw Old Episodes In a Different Light Following 'Copaganda' Criticism
'Chicago P.D.' has responded well under the pressure of a year full of criticism — and some of the cast is understanding the backlash.
Cop shows such as Chicago P.D., are finding the need to alter their agendas to keep up with the times and avoid what is now deemed "copaganda." In season 7 and 8 episodes, we have seen a lot more focus on dealing with Black Lives Matter-related issues on the show. The part of Kevin Atwater, portrayed by LaRoyce Hawkins, has become a much larger presence. To date, Atwater has been, the only main Black officer on the force.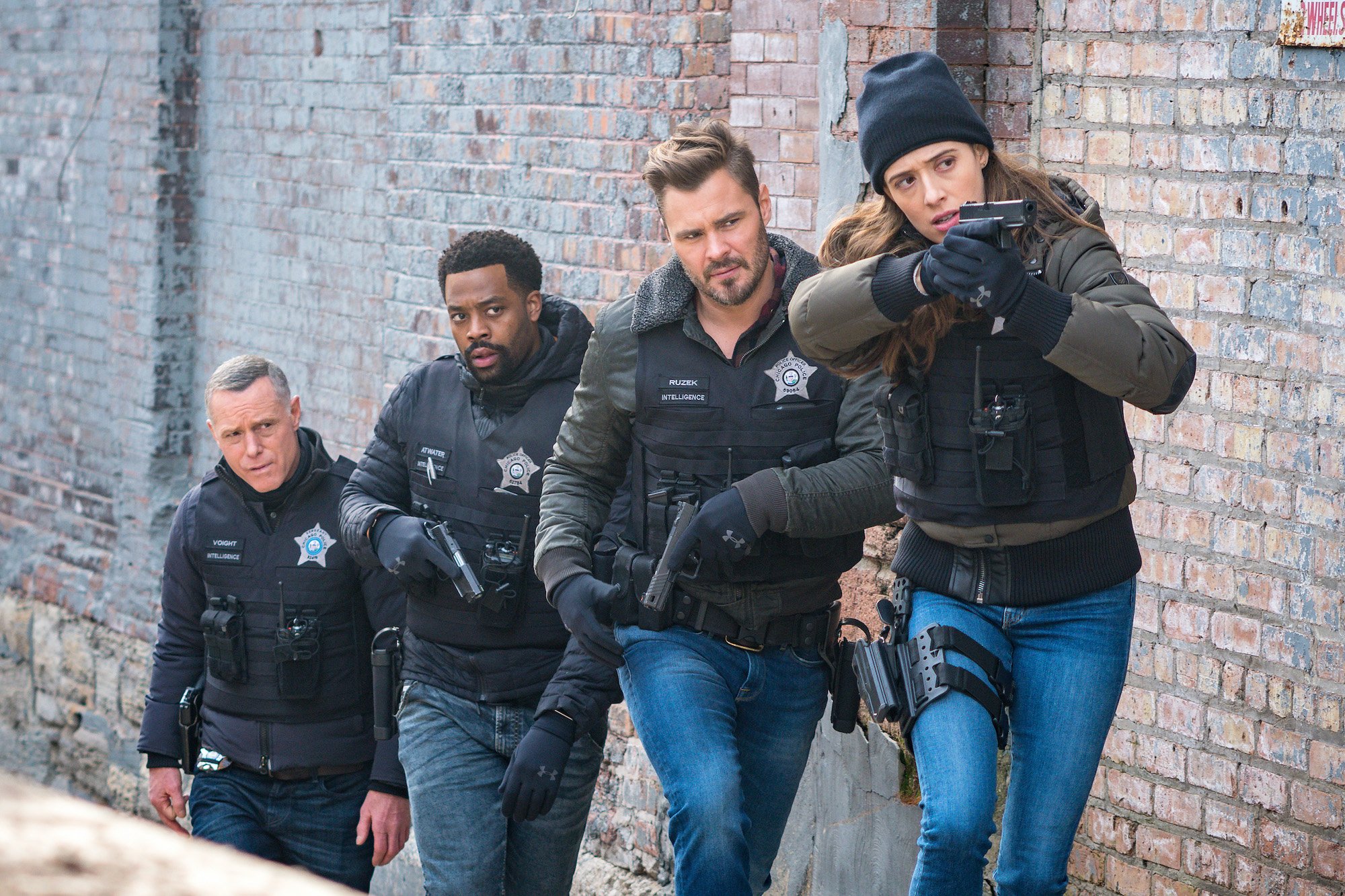 What is 'copaganda?'
There are many police procedural dramas on television, and many of them have been criticized for being 'copaganda', which refers to fictionalized and overly positive portrayals of law enforcement. Criticisms of 'copaganda' shows focus on the way police are always portrayed as 'heros' and anyone they fight against is 'bad', when in reality, policing is much more complex, and police officers are not always the 'hero', and those they fight against aren't always 'bad', or even guilty of any crime.
Chicago PD has been criticized for this, particularly with the character Hank Voight, a by-all-means-necessary cop who often uses violent methods to get the work done. Since the show faced backlash, the cast noted they saw some older episodes in a different light.
According to the Chicago Sun-Times, Patrick John Flueger who portrays officer Adam Ruzek said, "I'll be frank, I have those criticisms in the back of my head." He added, "… we were (merely) telling stories – we were making a TV show. And now, in light of recent events, I really think people are waking up in a different way."
But society is looking at police departments differently due to 2020 events such as the shooting death of Breonna Taylor in her own home in Louisville Kentucky, and the death of George Floyd, who was killed after a police officer kneeled on his neck for more than 8 minutes in Minneapolis.
Cop shows are going to have to keep up with the times to stay alive. Flueger isn't the only cast member aware and speaking up. Marina Squerciati, who plays Officer Kim Burgess, has said the show is "at the epicenter" of "Blue vs. Black," according to the Sun-Times. In a 2016 episode, her character shot a Black teen suspect in the back.
Recent times for Officer Atwater
Up until the end of season 7, Atwater had been just a member of the team. He was often undercover to infiltrate gangs, drug dealers, arms dealers, and other offenders. But recently he had to confront a racist cop and come up against the "Blue Wall." Well into season 8, he continues to feel the backlash. "I knew it was important for us to do a few things, and one of them was to uplift the image of the Black man and allow our audience to reimagine policing as we understand it," said Hawkins, admitting that the world needs to see change, according to the Sun-Times. Fans look up to Hawkins and the character he portrays. A native to the Chicago area, Hawkins was given the "Best Fake Chicago Cop We So Wish Wasn't Fake," award for 2020.
How Sgt. Hank Voight is holding up and what's next
The leader of Chicago's 21st district Intelligence Team is Sgt. Hank Voight, portrayed by Jason Beghe. His character has been questionable from the onset, as he likes to handle things "his" way. Last year, The Daily Show's Trevor Noah questioned Voight's approach. Noah showed a clip in which Voight is choking a suspect. Another clip shows Voight saying to "forget the rules" to capture someone. Noah compared the approach of TV cop shows to real life in saying, "When rogue cops throw away the rule book and take matters into their own hands, it doesn't look 'cool' like on one of the TV shows."
Now, as Chicago PD writers are adjusting to voices raised in protest around the country and by the show's fans, Voight is trying to adjust to the public pressure along with pressure from higher-ups in the department. So is the team. Flueger says he believes the show is addressing the social issues of today. "I think as a society we're starting to turn some sort of page," he said. "I'm proud of being on a show that seems to be trying to turn a page — constantly turn the page appropriately."