'Chicago P.D.': 'Kevin is Going to Be Different From Here on Out' Actor LaRoyce Hawkins Reveals
LaRoyce Hawkins portrays a unique niche in Chicago P.D. As Officer Kevin Atwater, Hawkins represents the only Black member of the Intelligence Team in the Chicago PD's 21st District. As such, he is often undercover as someone involved in various criminal activities.
Many feel Hawkins's acting skills had been underutilized, that is until Season 6 when a couple of episodes puts Kevin, and in turn Hawkins, through emotional turbulence that changed the character and the real-life actor forever.
A combination of two episodes during that season, "Black and Blue" and "Night in Chicago," brought a lot of change to the character and Hawkins, personally. "He loves his job and his colleagues and his community," he said in an interview with Black Girl Nerds. "But he has to make some decisions that will affect him. But Kevin is going to be different from here on out."
Hawkins' life before and early with 'Chicago P.D.'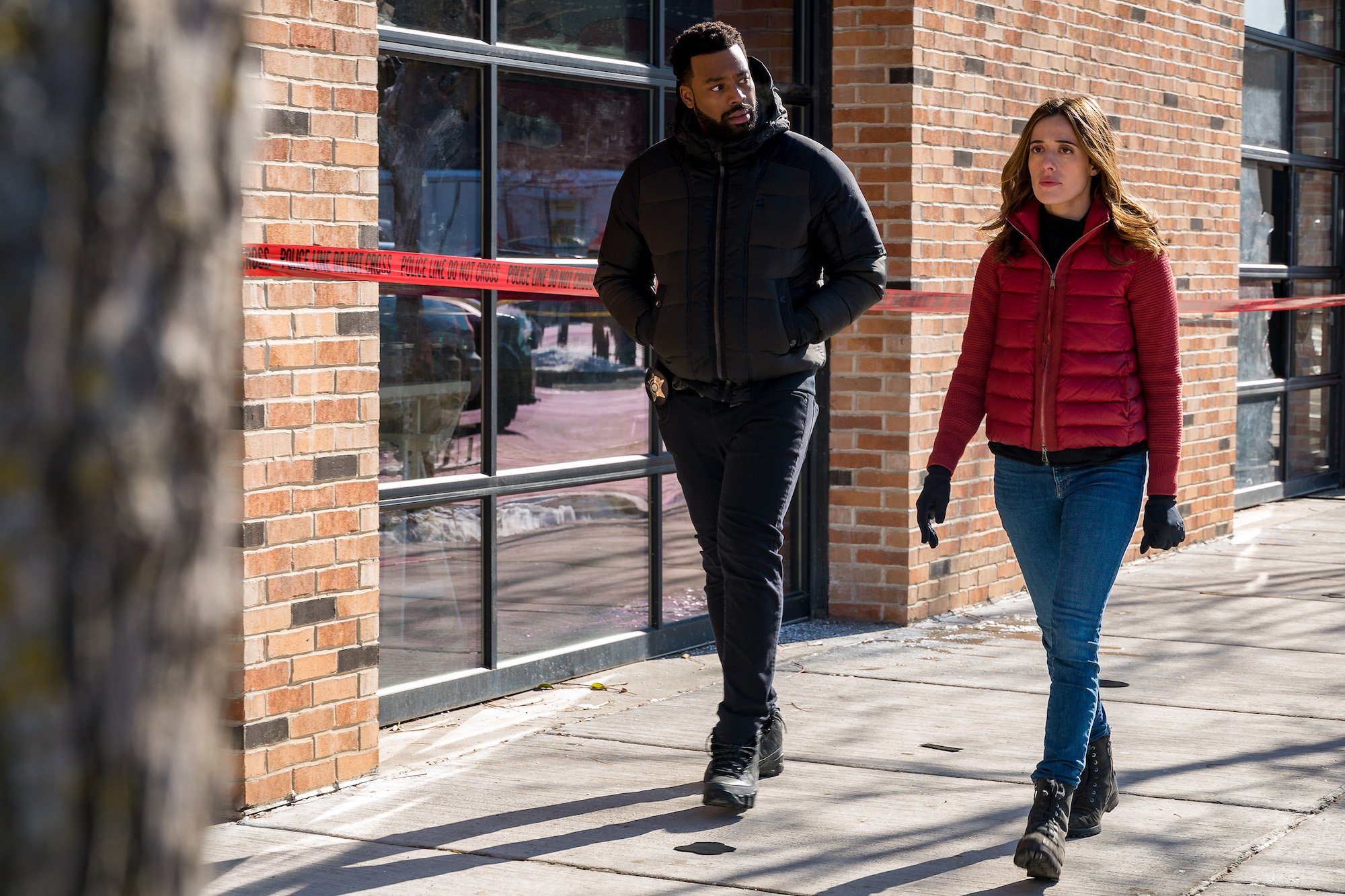 Hawkins was born and raised in Harvey, Illinois, a Chicago suburb. The 32-year-old joined his high school speech team. He attended Illinois State University on scholarship majoring in theater arts and started appearing in comedy clubs.
He was cast in a few films while also being cast in one episode each of Detroit 1-8-7 and Underemployed. Landing the recurring role as Kevin Atwater in Chicago Fire in 2013, and subsequently on its spinoff show, Chicago PD, has been Hawkins' major break.
During his entrance in Chicago Fire and the first season of Chicago PD, Kevin is seen working as a patrol officer partnered with Kim Burgess (Marina Squerciati). His history was one of having grown up in the gang-infested projects of Chicago. While members of his family and friends have been involved in criminal activities, Kevin managed to steer clear turning to the profession of law enforcement, according to Chicago P.D. Wiki Fandom.
Following an undercover role with Detective Alvin Olinsky (Elias Koteas), Kevin was hired into the Intelligence Unit in Season 2 under the leadership of Sgt. Hank Voight (Jason Beghe). He has been there ever since working well with the others within the unit.
Kevin's dealings with a racist cop
RELATED: 'Chicago P.D.': Hank Voight's Raspy Voice Started With a Coma
During the episode, "Night in Chicago," which aired in February 2019, Kevin goes undercover to help bring down a dangerous heroin enterprise. He befriends Daryl Ingram (Phillip Johnson Richardson), assistant to the head of the criminal ring.
While the two are driving at night to pick up some product, they are pulled over by two white police officers. The episode was one revealing racial-bias with the two black men being interrogated and harassed by the officers all the while Kevin maintaining his cover. The result was that of Daryl being shot and killed by one of the officers, Tom Doyle (Mickey O'Sullivan).
The episode was directed and produced by Eric LaSalle of ER fame. It was, "one of the most powerful and history-making storylines in the era of police dramas," Hawkins said, according to Black Girl Nerds.
This episode has a very subtle connection with "Black and Blue" from the previous season. Hawkins wore the same black hoodie in each episode. In "Black and Blue" he was wearing it when he threw a gun into the river, which would have been evidence in a case, to prevent a juvenile, who used it protecting his aunt, from being convicted and going to prison.
The episode resulted in Kevin's questioning his PD values versus those of his community. Hawkins was acutely aware of his character previously wearing that hoodie then and asked about wearing it for "Night in Chicago."
"Kevin goes it through a lot of conflict as a person and a police officer," Hawkins said.
"I knew that the storyline was big and it was an important episode," Hawkins added. "This is some of our best work. This was going to be something that the fans of the show would not forget."
Hawkins further revealed that he watched the documentary, Say Her Name: The Life and Death of Sandra Bland before filming the episode. "Every emotion in my face, from the time Kevin and Daryl are stopped by the police, to the moment Kevin has a cop's gun pressed against his head, I thought of Sandra Bland. Kevin represented what we as Blacks go through in our communities," Hawkins said.
In July 2015, Bland, a 28-year-old black activist, was arrested in Texas following a pretextual traffic stop for failing to signal a lane change in Texas. Three days later, in an apparent suicide, Bland was found hanging in her cell. Her experience has been described as an important turning point in the Black Lives Matter movement, according to the New York Times.
The 'Chicago P.D.' Season 7 finale
Kevin finds himself having to work alongside Doyle to take down an arms' dealer in what became the Season 7 finale, due to the shortened production of the show due to the onset of the coronavirus. The episode, "Silence of the Night," showed Doyle chasing after a black man without reasonable cause and ended with gunfire causing the deaths of Doyle and a second man, according to Cinema Blend.
Subsequently, two black men are being held while being accused of firing first, and Kevin knows better.
It is up to Kevin to decide whether to tell the truth, sharing that Doyle fired first, or to through that truth aside, protecting his fellow law enforcement officer, and exposing himself to Doyle's friends within the Chicago Police Department renewing those feelings of his community versus his dedication to the police force. He chooses the latter finding Doyle's former partner waiting at his home afterward staring him down.
Be sure to tune in to Season 8 while Kevin deals with his decision that has angered Doyle's friends within the PD and his family. There is no doubt he is going to have to watch his back.