'Chicago P.D.': Marina Squerciati Doubts Burgess Knows What She's Getting Into With Makayla
Since January 2014, Chicago P.D. fans have been watching Officer Kim Burgess, portrayed by Marina Squerciati, mature as a police officer and a woman. She has advanced from patrol cop to a position in the Intelligence Unit. She has had several partners including Officer Kevin Atwater (LaRoyce Hawkins) and Officer Adam Ruzek (Patrick Flueger).
We have seen Burgess in several romances, including her longtime relationship with Ruzek. We watched her tendered reaction to finding out she was pregnant and her devastation when she loses the baby. Recently she has faced another decision, one that could also change her entire life.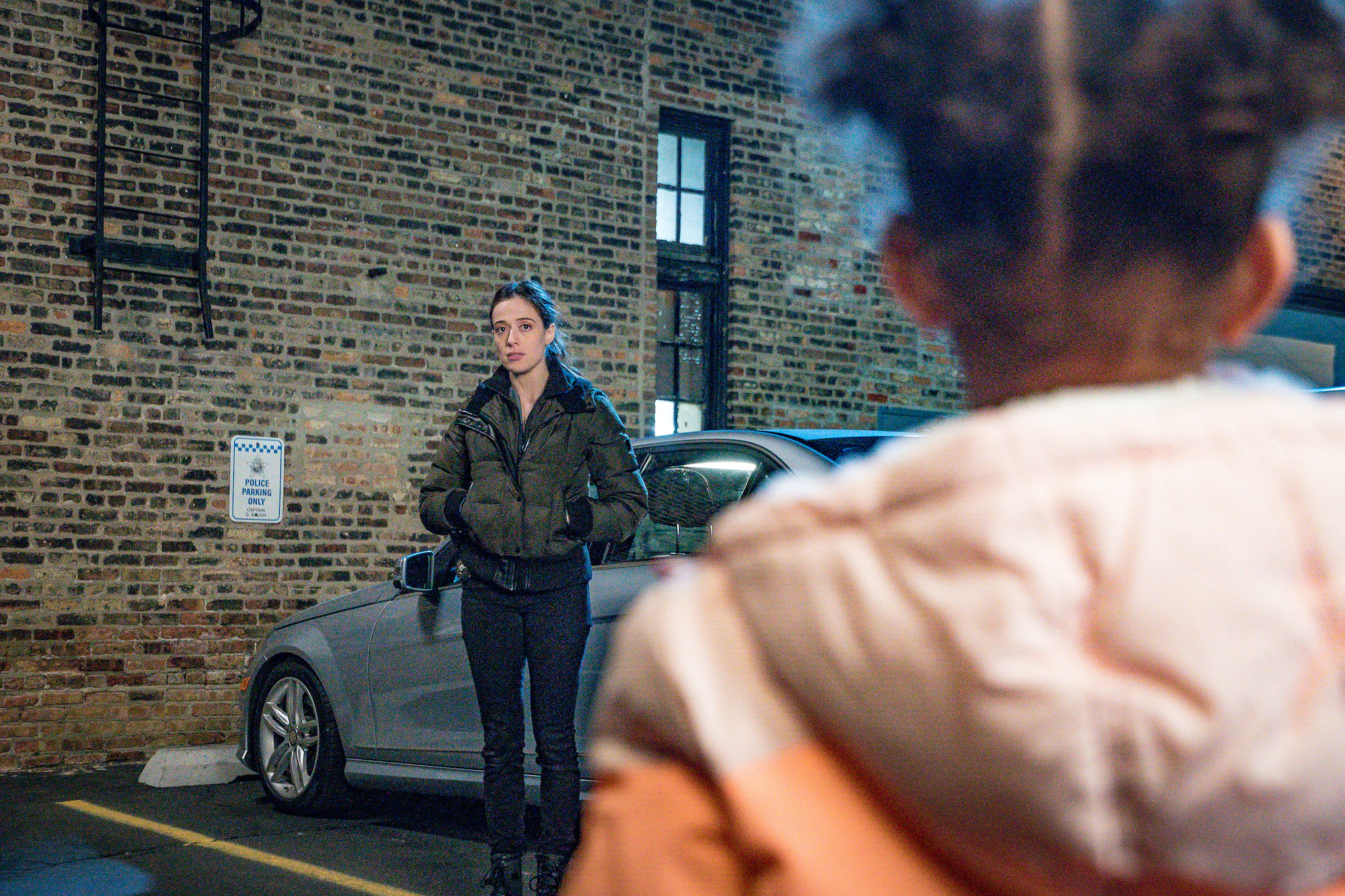 Burgess's pregnancy and losing her baby
In season 7, Burgess inadvertently learns she is pregnant. This was a result of a one-night stand with her on-again-off-again romance with Ruzek. At first, she isn't sure whether to continue with the pregnancy. She never thought of having children, but decides it is something she is going to explore.
Upon telling her boss, Sergeant Hank Voight (Jason Beghe), about her condition, she is pulled from detective work to answering 911 calls. One call pulled her back in. It was from a girl caught up in a sex-trafficking ring. Burgess works with the team to break up the ring, but they cannot find the girl.
Burgess finally tracks down the call location to a motel and takes off while requesting backup. She hears the girl scream and breaks down the door finding herself in a confrontation with the girl's attacker. She receives a violent beating while thwarting off the attacker and saving the girl's life. She loses the baby in the process.
While getting over her loss, Burgess finds a connection with a young girl
RELATED: 'Chicago P.D.': Jason Beghe Spills On Season 8 — 'There May Be People Who are Offended'
Burgess and Ruzek's friendship blossoms after their loss. In season 8, they are spending most of their off time together albeit generally in a platonic manner. In episode 3 "Tender Age" the two are on their way to the station when they encounter a young girl dazed and walking through traffic. They stop to find out why.
Despite the girl's inability to speak, Burgess finds her name written on the back of the girl's jacket, Makayla Ward (Ramona Edith Williams). They call it in and learn her address. When taking her home, they find the girl to be the only survivor of a gruesome murder spree, according to FanSided. Burgess, having been the girl's first contact, is assigned to try and get her to talk.
Burgess and Makayla bond. When a foster-care worker comes to take Makayla to her home, Makayla wants Burgess to come, too. Shortly after they arrive, a rock is thrown through Makayla's window and shots are fired through the front door. Their bond grows stronger as Burgess strives to keep Makayla safe with assistance from Ruzek. The girl remains with Burgess until the case is solved, Makayla is safe, and her only close remaining relative comes to pick her up.
In episode 5 Burgess makes a life-changing decision
Two episodes later "In Your Care," Burgess and Ruzek happen upon Makayla while at the Department of Children and Family Services following up on a different investigation. They learn that Makayla's caregiver relinquished all rights. Makayla was to go to a group home.
Burgess's protective instincts kick-in. She wants to foster Makayla. Ruzek questions the decision. Burgess discusses it with Atwater, who has experience having raised his younger brother and sister. Despite Ruzek's position, Burgess goes through with her decision.
According to TVLine, Squerciati questions the decision of her alter-ego too. "I don't think she knows [what she's getting into]. She's just going on instinct," Squerciati said. "Ruzek hits the nail on the head [when he tells her] 'I think you can't stand to see another child loss,' which I think is true. She realizes that most of these children, especially the older children, won't fare so well, so that's a motivating force."
Squerciati admits that Burgess and Makayla "have a special connection." But there is a lot to consider. Burgess is a single woman with a full-time dangerous job. Burgess is White, Makayla is a young Black girl. But, these are things Burgess feels she can handle.
Fans are worried about how this may impact Burgess and Ruzek's relationship. Squerciati told Us Weekly that it may bring them closer, saying "for sure" the two could parent Makayla together. "I would love it. It would be so sweet," Squerciati said. She further discussed how "safe and calm," Burgess feels with Ruzek, and that "she loves him." But Squerciati also admits that her character isn't ready for any big commitment with him, at least not right now.