'Chicago P.D.' Star Marina Squerciati Has a 'Chicago Med' Bestie In Torrey DeVitto
Fans were excited to see that Chicago P.D. star Marina Squerciati has a Chicago Med bestie in Torrey DeVitto, according to social media.
Chicago P.D. has been a hit law enforcement drama since it premiered in 2014 — not to mention the popularity of the entire Chicago franchise. Most notably, NBC has renewed the medical drama Chicago Med for its sixth, seventh, and eighth seasons. Fans were happy to learn that a friendship connects the shows in real life. According to social media, Chicago P.D. star Marina Squerciati has a Chicago Med bestie in Torrey DeVitto. 
Who are Marina Squerciati and Torrey DeVitto?
Fans get a taste of Squerciati and DeVitto's relationship in a recent video promotion encouraging fans to vote. They clearly work well together on-screen, but their career and family life away from each other is just as entertaining for fans to keep up with.  
Marina Squerciati has a successful acting career. Her biggest roles have been Kim in Chicago P.D. and Melanie in It's Complicated. In fact, she has played Kim in five different TV shows: Chicago Fire, Chicago P.D., Chicago Med, Chicago Justice, and Law and Order: Special Victims Unit. However, acting isn't the only important part of Squerciati's life, as she explores the early years of motherhood. Even scoring a Cover Girls feature with her daughter on Chicago Baby Magazine, according to her Instagram. 
Torrey DeVitto has kept busy with acting also. She has made it on three different shows with the same role as Dr. Natalie Manning: Chicago P.D., Chicago Fire, and Chicago Med. Not to mention some other prominent roles in shows like Pretty Little Liars, CSI: Crime Scene Investigation, and The Vampire Diaries. DeVitto spends her time outside of work being with family and working on her violin skills, as she previews in her Instagram post. 
Their characters on their respective shows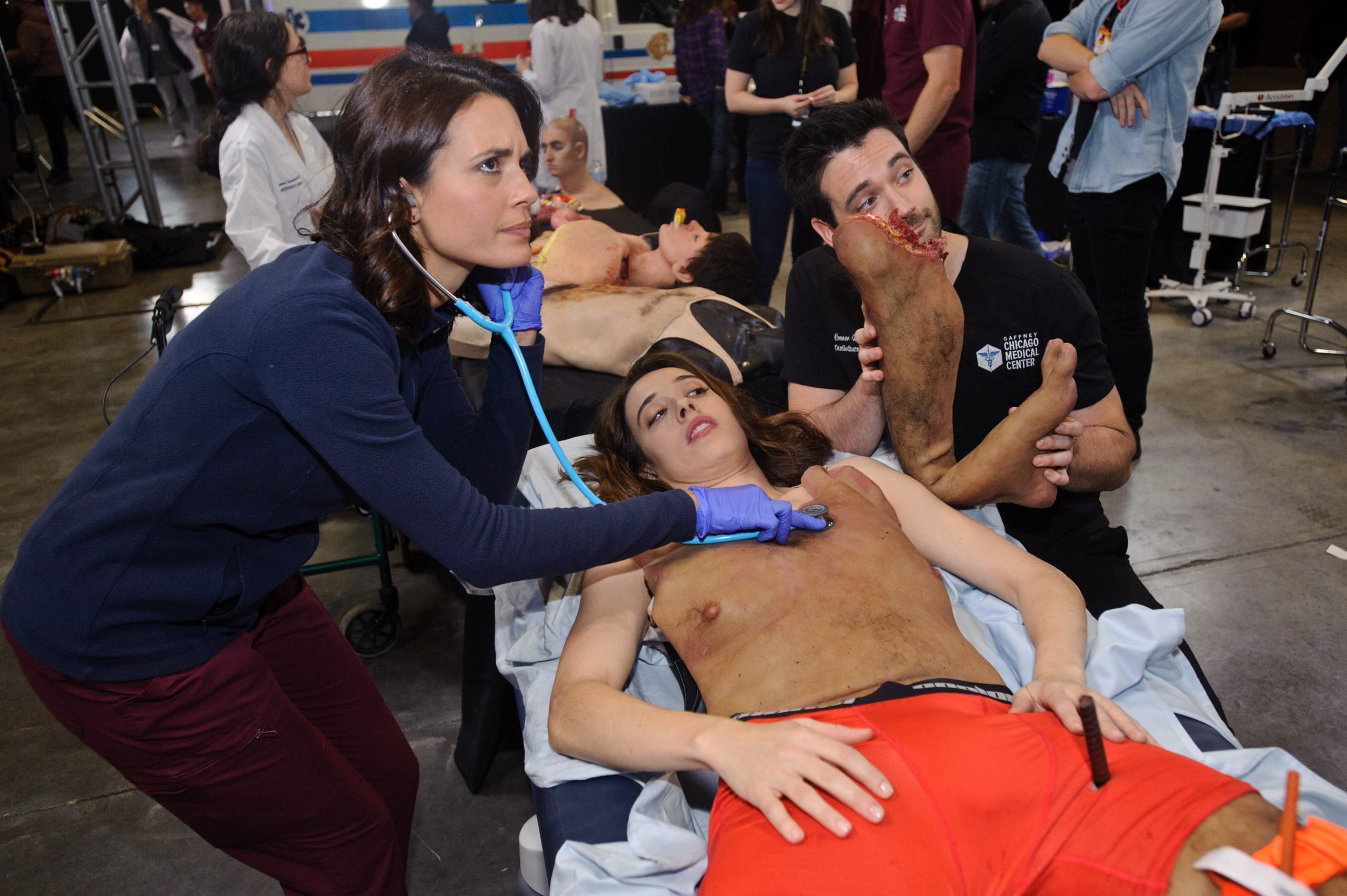 Squerciati and DeVitto have played major roles in the Chicago TV series'. Both being a part of Chicago P.D., Chicago Fire, and Chicago Med. 
DeVitto's character, Dr. Natalie Manning, originated in NBC's Chicago Med, as an Emergency Medicine and Pediatric physician. She's a strong female character who struggles with losing her husband and being a single parent, dating as far back as the first season. It's difficult for her to keep up with the amazing work she is doing and being a good mother to Owen on top of it. The experience has made an incredible impression on DeVitto in real life.
According to Bustle, she compared the role to her own desire for kids and family, saying that "playing this role has been kind of therapy for me that not only can you do it, but millions and billions of women do it every single day. It's been really eye-opening."
As for Squerciati, her character on Chicago P.D. was Officer Kim Burgess. She was also a strong female character, excelling at her job as a patrol officer and an even better candidate for the Intelligence Unit. Fans fell in love with her role and were devastated by what the job cost her in season seven. Putting the character through pain, no woman should ever experience. 
Squerciati and DeVitto seem close in real life
Away from their drama series', DeVitto and Squerciati have a great time together and seemingly look like best friends. From their dinner together at Mason Restaurants in 2018, which Squerciati captured in her Instagram post saying, "A perfect night with my ladies [and] ps. Torrey's not kidding. Send her Advil" after a night of drinking and karaoke.  
It wouldn't be the last time the two stars are seen having fun together, either! In February 2020, DeVitto and Squerciati are seen posing together for another great Instagram post, where the besties label their time together as "the best vacation ever…in Texas." Fans can't wait to see more fun posts in the coming years and neither can we!