'Chicago P.D.': Tracy Spiridakos Shared Her Thoughts On 'Upstead': 'Jay is Hailey's World'
Chicago P.D. remains one of NBC's top-rated shows, season after season. Fans have developed strong attachments to the series' incredible characters, and they tune in eagerly each week to check on their favorites.
Chicago P.D. just wrapped up its eighth season, and fans were super excited to see two of their favorites–Upton and Halstead–finally start a relationship. The two are in a good place, and Tracy Spiridakos (Hailey Upton) shared her thoughts about the couple in a recent interview.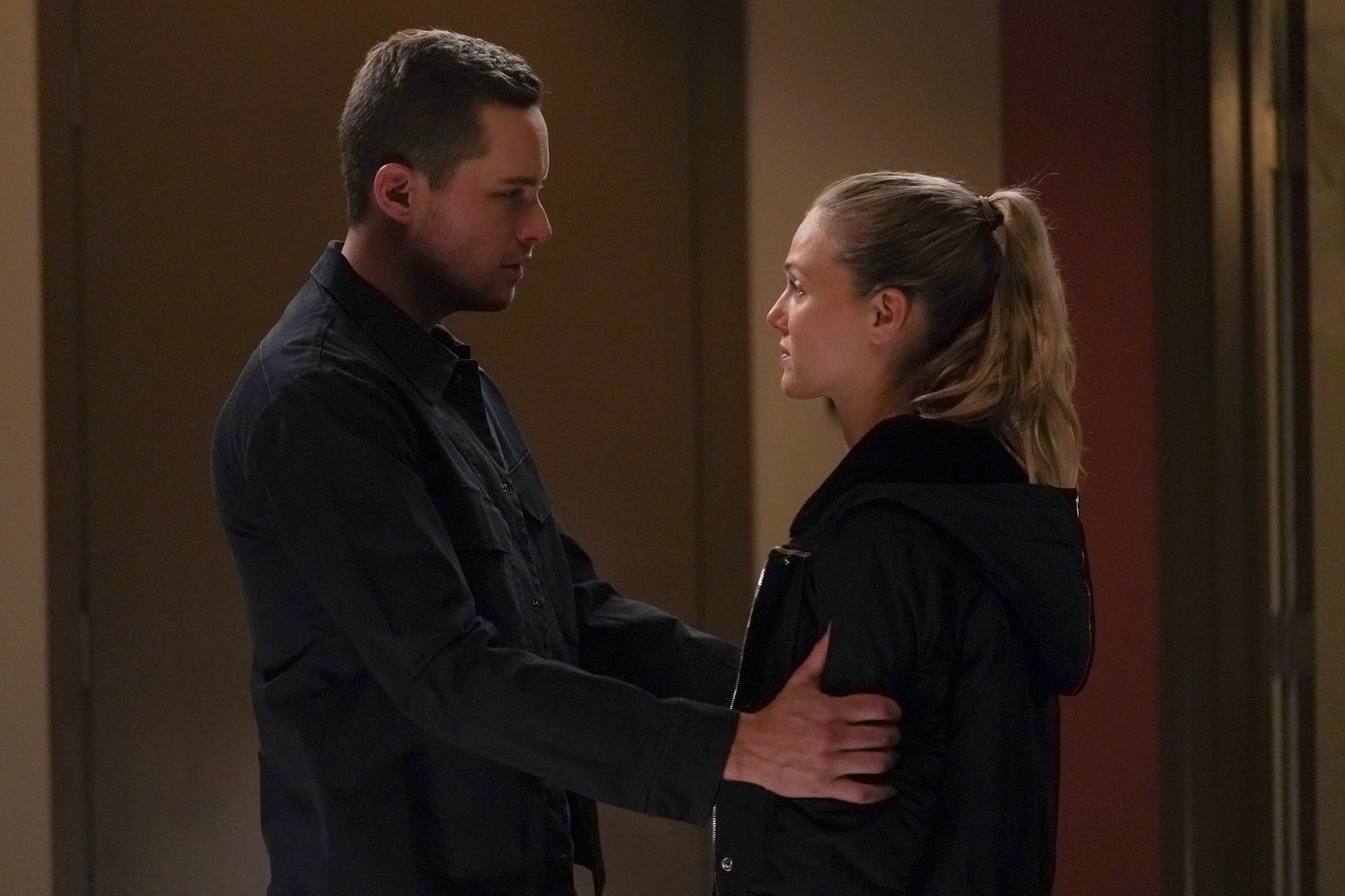 Who is Hailey Upton?
Hailey Upton is a detective with the Intelligence Unit of the Chicago Police Department. Upton had a difficult childhood, growing up in a home with an abusive father. After her father's diner was robbed, she spent a lot of time at the local police department while they worked on the case. She was just 12 years old but decided that she wanted to do police work one day. 
Upton became a police officer with the same Robbery-Homicide Unit that worked on the case for her father's diner. Eventually, she moved to the Intelligence Unit, where she has proven herself an invaluable addition to the team. She is unfailingly loyal to her co-workers. She's stood up for them numerous times, nearly always taking their sides in a tough situation.
Certain events on the job cause Upton to develop a darker nature. She becomes obsessed with obtaining justice for a tragic event, and it causes her to go to extreme lengths. Voight eventually learns about what she's doing and sends her to the FBI to straighten her out. When she returns, she begins a romantic relationship with her partner, Jay Halstead. 
RELATED: 'Chicago P.D.: Is Hailey Upton Leaving?
Who is Jay Halstead?
Jay Halstead is also a detective with the Intelligence Unit and Hailey Upton's partner. He grew up in a southside neighborhood of Chicago and has an older brother who is a doctor on Chicago Med. Both brothers had a strained relationship with their father, as he didn't approve of their career choices. Halstead's brother reconciled with their father, but he didn't. 
Halstead struggled after his father's death because, despite the rift between them, he still loved him. He also discovered that his father had been proud of him, which was really all he ever wanted. He began seeing a therapist, who also helped him deal with PTSD. 
Halstead is a skilled marksman and a valuable asset to the team. He is a tough interrogator and sometimes crosses the line in order to get the answers he needs. He's also fiercely loyal to his team, and goes out of his way to protect the people he cares about and also the victims in the cases he's involved in. 
What is going on in their relationship?
Upton and Halstead–also referred to as "Upstead"–have been partners for a while. When Lindsay (Upton's former partner and Halstead's former love interest) left for New York, the two were on good terms and had become friends. They were partnered up after Lindsay's departure, and they quickly formed an incredibly strong bond.
They've always been there for one another, helping each other through tough times. Upton was the first on the team to recognize that Halstead needed to talk to someone after an undercover operation triggered his PTSD. She even threatened to find a new partner if he didn't get help. He treats her the same way, being there for her after her own undercover case goes wrong.
The two obviously had strong feelings for each other, and fans were thrilled when they finally shared a kiss in season eight. Their new relationship definitely has its share of struggles, the main one being Upton's habit of shutting down instead of opening up when Halstead wants to help her. Despite Upton's worries about scaring him off, this season's events have proven that Halstead is around to stay.
When Halstead recently told Upton that he loves her, she completely shut him out. It turned out that the phrase was frequently uttered by her father when he would try to apologize after the beatings. In an interview with CinemaBlend, Tracy Spiridakos (who plays Upton), described how Halstead differs from Upton's former boyfriends:
"I think Jay is Hailey's world in a big way. This episode brought up her fears of losing him because she feels there's a part of her that is broken and in the past when guys see that side, they leave. But Jay stayed and I don't think Hailey's ever had someone stay after they've seen that fragile side of her. I almost feel like this is her first real love story."
Fans are excited to see what unfolds next with Upstead. We're pretty sure that Upton is about to get the loving, healthy relationship that she's always wanted — unless Halstead doesn't accept her surprise proposal.