'Chicago P.D.': Who Will Take Care of Makayla If Burgess Doesn't Make It?
Chicago P.D. has often been considered the favorite among the One Chicago trilogy, and its Season 8 finale did quite a bit to leave fans on the edge of their seats while they await the return of the series for Season 9.
The show, which has always been as much about the interpersonal lives of the individual officers as it has the criminal justice system in which they work, left quite a bit up in the air when it comes to how the characters would fare when the show returns. 
As Officer Kim Burgess' life is on the line, fans are wondering what will happen to her daughter Makayla if she doesn't pull through. 
Officer Kim Burgess has been a fan favorite with a heartbreaking story
Officer Kim Burgess has been on Chicago P.D.  since its 2014 premiere, and she's had plenty of time to become a fan favorite. Played by Marina Squerciati, Burgess started out as a patrol officer who was paired with different partners throughout the early part of the series. Eventually — and after a dramatic rejection of the first offer for the job — Burgess joined the Intelligence Unit and became part of the talented squad investigating the Windy City's most dangerous forces. 
By Season 7, things got much more intense for Burgess. After a whirlwind romance with Detective Adam Ruzek, Burgess found out she was pregnant, but when the on-again, off-again relationship fell apart, the pair started talking about plans for how to co-parent productively. Unfortunately, before they could put their plans into action, Burgess was badly beaten while breaking up a sex trafficking ring, and she lost the baby. 
Officer Kim Burgess took in Makayla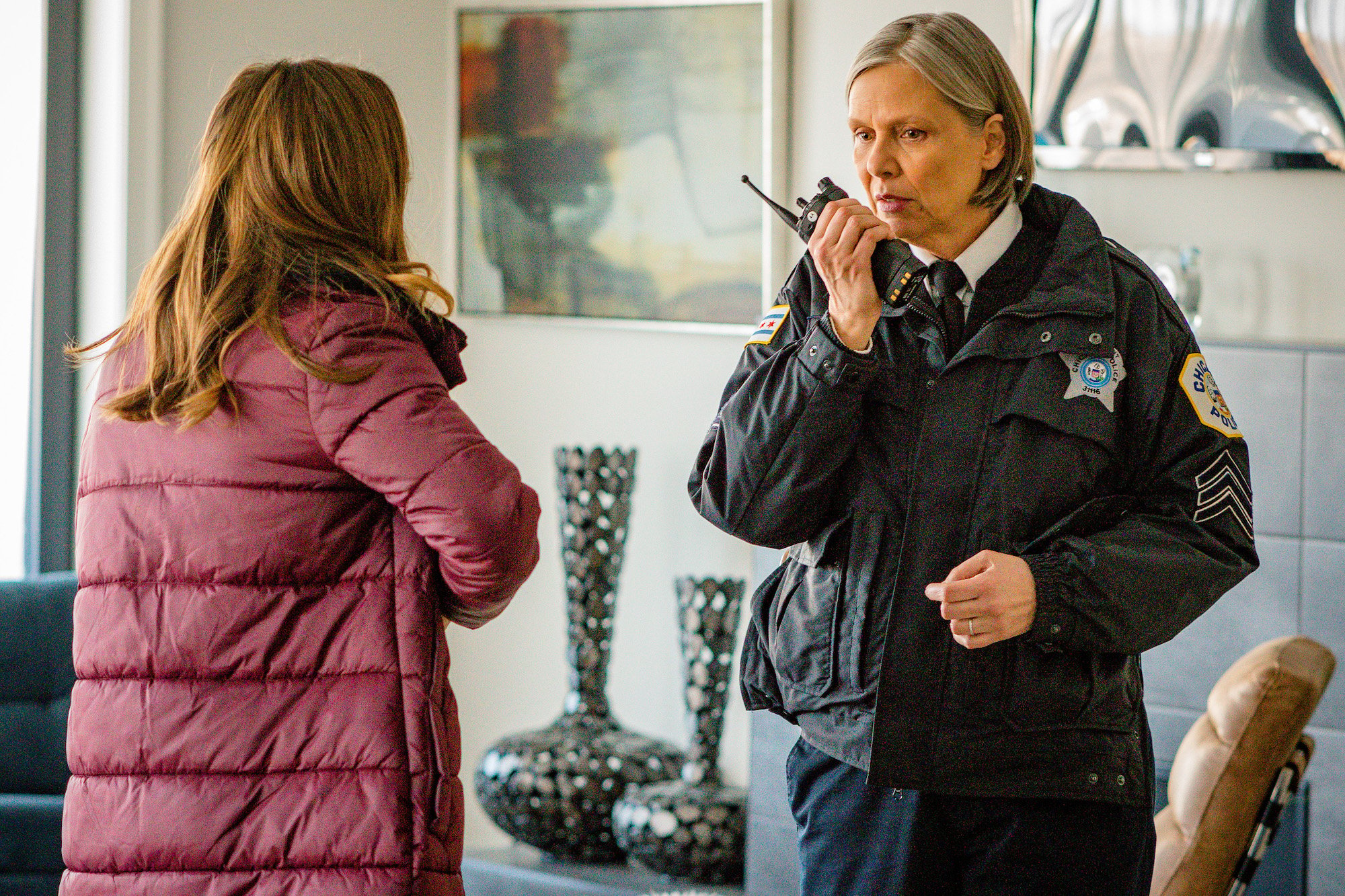 The tragic miscarriage initially placed additional strain on Burgess' relationship with Ruzek, but it eventually brought them closer together. Things took a turn for the dramatic — and heartwarming — when Burgess found out that the child, a girl named Makayla, she helped save in the episode "Tender Age" is in need of a home. As Burgess insisted that she wanted to foster the little girl, it put even more tension on her relationship with Ruzek. Burgess decided to adopt Makayla anyway, and several scenes from Season 8 have featured the mother-daughter pair bonding. 
Clearly, fans have seen Burgess take a lot of ups and downs over the show's eight seasons, and settling into her role as mother to Makayla has been a kind of reprieve from the hardest moments for the beloved officer. All of that changed in the Season 8 finale, however. 
Burgess was captured by a dangerous criminal and then shot when a crime boss showed up and rained bullets into both her and her captor. Against all odds, the episode shows Burgess alive after the incident. As Entertainment Weekly reports, "She pulls the dead man's belt off and uses it as a tourniquet. She somehow manages to make it to a car after realizing she's in a car lot, and if she can only hold on just a little longer, she can drive herself to safety." While telling herself aloud to stay alive — and surely thinking of Makayla — Burgess passes out, leaving fans wondering if she'll pull through. 
What will happen to Makayla?
Season 8 left more questions than answers, and fans are ready to tune back in for Season 9 to find out what happens. In the meantime, there's a lot of speculation about whether or not Burgess will survive, and either way, there are questions about the fate of Makayla.
Ruzek is appointed as the child's guardian in the case that Burgess is unable to care for the little girl. Still, he wasn't always on board with Burgess' decision to adopt Makayla, and full-time single fatherhood is a serious role to step into. If Burgess doesn't survive, little Makayla — who has already lost so much in her young life — would be dealing with a tremendous loss, making Ruzek's job of consoling her and providing stability even more difficult. 
On the other hand, as TV Insider reports, some fans are looking for a silver lining. Perhaps Burgess' close brush with death will provide the nudge to get her and Ruzek back together for good — sharing in the work of parenting Makayla as they rekindle their love for one another.