'Chicago P.D.': Would Hank Voight and Olivia Benson Ever Date?
Olivia Benson, played by Mariska Hargitay, has been a staple of primetime television for two decades. Fans have watched the character grow, although she hasn't changed much. Fundamentally, Olivia Benson remains the same tenacious, caring detective she was when Law and Order: SVU first premiered. Now she's Captain of the unit, but it seems like she still hasn't found love. Could her Chicago P.D. counterpart, Hank Voight, be the one?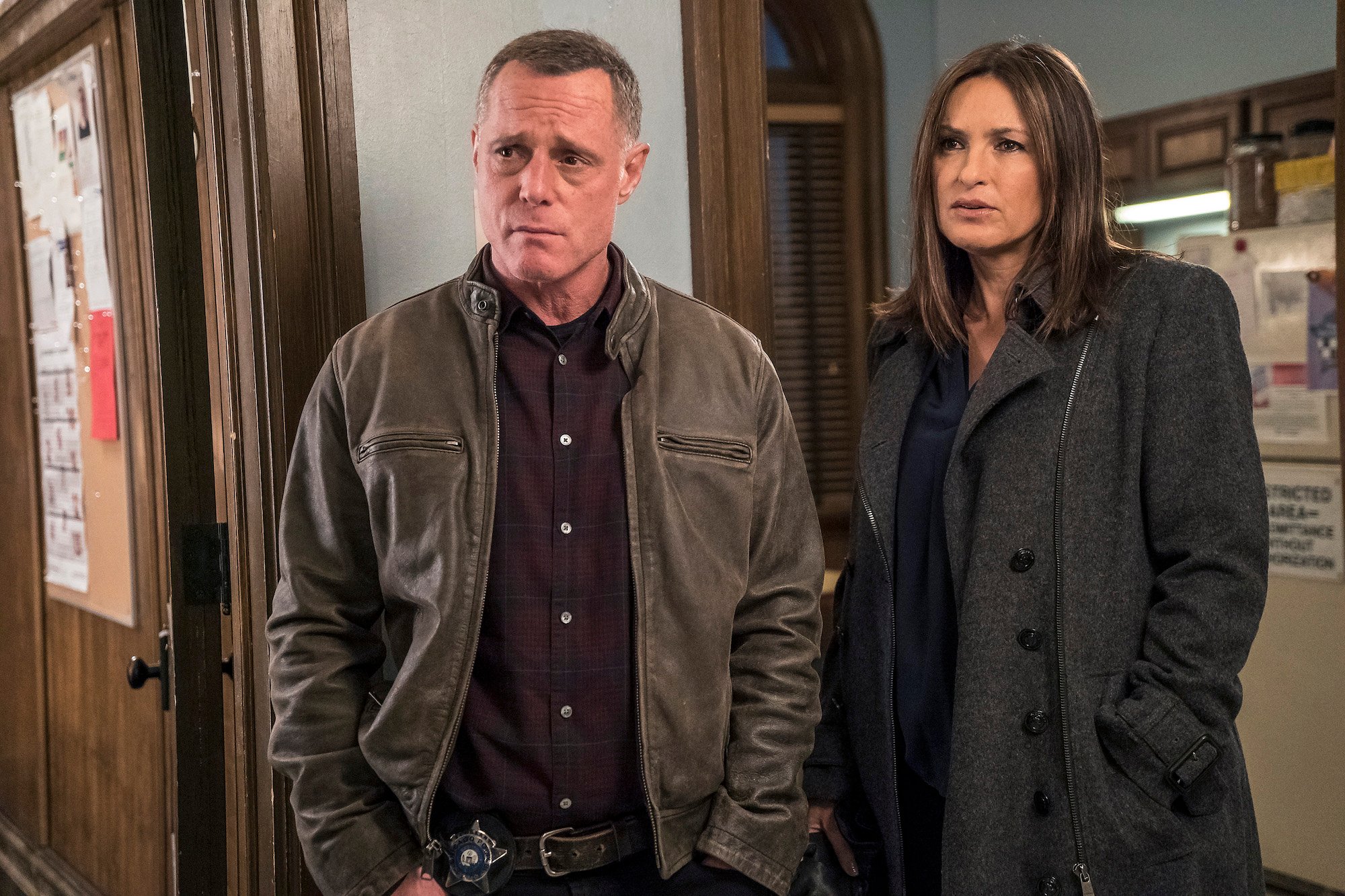 Hank Voight and Olivia Benson have met thanks to crossover episodes
Even though Hank and Olivia are technically on different shows, the characters have worked together. Hank is the chief of the Chicago Police Department's Intelligence Unit, which puts him on the same level as Olivia career-wise. Played by Jason Beghe, Hank doesn't have the same television history as Olivia. While Hargitay's character has been on the air since 2000, the Chicago franchise started in 2012. Chicago Fire premiered first, followed by Chicago PD in 2014. The last installment in the franchise, Chicago Med, debuted in 2015. 
Even though the Chicago shows take place in a different city than Law and Order: SVU, Olivia and Hank have had occasion to meet on-screen. All the Chicago franchise shows cross over with one another, but they have also shared crossover episodes with Law and Order: SVU. Olivia and the SVU team have gone to Chicago a few times, usually to help with especially difficult cases, or to collaborate on crimes that are similar, and may have been committed by the same perp. One thing fans have noticed on Olivia's trips to Chicago is how well she and Hank seem to get along. 
Olivia Benson and Hank Voight get along well 
Fans hoped that there would be a romance for these two officers. Hank and Olivia definitely have chemistry, and Olivia deserves to be happy. She's had her fair share of troubles. Despite the fact that Law and Order: SVU has been on for 20 years, Olivia has yet to have a happy, long term relationship. Fans hoped Hank might be the one. Olivia has talked about Hank and the Chicago crew with her SVU team, even during regular, non-crossover episodes. 
However, it turned out that Olivia was dating Ed Tucker, an Internal Affairs officer. However, Ed died by suicide last season after being diagnosed with brain cancer. Although it's hard for fans to see Olivia suffer more loss, it does mean she may be on the market again soon. There may still be hope for romance with Hank after all. 
Hank Voight and Olivia Benson may be too different to date 
Fans could still see a crossover romance, but a relationship between Hank and Olivia may not last. Aside from the complications of long-distance, both characters are very different. Olivia is compassionate, and well known for advocating for the victims she represents. Her calm, understanding demeanor helps victims open up to her, and Olivia takes the responsibility of her position very seriously. 
Hank is more aggressive, and less rule-abiding than Olivia. He's covered up crimes that his officers have committed, including outright murder. When Antonio pushed his daughter's kidnapper through a window, Hank made sure he stayed out of trouble. Hank himself killed his son's murderer. Although Olivia occasionally bends the rules for justice, it's hard to imagine her defending a murderer, or even becoming one herself.
She does stick her neck out for the people she loves, but Olivia believes in the justice system, even though it has occasionally failed her. Hank seems to believe in street justice more than courtroom justice. Although these differences wouldn't necessarily make or break their relationship, they denote something bigger. These two have fundamentally different belief systems that would likely make a relationship between these characters short-lived. But who knows — they do say opposites attract!